The rise of right-wing Bristol millionaire Arron Banks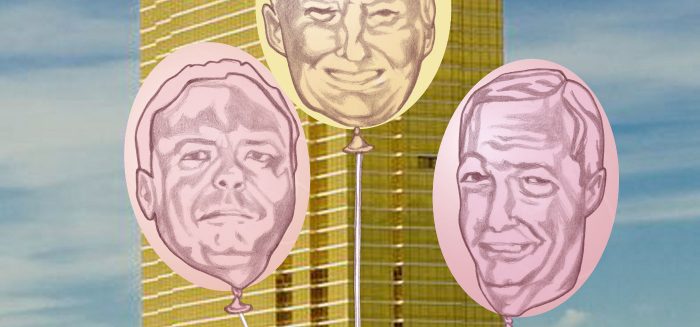 READ MORE FROM
THE 12TH EDITION
How did he get from a trading estate in Patchway to Trump's golden elevator?
Thornbury-based millionaire Arron Banks, or 'Banksy' as fellow Brexiteer Andy Wigmore calls him, is one of the self-styled 'bad boys of Brexit'. According to the latest Sunday Times Rich List, he is the 453rd wealthiest person in Britain, and 20th richest in the South West. He is a key figure in the burgeoning 'alt right' movement in the UK and has been personally credited by Nigel Farage, on numerous occasions, as the brains and funds behind Brexit. Banks portrays himself as a happy-go-lucky chancer, a renegade in the business world, making playful forays into politics to mix things up.
Ideologically, this 'Banksy' couldn't be further from the artist Banksy. While one painted a mural in Calais to criticise teargas use on refugees, the other is behind the infamous poster campaign called BREAKING POINT to elicit a fear of immigrants. One draws attention to the harshness of the global economy; the other owns five diamond mines in southern Africa.
Anonymity has proved crucial to both of their successes, however. Before 2014 it's unlikely you would have heard of Arron Banks. Then he donated £1m to UKIP, following a dismissive comment by a senior Conservative politician. "He called me nobody," he said to assembled cameras. "Now he knows who I am."
Three years on, and an estimated £7m in Leave.EU contributions, a trip in Trump's golden elevator and a historic Brexit vote behind him, he has certainly left anonymity behind. Despite this, it's still not easy to unravel who Arron Banks actually is.
The Story of Arron
How did a motorbike insurance salesman in Thornbury end up in Trump's great golden elevator? Where did he accrue a fortune large enough to bankroll Brexit? What next for the man who gave £1m to UKIP only to be ejected for failing to pay his subs on time (or so UKIP say)?
Arron (his dad misspelt Arran on the birth certificate) was born in Cheshire in 1966, raised in South Africa then Basingstoke. His family was wealthy enough to put him through private education, but he likes to distance himself from the elite by referring to his schools as "properly second-rate". According to his book, The Bad Boys of Brexit he was expelled from both he attended; first for stealing lead from the school's roof and selling it on, amongst other misdemeanours, and then for a drunken stunt in a car.
Unqualified for university, he instead made a brief and unsuccessful foray into politics, joining the Young Conservatives and standing for a council seat in Basingstoke, where he met his first wife Caroline. He got an entry-level finance job with Lloyds of London, and after a few years he landed a position running Norwich Union's regional office in Bristol. He's stayed in the vicinity ever since, and now lives in a manor just outside Thornbury.
From the late nineties, Banks established several vehicle insurance firms, exploiting new data technology and in-house algorithms. By 2001 he had divorced his first wife and married the mysterious Russian, Ekaterina Paderina, and was on his way to becoming very rich. He sold his brokerages and co-founded the Brightside Insurance Group before being unceremoniously kicked out in 2012 amid a flurry of bad blood.
Keep it Under Your Panama
Many of Banks' ventures  have their roots strictly offshore in jurisdictions known for corporate secrecy and low or non-existent tax rates. Though his representatives maintain he has no dealings offshore, his name did feature in the big leak of offshore holdings known as the Panama Papers. Banks owns companies in the Isle of Man, Gibraltar and the British Virgin Islands meaning that the source and amount of his wealth is unclear. Whatever the figure is, it's set to increase dramatically if the proposed stock market flotation of his Bristol insurance company, Eldon, goes ahead. It's valued at £250m.
The Catbrain Empire
Which brings us to Eldon Insurance, the company established at Lysander House on Catbrain Lane (near Cribbs Causeway) in 2008, and developed following Banks' acrimonious departure from Brightside.
Eldon, and related company GoSkippy, were the subject of controversy in 2015 when they abruptly put 150 of their Bristol workforce on 'gardening leave' while they 'trialled' outsourcing jobs to a call centre in Durban, South Africa. Today the Eldon website insists its call centres are "entirely UK based". This is an alternative fact: call Eldon's helplines and you get through to a centre in Durban called Outworx. A call centre worker helpfully told me what the weather was like there.
How does outsourcing jobs square with the company's apparent patriotism? Alan Ball, a company executive who holds senior posts in both Eldon and Outworx said it's not unpatriotic, it's better for business.
Alongside the 40 or so companies registered at the rather bland corporate headquarters at Catbrain Lane is a suite of organisations that demonstrates Banks' grand global business and political ambitions. Most listed directors are also key players in the UKIP-led Brexit campaign group, Leave.EU, such as Director of Communications Andy Wigmore, CEO Liz Bilney, and PR for Banks, Bridget Rowe.
Some lesser known names also raise eyebrows on investigation. James Pryor was a former adviser to the last apartheid leader of South Africa, Margaret Thatcher and UKIP. Listed as the diamond contact for Parsons Jewellers (recently awarded "Best independent Bristol retailer"), Pryor manages Banks' diamond mines and works for African Strategic, a company that sets up relationships between companies and individuals with sub-Saharan African governments. According to an article in Esquire, Pryor is a business associate of helicopter gunship-owning and self-described mercenary South African Neall Ellis.
Banks also has interests in the tiny diamond rich landlocked nation of Lesotho, where he has been pictured with the King, Wigmore and Pryor.
It is unlikely you will meet these people at Lysander House though. And though the companies they run are Bristol branded, there is a borderless culture that pervades; ironic given the ferocity with which Banks and his associates have fought for ever more rigid national boundaries.
Big Data Dolphins: A Bristolian Cambridge Analytica?
"Facts don't work… you've got to connect with people emotionally. It's the Trump effect."
One of the more intriguing companies at Lysander House is Big Data Dolphins, a data analytics firm registered late in 2016. Although there is not much information to go on, Big Data Dolphins could be Banks' answer to Cambridge Analytica, the political strategy company largely owned by Robert Mercer, a right-wing American billionaire and computer scientist who bankrolled Trump's campaign. Mercer directed Cambridge Analytica to deploy sophisticated data-driven techniques to target pro-Trump messages to key voters on social media. Cambridge Analytica's role in the Brexit referendum suggests that Banks may be eyeing up his own big data enterprise.
Illustration:
Fran Hooper
The Observer reported that communications director for Leave.EU and Brexit bad-boy Andy Wigmore said of Cambridge Analytica: "They were happy to help. Because Nigel [Farage] is a good friend of the Mercers. And Mercer introduced them to us. He said, 'here's this company we think may be useful to you'. What they were trying to do in the US and what we were trying to do had massive parallels. We shared a lot of information." In February 2017, referring to the involvement of Cambridge Analytica, Banks tweeted that "AI [artificial intelligence] won it for Leave".
Thanks to the recent investigative reporting of J.J. Patrick and the Observer's Carole Cadwalladr among others, the legality of Cambridge Analytica's alleged involvement in the Brexit referendum is under investigation, as the workings of a newly powerful transatlantic far-right come to light. Speaking after the Brexit vote, Banks said: "Facts don't work… you've got to connect with people emotionally. It's the Trump effect."
Leave.EU remains under investigation by the Electoral Commission for accepting Cambridge Analytica's help, and has already been fined £50,000 for sending unsolicited texts to private numbers in May 2016 during the run-up to the referendum. When asked about this development, Banks replied: "Whatevs. I don't give a monkey's what the Electoral Commission says." The investigation is hindered by the fact that the suspects are in a foreign jurisdiction. Meanwhile, the Observer has been landed with a legal complaint by Cambridge Analytica.
The Future
It is becoming increasingly clear that Banks is a prominent member of a powerful global cabal with extraordinary financial, technological and political resources.
Until recently most of the press have happily perpetuated the image of Banks, Farage, Wigmore et al, like a political version of Top Gear, breathing laddish vitality into the stuffy world of Westminster. However, it is becoming increasingly clear that Banks is a prominent member of a powerful global cabal with extraordinary financial, technological and political resources.
Banks' Westmonster, the website he's started as the UK's answer to far-right US site Breitbart, has started setting out its stall in anticipation of life after UKIP. It will soon be throwing its weight behind an emerging party called The Patriotic Alliance, launching in Autumn 2017. The Patriotic Alliance is described by its founder Banks as 'UKIP 2.0' and a 'right-wing Momentum'.
Then the election happened. While his colleagues Liz Bilney, Andy Wigmore and Nigel Farage publicly bemoan the potential for a soft Brexit, Arron remains sanguine about the chaotic state of affairs. Commenting on the recent election that saw the collapse of the UKIP vote and disastrous results for the Tories, Banks tweeted with characteristic crypticness "Opportunity knocks in many ways". His funding and financial involvement with the DUP is coming under scrutiny again, and in a Sunday Times article on June 11th Banks inferred he might have some leverage over Theresa May in getting Farage a seat at the Brexit negotiation table. Banks pledged to deploy his million-strong mailing list on Theresa May if she betrays the Hard Brexit dream, saying that "it will be ding, ding! Seconds out, round two!"
A senior DUP official told the Times, "They hold a few cards. They want Farage as a Lord or a role in government or he and Arron will put something together that will cause trouble for May".
Soon, we may look back upon these years of turmoil as a blip; an impeached Trump and a redundant Farage will exit stage left and Banks will slink back into obscurity.
More likely, as the services of Big Data grow ever more in demand, the alt-right may keep gaining while the left struggles to get a footing in a hostile media environment. Banksy and Andy, Mercer and Bannon may succeed in consolidating the power they crave.
Bristol may soon become synonymous with the 'Other Banksy' and we will be left to ponder how two unlikely provocateurs from polar ends of the political spectrum grew out of the same city. Or perhaps Banks will not be compared with Banksy, but with Jay Gatsby of F. Scott Fitzgerald's novel the Great Gatsby; a man whose wealth is as much a mystery as his history:
"It never occurred to me that one man could start to play with the faith of fifty million people with the single-mindedness of a burglar blowing a safe.
"How did he happen to do that?" I asked after a minute.
"He just saw the opportunity."