'Rovers against racism' – but is that enough?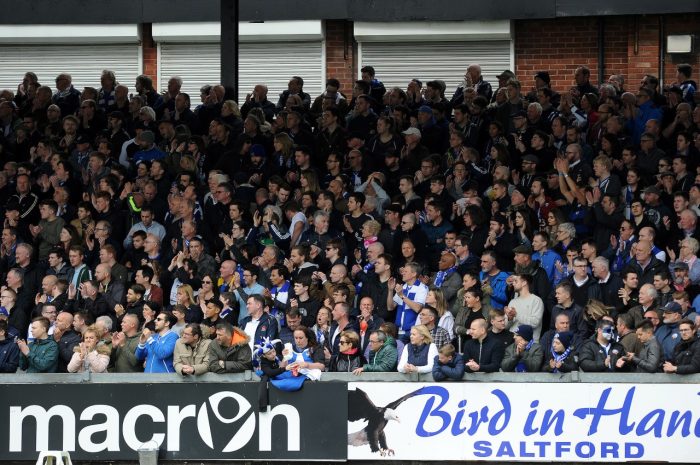 READ MORE FROM
THE 12TH EDITION
Bristol Rovers just had their most successful season for 17 years, but barely any BAME fans saw them do it live.
Photo credit: Neil Brookman / JMP
Produced by Media Lab – the Cable's training programme.
Now, we've both been Bristol Rovers fans, or 'Gasheads', since Rovers moved back to Bristol in 1996. While the makeup of Bristol has changed a lot during those years, the average Rovers crowd looks pretty much the same.
Bristol's changed, Gasheads haven't
Bristol Rovers' home, the Memorial Stadium in Horfield, is surrounded by the wards of Ashley, Lockleaze and Southmead. These wards have Black, Asian & Minority Ethnic (BAME) populations of over 15% in the case of Southmead and over 30% in Ashley and Lockleaze, whilst 5% of the South Glos population is BAME. But not many of these people are turning up to live games.
So who is watching the games?
The club doesn't keep demographic data on the fans walking through its turnstiles, but we wanted to check out who's attending matches. So we did a headcount of our own at the Southend game last season, which saw a crowd of over 9,000. By our count there were only nine BAME fans in the whole stadium, which works out at 0.01% of the crowd. It may not be the most scientific of data analysis, but it's clear this is not reflective of the city we live in.
It must be down to racism…right?
Well, that's what we first thought as well. It's extremely rare that fans chant racist abuse these days, but you still occasionally hear racist comments from one fan to another on the terrace (sometimes challenged, sometimes not).
But racism wasn't an issue with any BAME football fans we spoke to. Omar, who we met in Star Coffee on Stapleton Road, is a Man United fan who followed them on TV in his native Somalia. Does he see racism being an issue if he attended a Rovers game? "No, that's not an issue," he said. "If Rovers (or City) got better, then I would definitely attend matches."
By our count there were only nine BAME fans in the whole stadium
Interestingly, 16% of the crowd in the 14/15 Premier League season were from BAME groups, which roughly equates to the BAME makeup of Bristol.
Instead of being put off going to matches because of potential racism, the people we spoke to just don't seem to have affinity or much interest in their local team. It is all about 'the Prem' teams for them. There's also the cost involved: for an adult the cheapest ticket last season was £18, so for many people regardless of race, this is too much money to watch a team playing in the third tier of English football. Especially when you can watch some of the world's best teams on TV for a fraction of that price.
Miss It, Miss Out
Still, many believe diversity among fans in the stadia could be improved, to the benefit of fans and clubs.
Dr Daniel Burdsey, from the University of Brighton and Kuljit Randhawa, of the Asian Football Network, co-authored the 2012 paper 'How can professional football clubs create welcoming and inclusive stadia for British Asian fans?'. They concluded: "They [Asian fans] follow passionately the fortunes of their teams, buying replica shirts, watching games on satellite television and contributing to fan sites, blogs and message boards on the Internet. However, despite evidence pointing towards an increased confidence around the idea of going to matches, they are […] still rarely present at the spectacle of the 'live' match".
Christian McClean is an ex-Rovers player, who suffered racist abuse on the pitch from opposition fans whilst playing for the club in the late 80s. He can now be seen on the terraces supporting Rovers and is a firm part of the Gashead family. "The social aspect of being amongst Gasheads is great and amongst fans that supported me when I was a player."
Mohammed Zair, who's a barber at the Gam Gam Salon in Easton and originally from Sudan, wants to feel involved. "I don't want to feel like a foreigner, I want to feel a part of the community and I would love to attend a match," he said.
Anwar Uddin played for Rovers in the early 2000s and was the first British Asian player to captain a side in the English leagues. He's now Diversity and Campaigns Manager with the Football Supporters' Federation (FSF). "There is a problem," Anwar believes, and BAME fans are missing out. "There's so many benefits from watching live football, the atmosphere and the idea of being included within the community, and a football club is a massive part of that."
Photo: Neil Brookman / JMP
What are Rovers doing about the imbalance?
We met with Adam Tutton, who heads the Bristol Rovers Community Trust, to find out what is being done by the club. "There's our free football night up at Horfield on a Friday, where out of the 80 kids who attend, probably over 60% are BAME," he says. The events go well, there is positive engagement, but this still hasn't led to many of the youth coming to games.
For Adam the first stage is recognising there is a problem: "At the end of the day I can't change what we've got out there. All I can do at the moment is recognise that it's not right… We're not the only ones, this is probably every other club in the country that faces this."
Where do we go from here?
Over the summer we will be working alongside Bristol Rovers and the FSF to form a plan for improving spectator numbers from the BAME community. Fancy being part of the discussion?
Email content@thebristolcable.org.
Bristol City FC were invited to participate in this research, but did not respond.
Anwar Uddin asks: "What do we do to solve that problem? I think the best way… is by working with football supporters and a bottom-up approach." He's already seen positive changes at clubs such as Bradford City and Derby County through the FSF's Fans For Diversity fund, which fans can apply for to set up initiatives to help increase diversity at their local club.
Adam Tutton has support from the Rovers boardroom where new Jordanian owner Wael al-Qadi is taking a keen interest in his work. Adam says of diversity, "I want us to be in the forefront of changing that, as do the people who are in higher positions above me".
What can be done to encourage BAME fans to come to football matches?
According to the Premier League's own findings, in the 14/15 season BAME fans made up 16% of crowds in the top flight and 51% of the British BAME population are officially football crazy. The problem of low representation tends to be in the lower leagues. So, how have clubs tried to buck this trend?
Freebies – Clubs give away free tickets to get fans to come down, hoping to light the fire of fandom in them, but this doesn't seem to be enough. Free tickets are often given for overflow or less popular stands (e.g. Rovers South Stand), where the atmosphere tends to be the dullest.
Buddies – In 2014 Birmingham City ran a 'Buddy Scheme', where new fans were seated with die-hards who could teach them the terrace chants and generally help them feel that they belong. There are no reports of the scheme being repeated since however.
Multicultural supporters groups – The Bangla Bantams and Punjabi Rams supporter groups are aimed at encouraging supporters from the South Asian community to attend matches of Bradford City and Derby County. The difference with these schemes is that they are fan-inspired, bottom-up ideas – and they seem to be working.