David Olusoga: Not the "angry black guy on television"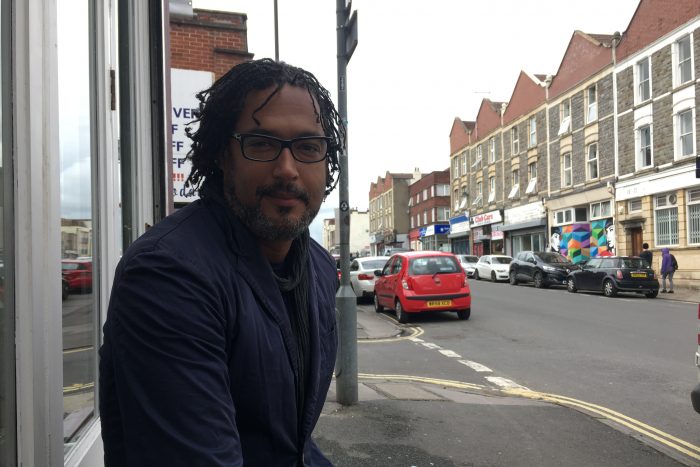 The Bristol-based celebrity historian talks about why he challenges the white-washing of British history… and the "pretty weird" relationship the city has with Edward Colston.
Photo: Ed Fielden
"This isn't black history or Asian history…this is everybody's history."
African soldiers manned the Roman garrisons of Britain, there were mixed-race communities in Georgian London, and the Industrial Revolution was powered by American slavery.
Didn't know that? You're not alone, because, argues David Olusoga, the way we've been told and taught British history has been "deliberately retrofitted" to exclude black faces.
The 47-year-old British-Nigerian historian has won acclaim for challenging this "entirely white" portrayal of our history. Through series like the BBC's 2016 Black and British (and its accompanying, award-winning book), and the BAFTA-winning Britain's Forgotten Slave Owners, his work illuminates how the presence and experiences of non-white people have always been fundamental to the story of Britain.
"This isn't black history or Asian history," Olusoga argues, "this is everybody's history."
Living in Bristol for the past 20 years, Olusoga has naturally commented on the debate around Edward Colston, the city's most prominent slave trader. Whether or not Colston should be publicly honoured through buildings and statues is highly relevant to Olusoga's work of putting British history into the fuller context of ethnic minority experiences. Though campaigners have scored a victory in getting the concert hall renamed, the Colston debate continues to be riven with accusations of censorship, guilt-tripping and white-washing history.
"We are in this somewhat ridiculous battle," he says, "where people feel personally affronted that other people want the history of their ancestors acknowledged and recognised."
For him, the question of Colston, under whom the Royal African Company transported more than a hundred thousand Africans into slavery, is simple: "Are we the sort of city that wants to celebrate the life of a mass murderer?"
"I thought I understood how history can impact people's lives … but I underestimated."
"If we were able to go back in time and watch the children, the bodies being thrown off the slave ships. If we were able to watch the rape that was a part of every plantation woman's life … [we] would have no moral compunction of saying, this is evil, the people involved in it are evil."
Colston's much-lauded philanthropy is no excuse, he argues, pointing to the world's many philanthropic terror groups.
Olusoga would "hate" for the slave trader to be forgotten, but argues that history is remembered and understood through education, not street names, statues, or the "pretty weird" rituals that celebrate Colston's life in Bristol each year.
That said, the historian is cautious about hyperbole, and gets "frustrated by the exaggeration" that "Bristol was built on slavery". While he feels that Bristol is more guilty of not acknowledging its slave trading past than many other cities, "it was built on other things as well."
For Olusoga it's less about a political agenda than telling the story in full, as, ultimately, the truth speaks for itself. Yet he has often been on the receiving end of the accusations aimed at the Colston campaigners, of exaggerating the horrors of slavery and racism to make white people feel guilty.
"It's important to have a holistic, truthful view of British history, the good and the bad. It's not to make someone I've never met in Redland feel bad … I've got better things to do."
"I don't want to be the 'angry black guy' on television," he says. "I'm interested in telling these histories, just trying to make them amazing … not trying to tell them always with a political edge, because I don't think people listen to that."
Olusoga's programmes place facts within the context of the personal, from his own emotional reactions to seeing the brutal tools of enslavement, to white people enthralled to discover they have a black ancestor, to personal experiences of racism shared by both the presenter and his interviewees.
Growing up in the eighties on a Newcastle council estate, Olusoga and his siblings were, as mixed-race children, regular targets of racist abuse. The family endured attacks on their home, including bricks thrown through their windows, as part of a months-long campaign to drive them out of the area, experiences vividly described in Black and British. Olusoga says it was a deliberate choice to share this publicly, because "there are these scars and wounds out there, and we've got in the habit of not talking about [them]," which "can create an illusion that it's not as real as we say it is."
This approach struck an immediate chord with viewers, who, following the airing of the series, inundated the BBC with phone calls wanting to share their own stories or asking for counselling and advice.
"I'm genuinely humbled and surprised by how much the series and the book connected. I think it's been something special for black people, and it's ranged from people being in tears because it made them feel a stronger connection to being British, to people who just loved some of the strange stories.
"I thought I understood how history can impact people's lives … but I underestimated."
He is particularly glad to see the book capture young black people, who he worries tend to shy away from studying history at university, despite it being one of the most popular subjects for young white people. "We are utterly failing to make black kids think history's about them or it's for them … that's a really bad situation. These are shared histories."
"The thing I'd say to all young people is, sorry for completely fucking up your world."
Even if that situation improves, Olusoga worries that less privileged young people, black or white, would now struggle to follow in his footsteps. He believes he would not have been able to study and have his career if he were 20 years younger, without the option to claim dole during his A-Levels and rely on a grant for his first degree. Thus, "the thing I'd say to all young people is, sorry for completely fucking up your world."
"Never, ever accept for a second somebody of my age or older telling you that you've had it easy. 'Cause we had it easy and we made it hard for you."
Taking a gloomy view of current events he says, "I think it's self-indulgent to be optimistic at the moment … I don't understand what's happening, I don't think most people do."
On a broader scale, though, the historian sees the explanation for the way we treat one another as fairly simple. "I think we're monkeys with guns and money … we're animals. I believe in a radical, honest, full-blooded reading of Darwin.
"There'll always be war, there'll always be violence … we can do our best, we can try to fight for better societies, and I'll fight as much as I can with my full voice to do that. But I think history teaches you that we are always us."
At this point in the interview the historian spies a toddler recklessly climbing a bar stool and spends some time gently urging her to climb back down ("I have a three-year-old, you can see disasters coming") and then, back on-topic. "Where was I – yes I was trying to save a child from falling off a chair while talking about the hopelessness of humanity."
"I felt locked out of society as a kid," he reflects, "but if I'd remained locked out of society, remained feeling that life was happening to other people … I don't know how angry I'd be."
That didn't happen, however, because the perseverance and love of his family won out over other people's capacity to be base and cruel.
"My mother brought up six mixed-race kids by herself, and imbued in all of us a sense that we could do what the hell we wanted. Outside of the house I felt locked out, I felt that there were parts of Newcastle where I shouldn't walk down the street … but the idea that I could imagine a life beyond my circumstances, that came entirely from my mother."
Kindness and love are hard-wired into us as much as violence, Olusoga acknowledges, and that's reflected not just in his childhood but in the literature that shaped it, authors he fell in love with for their "incredible empathy" and humanity. Oscar Wilde's The Happy Prince "made me cry when I was about twelve," he reminisces, "and I still think it's one of the most beautiful things in the world". Similarly George Orwell, who inspired Olusoga to become a historian and journalist not just through his words but his compassion too.
"[During the Spanish Civil War] he was literally in the trenches on a frontline, worrying about how the dogs were being treated and how the mules were being treated … my God how British!"
After all this talk of human complexity in a turbulent world I ask what gives him, a historian, hope for our future, envisioning a positive note for this article to end on. However he doesn't take the bait, instead deconstructing the whole idea of a happy ending. "We love stories," he says. "The idea of story structures ending with redemption is so hardwired into us that we do it instinctively. I don't think we should; I don't know why things should end optimistically … I think now's a time for pessimism."
But it's clear that stories that end with hope get us through for a reason, not by lying to us but by revealing greater truths about ourselves and the world we're a part of. Olusoga's career shows that he is tapping into an aspect of the British story that needed to be told publicly, a sometimes painful story that speaks to people in a positive way and sparks hope in its very telling. Audience reactions and professional accolades have left him in demand, with a packed schedule of filming documentaries (including a new history of civilisation with Mary Beard and Simon Schama), writing books and giving lectures. And as he does all this, he is motivated by his own story of hope and achievement.
"On my computer my screensaver is a picture of the council estate that I grew up on … because remembering that if things go wrong they're not as wrong as they used to be, and that when things don't work out I've been in worse places, is really important to me."