OPINION: BBC wrong to host climate skeptic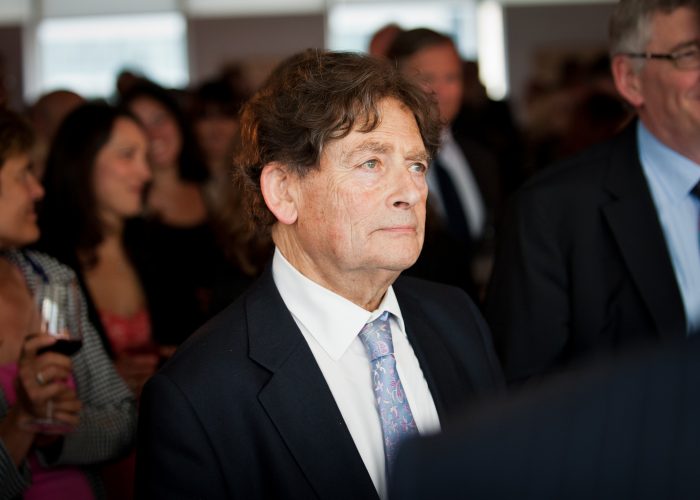 Cable member Graham McGrath, a Bristol-based environmental consultant, says the BBC were wrong to host Lord Lawson, the well known climate skeptic.
Photo: Financial Times (Flickr/ CC BY 2.0)
Last week while I was cycling to work, climate skeptic Conservative peer Lord Lawson spent five unchallenged minutes on prime time BBC Radio 4, in response to an earlier interview with Al Gore.
Lawson pedalled outright climate change denial fantasies that fly in the face of 97% of climate change science findings. His lying went largely unchallenged by the presenter for the course of the interview – and indeed was presented as fact. It is 2017, and the BBC is still granting a pedestal to climate change deniers.
Lawson's think tank, the Global Warming Policy Foundation, is nothing more than a propaganda mouthpiece for the fossil fuel industry. A 2015 investigation by Greenpeace showed that a member of the GWPF's academic advisory council was willing to accept money from an oil company to publish a report, 'unofficially peer-reviewed' by the foundation itself, while keeping the funding source secret.
As Lawson's time on air drew on it went from bad to worse. I nearly crashed my bike as he attempted to hide his vested interests behind crocodile tears for British families experiencing fuel poverty. He justified his free market fundamentalism and unfathomable denial of climate change by claiming the poorest in the UK are suffering some of the highest energy costs in the world "because of our absurd climate-driven energy policy".
He chose to entirely ignore the Conservative party's past privatisation of our energy suppliers and recent ruthless pursuit of an austerity agenda (which includes the slashing of winter fuel allowances). As the profits of these private firms have soared, so have our energy costs. Combined with cuts to winter fuel allowances, this has hit the poorest in our society the hardest.
In light of the complete lack of challenge by Justin Webb on Radio 4, I feel it is necessary to rebut the factually incorrect, completely baseless, and toxic points which were made by Lawson on the Today programme. Those few minutes have convinced me now, more than ever, we are in desperate need of truly independent, truly investigative, and truly critical media.
The cost of energy
Lawson claimed that England has "one of the highest energy costs in the world, which is very hard on the poor and hard on businesses and industry which is because of our absurd climate-driven energy policy".
However, the UK in fact has some of the lowest domestic gas prices in the EU according to data from the Committee on Climate Change (CCC). Furthermore, energy bills in the UK were lower in 2016 than they were in 2008, when the government began to increase the number of policies tackling climate change. This is because although climate policies have increased prices, they have also helped to cut demand. The combined impact of these factors has been to cut bills as they are a function of both volume and price.
Regarding industrial energy costs, which are in fact higher than many other countries, the CCC state that the UK's higher power prices are due to wholesale and network costs, and have not resulted from implementing climate policies.
Is energy taxed, or subsidised?
"No we don't [subsidise fossil fuels], that's not true, we tax fossil fuel energy" said Lawson. Yet analysis by the International Energy Agency (IEA) shows otherwise – it calculated that in 2014 global subsidies for fossil fuels totalled over $490bn. In contrast, it estimated that subsidies for renewable energy technologies were approximately $120bn.
Closer to home, a Carbon Brief analysis published in April showed that the UK's North Sea oil and gas industry is now a net drain on public finance. The industry received £396m in 2016 through rebates for investment against tax paid in previous years. These rebates are set to increase significantly as the industry begins to decommission its ageing infrastructure, and depleted oil wells.
"The renewable energy, so-called, is heavily subsidised, and, if they said it's economic, well then let's get rid of the subsidies," continued Lawson. But as I have already discussed – the global subsides received by the oil and gas industry dwarf those received by the renewable industries. Until this is levelled out, renewables have no hope of competing against the incumbent energy system.
Conversely, in the UK, the Conservatives have already ploughed ahead with cuts to renewable subsidies (while maintaining those for oil and gas, including fracking). Just days after Amber Rudd took part in the Paris climate accord, the government slashed subsidies for solar power by 65% in the name of economic stability and 'living within our means'. Meanwhile, the Guardian reported last year that this subsidy cut lead to the loss of 12,000 jobs in the solar industry – does this provide economic stability?
Extreme weather events
"For example he [Al Gore] said that there had been an increase in extreme weather events – there hasn't been, the IPCC concedes that there has been no increases in extreme weather events," said Lawson.
A whole of host of peer reviewed scientific literature say otherwise. One such piece of research published in the journal Nature Climate Change, found that heat extremes that previously only occurred once every 1,000 days are now happening four to five times more often. Additionally its findings suggest that one in five extreme rain events experienced globally are as a result of the 0.85C global rise in temperature since the Industrial Revolution. Lawson is again simply pandering to his friends in the oil and gas industry.
'World temperature has slightly declined'
"As for the temperature itself (…) according again to the official figures during this past 10 years, if anything, mean global temperature average world temperature has slightly declined".
According to NASA research, 16 of the 17 warmest years since records began have happened since 2001. Lawson's statement is simply complete and utter fantasy.