A picture of Somalis in Bristol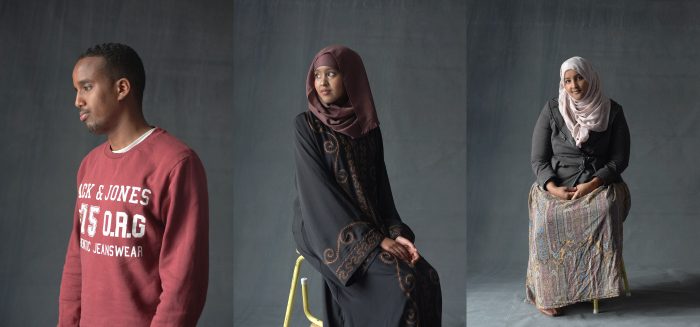 READ MORE FROM
THE 12TH EDITION
An intimate look at one of Bristol's biggest communities.
Photos: Kirsty Mackay.
Translations: Abdi Mohamed
These photos are from a collaboration between M Shed, Black Southwest Network and Bristol Somali Media Group, and are on display at M Shed until October 29th. Supported by the Heritage Lottery Fund.
Why Are We Here?
Bristol
Somali seamen work on British merchant ships and settle in major British port cities in the late 19th Century. After jobs in the merchant navy become scarce, many Somali families already based in the UK move to industrial cities, particularly Birmingham, Sheffield, Manchester and Cardiff , for work.
Somalis start to arrive in Bristol as refugees fleeing the unrest in the region.
Somali refugees fleeing war arrive in Bristol in increasing numbers. Others arrive for quite different reasons, including for education, for work, for love.
Horn of Africa
1800s
British use Aden, Yemen as a stopping point on the way to India and establish a base in the area, bringing Somaliland under British control. Colonies are also established in the region by France (in Djibouti) and Italy (in Somalia).
1960s
Full independence comes to both British and Italian colonies (Somaliland & Somalia respectively) and they merge to become the United Republic of Somalia. President of the Republic, Abdirashid Ali Shermarke is assassinated by his own bodyguard. President Mohammed Siad Barre leads a coup and introduces a socialist dictatorship.
1970s
Conflict in the Ogaden area, near the Ethiopian border, creates thousands of Somali refugees.
1980s
President Mohammed Siad Barre angers many by filling governmental positions with members of his own clan. Opposition to Mohammed Siad Barre increases and guerrilla groups form with the intention of overthrowing him.
1990s
By 1991, there is full scale civil war. Mohammed Siad Barre is overthrown and central government collapses. Former British territory of Somaliland declares independence from the United Republic of Somalia. Puntland region declares independence from the United Republic of Somalia. An internationally-backed government is formed but struggles to establish control in the south (Somalia). United Nations (UN) peacekeepers sent in.
2000s
Governmental structures set up in Somaliland and attempts are made to re-establish the pre-1960s borders. A new transitional parliament is formed in Kenya and begins returning to Somalia. Mogadishu and much of the country's south is seized by a coalition of Islamist courts.
2010s
A new internationally-backed government is installed in Somalia and the country is slowly stabilising. Al-Qaeda-aligned Al-Shahab insurgents still pose a threat to peace in Somalia. The UN reports that nearly 260,000 people were killed by famine. Th ough not internationally recognised, Somaliland maintains a working political system and has escaped the violence in the south (Somalia).
2015
The first Bristol Somali Festival is celebrated.