Bristolians get ready for mass protest against austerity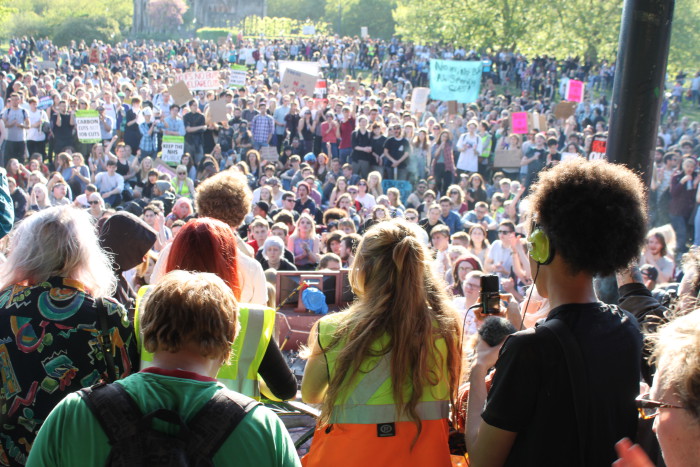 Thousands of people are expected to show up at this Saturday's protest
Photo: Chris Instinct
Saturday's anti-austerity demonstration will start at 12 o'clock on College Green before moving down to the bottom of Park Street and passing in front of the Bristol Hippodrome on St Augustine's Parade.
The demonstration has been called by mayor Marvin Rees and is being backed by the Bristol Labour Party, Green party and over 30 organisations, including trade unions and community groups (Full list below).
"What I'm concerned about as a city leader is the cost of the cuts," said Marvin Rees. "These short-term savings will undermine our communities and population health and will ultimately cost us more in the medium- to long-term. It's crucial we take this case to government."
The protest has not attracted support from all parties in council. Bristol's Conservatives and Liberal Democrats have called it a "distraction" from the cuts Mr Rees is implementing and planning across the city.
The rally comes three days ahead of a coalition of ten major regional UK cities known as the Core Cities delivering a green paper to parliament calling for investment in cities. Campaigners from organisations such as the People's Assembly have said that the march will help bolster Marvin's political clout in the capital, saying: "This could make a really big splash ahead of the Mayor's Westminster trip."
Although the Green Party support the rally, Eleanor Combley, Green councillor for Bishopston and Ashley Down recently wrote that "there appears to be no real anti-austerity message in this Core Cities approach to central government."
The march will include big 'blocs' for Health and Social Care, Schools, Libraries, Disabled people's bloc, Workers & Trades Unions, Community Arts, Welfare not Warfare, ACORN, Labour Party and Green Party. A St Pauls Community Bloc is also expected, organised by the Malcolm X Community Centre.
A Bristol People's Assembly spokesperson said: "We want people involved in this march and rally from every corner of Bristol – every community group, social club, creative organisation – every faith, every age, every cultural background. And this is our experience of what we're seeing given the response to the demonstration and the range of groups involved."
DPAC Bristol & Southwest (Disabled People Against Cuts) organiser Karen Passmore said: "We are supporting the Bristol March and Rally – End Austerity – Fund our Cities on Sept 9th. Severely disabled people have faced benefit cuts of up to 9 times more than any other group … DPAC demands Rights for disabled people, Not charity!"
Meanwhile, Black Activists Rising Against the Cuts campaigner Paulette North has said: "Cuts impact on everyone but their consequences are most severe for the disadvantaged sections of our community. Black people look to the council to provide decent services for all. The failure to do this can only make our society more divided. BARAC says stop the cuts."
The march has even been endorsed by Jeremy Corbyn, with the Labour leader posting this video in support.
The speaker list for after the march:
Miles Chambers – Bristol Poet Laureate
Marvin Rees – Mayor of Bristol
Anjali Gohil – Bristol barrister
Joanne Kaye – Vice Chair of South West TUC
Kevin Courtney – Joint General Secretary, National Education Union
Lauren Gavaghan – Bristol-based doctor and leading NHS campaigner
John Rees – People's Assembly national spokesperson
Amirah Cole – Malcolm X Community Centre
Owen Jones – journalist and campaigner
Mayor's final words: "Sept 12 and beyond"
Musical performance
The 30 supporting organisations for the March and Rally
Bristol People's Assembly
Bristol Labour Party
Bristol Green Party
Bristol Disability Equality Forum
Malcolm X Community Centre
Bristol Somali Forum
Fair Funding For All Schools Bristol
ACORN Bristol
Protect our NHS
DPAC Bristol & Southwest (Disabled People Against the Cuts)
Black Activists Rising Against the Cuts (BARAC) Bristol
Bakers, Food & Allied Workers Union (BFAWU) SW region
Unison South West (union)
Unite the Union South West
GMB Union Wales & South West
National Union of Teachers Bristol
Communication Workers Union Bristol & amalgamated branch
National Union of Rail, Maritime and Transport Workers
Bristol
University and College Union
Bristol uni branch
Public and Commercial Services Union South West
National Association of Headteachers Bristol
Union for Shop, Distributive & Allied Workers Bristol branch (USDAW)
South West Trades Union Congress
Stand up to Racism Bristol
Love Bristol Libraries
Momentum Bristol
People's Republic of Stokes Croft (PRSC)
The Ambling Band
Tribe of Doris
Red Notes Choir
BCfm Radio
Bristol Refugee Rights