Co-op news: Cable members launch into action!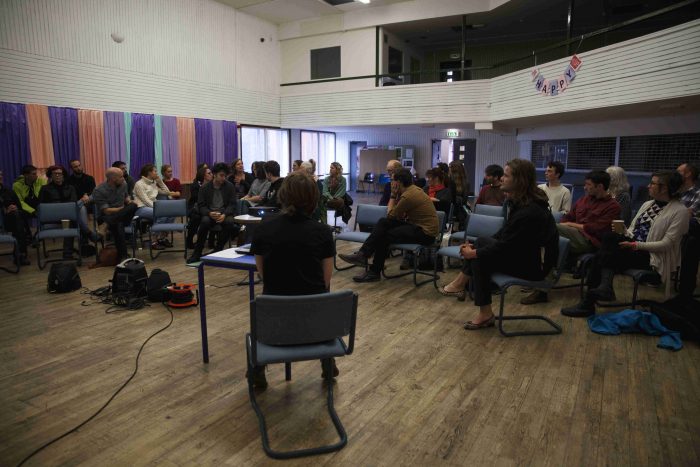 Using 'big organising' methods members are leading the way to turn the Cable into the UK's first sustainable city-wide media coop.
Photos: Norberto Fernandez Soriano
Earlier this week, around 35 Bristol Cable members met at the Malcolm X Centre, St Pauls, for the launch of a new member-led campaign. The event billled as a 'Barnstorm', was the first part of a larger mobilisation strategy that draws on 'big organising' techniques pioneered by Bernie Sander's supporters. The strategy facilitates members to organise independently to do outreach, host events and recruit new members.
Members learned about the overall strategy for moving the project forward, contributed their knowledge of organising in communities, and made plans for what they would do over the coming months.
Around 50 Cable members are now volunteering over September, October and November to put on 13 events in neighbourhoods, communities and workplaces across Bristol. Events range from door knocking and speaking to neighbours, setting up stalls at local markets, organising talks at work, and distributing paper copies at community events.
As well as encouraging people to sign up as members, these events will also serve as vital opportunities to listen to people across the city. In doing so, the Cable can ensure that our reporting is tackling the key issues of interest and concern for Bristolians.
Isobel Tarr, the Cable's outreach and engagement co-ordinator, explained how this campaign draws on some of the innovative organising techniques that have been used to great effect in campaigns such as that of the Bernie Sanders in the US, and the experiences of cross party activists organising in the UK general election.
Keep an eye out on the Cable's events calendar, we'll be updating it shortly with a list of member-led events which you too can be involved in.
If you have member-related inquiries or want to get involved contact: membership@thebristolcable.org and/ or isobel@thebristolcable.org
Another media is possible, let's make it a reality
The Bristol Cable team