Infertility treatments to be halved under new plans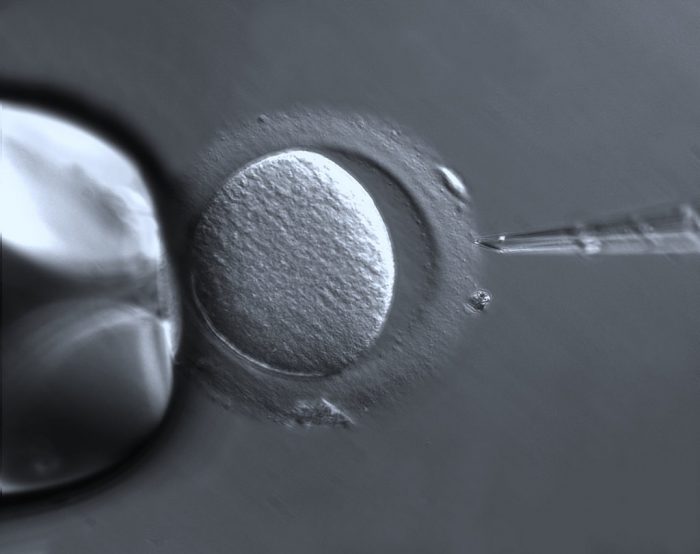 As central government steps in to drastically cut healthcare in the Bristol region, infertility treatments are set to be halved to save a paltry £1m per year.

Photo: ZEISS Microscopy.
The newly formed regional Clinical Commissioning Group (CCG) has plans to limit the eligibility criteria for couples seeking In Vitro Fertilisation (IVF) treatment. The proposal currently out for consultation is expected to halve the number of couples receiving an NHS funded cycle of IVF in the Bristol, North Somerset and South Gloucester region (BNSSG region).
To consider making it harder to get medical help is short-sighted and a false economy. It is arbitrary and unethical
By limiting the age of women who can seek treatment to between 30 and 35, and no-longer allowing couples who have children from previous relationships to have NHS funded IVF treatment, the plan is expected to reduce the number of IVF cycles the NHS provides in the region from 400 to 200.
The plans are proposed in the context of pressures on the regional NHS to reduce its deficit. Across the BNSSG region, the changes to IVF treatment are expected to save under £1m per year, 0.087% of the expected budget gap of £1.15bn.
This reduction in the service the NHS provides, which already falls behind national standards, will see more Bristolians having to pay for their own treatment through private providers – spending £5,000-£25-000 on medical assistance having a baby.
Meanwhile, further changes to fertility services are happening at North Bristol Trust. The Bristol Centre for Reproductive Medicine (BCRM) is a world class IVF clinic, one of the very first, however the Trust has decided to dispose of the service on financial grounds. North Bristol Trust is now selling or leasing it's newly built clinic, and Bristol CCG has to recommission the service under a new non-NHS provider.
Combined, this means that fewer patients will be able to receive NHS funding for their care, and Bristol's only NHS run IVF clinic is to be sold to private interests. The CCG's decision on eligibility criteria is to be made after the consultation closes on the 15th September, and the future of the BCRM will be decided in October, ready for service changeover on the 1st December.
Bristol loses the postcode lottery
The CCG's plans to reduce eligibility for IVF have already drawn criticism. In early August, a group of Bristol Councillors spoke out against the series of service reductions being proposed by the CCG. IVF is not the only NHS treatment being scaled back, there are also plans to reduce the amount of reconstructive surgery following an operation on breast cancer, and a stricter process for cosmetic surgeries and for receiving medical equipment for sufferers of sleep apnoea.
Gill Kirk, a Labour Councillor and retired nurse, said that the proposal to diverge further from the National Institute for Health and Care Excellence (NICE) guidelines on IVF treatment would have an unfair impact women, and only contributes to a postcode lottery where local people can't access treatment for their medical condition, infertility, despite it being part of national guidelines.
"This weakens the very concept of a National Health Service", says Kirk. "IVF services especially are vulnerable and being talked about as if they are a 'luxury' because they are not life-saving medical interventions, and therefore are 'unaffordable' by the NHS. This is a pernicious development as it leads to very deep inequality, where fertility treatment is only available to those who can afford to pay privately but not to those without financial means."
"The reduced age limit is of great concern as well. House prices, wages and other economic factors mean many couples are unable to settle in secure stable accommodation until a much later age than in the past. So many may not even know they need help conceiving until the 'ceiling' age of 35 is reached."
The data supports this assessment – couples in the UK are having children ever later. In the last four years, the average age of parents in the UK has risen by four years in the last four decades, with the average age of a first time mother being 29. Infertility is more common than you would think – one in 13 couples trying for a baby will still be unsuccessful after two years, and in 2014 52,000 women underwent IVF treatment.
Guidelines are just guidelines
IVF treatment in Bristol already falls below the standards set by NICE, and the plans to limit the age of prospective mothers to 30-35 only move further away from the recommended treatment. However, whatever the national regulators say, their advice is not binding and CCGs are free to choose what healthcare they offer to their respective populations.
Whereas NICE recommends that any couple who've been trying unsuccessfully for a baby for two years be referred into fertility assessment and given three cycles of IVF treatment under the NHS, Bristolians will only receive funding for their first cycle through the NHS. Any further cycles will have to be self-funded if they're unsuccessful. Research shows one cycle of IVF leads to an average 32% chance of having a baby.
The new proposals are to limit the age criteria for women seeking treatment, down from the NICE recommended 40 to 30-35.  The age criteria for men is also reducing slightly, from 54 to 52. And the NHS will no longer fund IVF treatment for couples who have any children, including those from other relationships. While the CCG justifies the plans on the basis that targeted intervention increases the overall success rates – this is only achieved by overlooking older women who need more help conceiving, and consequently have a lower chance of success.
"To suggest such a narrow window to the age criteria (30-35) misrepresents the clinical evidence and NICE guidance. It is arbitrary and unethical", says Susan Seenan, chief executive of the Fertility Network. "Infertility has a serious and lasting impact on all those affected. To consider making it harder to get medical help is short-sighted and a false economy."
"Fertility problems do not just affect people physically, but mentally too: 90% of people experience depression; 42% suicidal thoughts and 70% of relationships are affected. Please respond to the public consultation and help save NHS IVF. England pioneered IVF approaching 40 years ago but that achievement literally means nothing if only those who can pay for IVF benefit from it."
Money matters
For the CCG proposing to cut back on IVF treatment, the reasoning appears purely financial. Indeed the Bristol, North Somerset and South Gloucestershire region has been highlighted by NHS England as an area that's overspending its budget and doesn't have a solid plan to close the gap. This means that while local commissioners are still legally responsible for deciding on healthcare in the region – they are being micromanaged by central government and forced through a 'Capped Expenditure Process' to drastically cut costs.
A spokesperson for the joint CCG said: "We know how hard it can be for couples who are struggling to conceive and will continue to offer fertility treatment to hundreds of people every year. Clinical evidence shows that treatment between the ages of 30-35 offers the highest possible chance of success. In recent years, health spending in Bristol, North Somerset and South Gloucestershire has exceeded the £1.15 billion budget and there is a growing deficit. We have to live within our means to make the best use of taxpayers' money and ensure there are affordable, high quality health services for our population."
But the most significant cost of the plans are for the 200 couples who'll no-longer receive fertility treatment under the NHS.
Bristol CCG is currently consulting on both the plans to reduce eligibility criteria, and on recommissioning a private provider of fertility services. Local service users along with Protect Our NHS Bristol have written a petition for you to sign addressing these issues.