Photos: Bristol Wood Recycling Project in search for new home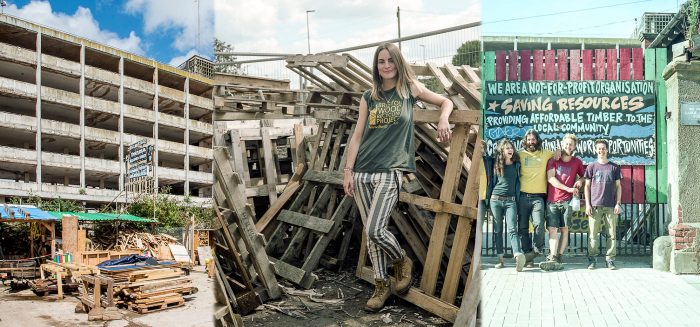 The Bristol Wood Recycling Project, an award winning social enterprise in the heart of the Temple Quarter Enterprise Zone, has been issued a termination of lease at Cattle Market Road, their home for 13 years.
Bristol City Council have instructed BWRP to vacate the site as work begins to prepare for the University of Bristol's Temple Quarter Campus development. All buildings on the historic Cattle Market site, including the former Parcel Force Sorting Office, will be demolished.
The self-financing social enterprise is run as a cooperative, with the objectives of saving resources from waste, providing affordable resources to the community, and enabling social inclusion and learning through volunteering opportunities. Now, BWRP are searching for a new site so that they can continue their social and environmental work in the city.
BWRP has saved over four thousand tonnes of wood from landfill over its lifetime and just last year facilitated almost one thousand days of work and training with volunteers from all backgrounds.
Kaleb Debbage, Co-Director and Workshop Manager said: "We've always understood our tenancy here as temporary and are enormously grateful to Bristol City Council for accommodating us as long as possible. This 13 year 'meanwhile' use of otherwise marginal land has enabled us to give a huge amount back to the city. We fully appreciate the budgetary conditions imposed on the Council who, like us, find themselves having to create innovative solutions within great financial constraint. What we need to concentrate on now is finding an affordable new home."
Kaleb explained "We are currently exploring all options to find a new home. We want to find a permanent site to continue growing our contribution to the city and we welcome assistance from Bristol's many communities in this great search. For now our business will continue as usual, 6 days a week, collecting wood waste, selling reclaimed timber, making bespoke furniture and hosting volunteers here at Cattle Market Road. Meanwhile, we're gladly sharing ideas for our new home with Bristol's business communities – traditional and otherwise."
Here's a few pics of BWRP in their original home.