Analysis: Bristol's next move should look to Barcelona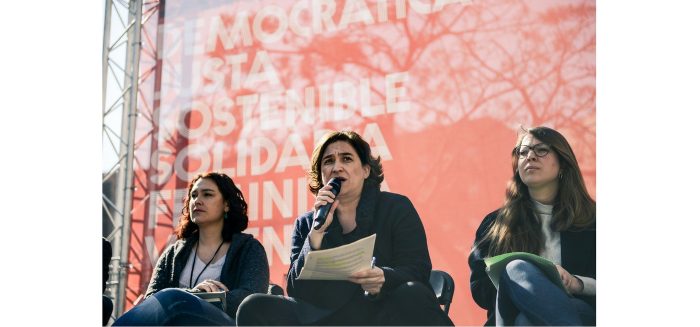 The Mayor and Bristolians can get inspiration in the struggle against the government.
Is greater devolution of power from central government to cities and regions the answer to the problems facing Bristol and others, and if so, how can we make that happen?
In September, Mayor Marvin Rees and other core cities leaders delivered their Green Paper, titled 'Invest Reform Trust', to Westminster calling for more devolution and investment in cities. According to reports, the group of leaders were snubbed by central government ministers.
It was the latest chapter in the story of cities trying to wrestle more autonomy from Westminster to set their own agendas. The focus on cities is not a new development: increased devolution since the 1990s has seen a number of acts passed and growing recognition that cities are hubs of economic and political power, and can act as a forum for greater democratic participation. In theory, residents are closer to the policies that can shape and break their communities. City networks continue to emerge: Resilient Cities, Fearless Cities, SmartCities.
Rees has always been an advocate of the city-led approach. In his 2016 annual statement he stated we live in a 'post-national world' where 'cities hold the key for the future.' But city-level opposition to austerity has so far failed to re-route the government's course of action.
The mayor has rejected calls from Bristol activists and even some Labour councillors to defy Westminster and set a 'no cuts' budget. In an interview with the Cable earlier in the year, Rees stated: "I'm not a protest group I'm the leader of a city and my job is to get things done."
But who will get these things done? The core cities' focus on trying to negotiate with Westminster officials follows the model of trying to enact change from the top down. Londoners have made similar points about their mayor, Sadiq Khan. Perhaps these back room conversations could carry more weight if the citizens of Bristol were also seriously engaged with deciding the strategies to take this city forward.
The mayor acknowledges this, with the newly formed City Office tasked with working with groups across the city to find local solutions to housing, health care, youth work and more. There have also been endless rounds of consultations and boxes for local people to tick – but the options for citizens here are limited. At least one consultation, regarding the reduction of council tax exemptions, has been met with derision and even claims of illegality for offering three options: cuts, cuts or cuts.
Meanwhile other cities, such as Barcelona, offer an example of radical grass-roots and citizen-led movements that have truly shaken up the political establishment. What can we learn from them?
Barcelona, and Spain as a whole, was struggling economically before the 2008 financial crisis, which threw the country deeper into crisis. Post-crash, huge numbers of people in the city were mobilised to take to the streets and anti-austerity grass-roots movements emerged gaining significant political traction.
'Yes we can' became the slogan as groups organised under the radical citizen platform Barcelona en Comú which was launched in June 2014. The platform provided the organisational structure for individuals, activist groups and political parties, which all worked under the platform's manifesto. Together, they achieved greater lobbying power and linked networks of local assemblies giving people the chance to engage in policy decisions. Rising through the ranks, Ada Colau, a former housing activist and leader of PAH ('Mortgage Victims' Platform'), astonished Spaniards in 2015 when she was elected mayor of Barcelona. "Democracy was born at local level, and that's where we can win it back," she declared.
"An end of the political class removed from the people," is what Colau called for in one of her first speeches as mayor. She advocated for fining the banks that allowed properties to lie empty, forcing them to let families move into empty buildings, and starting to bring water and power services back into public ownership. And alongside a handful of other Spanish cities, she declared Barcelona part of the 'Rebel Cities' network; that is genuinely confronting central government, devising their own policies, and making a worldwide plea for other cities to join. A handbook is available for other cities to follow.
Barcelona is not a success story quite yet but perhaps there are lessons for Bristolians. I spoke to people from a range of backgrounds about their experience of Barcelona's power shift and reflections for the people of Bristol to consider as we take the next steps to tackle austerity.
Kate Shea Baird
British now living in Barcelona / Activist of Barcelona en Comú
One thing the Barcelona en Comú government, and Ada Colau in particular, has been very clear on is the limits on electoral and institutional action. To be able to push past any political limits, elected leaders need strong pressure from organized civil society and social movements, both to define goals and priorities and to make sure they are achieved, whether it's on austerity or asylum policy or violence against women. In other words, if the people of Bristol want their mayor to do what they elected him to do, they can't just turn out to vote once every few years, they have to keep the pressure on him, and the central government, every day.
I think there's been real progress here on re-municipalizing nursery schools, introducing social justice criteria into public procurement, tackling the feminization of poverty, among other areas. Rising rents remains the biggest challenge at the moment, though.
Robin Hambleton
Emeritus Professor of City Leadership, University of the West of England (UK)
Civil disobedience is a strategy with a fantastically good track record. However, elected local government councillors in the UK live in a super-centralised state and, under British law, are answerable personally. I know some people who were Labour councillors in the 1980s who opposed the Thatcher cuts, refused to set a rate (i.e. the local tax before Council Tax came in), and were then prosecuted and suffered massive personal financial loss.
It follows that those who are 'in' the state need to pursue strategies to tackle inequality that, some of the time, have to be different (to be effective) from those who are 'outside' the state. This is not a difference of values or desired outcomes… It is about the politics of change strategies… Effective campaigners recognise this…
Dr Bertie Russell
Research Fellow | Urban Institute | University of Sheffield (UK)
If I were to provide a short-list of lessons/actions, that have been taken in other cities, they would go something like this, all of them are geared towards building citizen autonomy, and developing people's own awareness that we – collectively – can shape the future of our cities:
1. Introduce participatory processes that let citizens set the policy agenda, from identifying problems to proposing solutions. An example would be Barcelona or Madrid's "Decidim" process, however we should always be learning and improving on previous initiatives. It's crucial these mechanisms lead to citizen empowerment, rather than become a 'tickbox' exercise.
2. Facilitate citizens to establish non-market, non-public sector initiatives – urban commons – and recognize their right to self-determination. An example would be Naples decision to create a Department of the Commons and provide a legal status for previously squatted social centres. Strive to enable alternative economic initiatives, and promote collective and common property rights.
3. Revisit your public procurement policy to ensure all publicly procured work meets a series of progressive standards. These should include not only basic elements such as 'green' standards, but extend to privileging elements such as worker-controlled cooperatives. This requires learning from other cities across Europe, especially regarding restrictive EU policy.
Edu Salvador
Local Community Activist (Barcelona)
Ada Colaus' first priority was to stop evictions as she was a leader of the PAH, platform of people affected by the mortgages, she has been negotiating with banks and on one hand she has not been able to actually stop (evictions) as the municipal government has no competences on regional and state legislation. Although, she has pushed to have a set of low rent apartments both with the collaboration of tenants as well with banks.
Through her leadership in international conferences of cities, Colau has been active in bringing to Barcelona mayors from main progressive cities of the world. She is a responsible mayor, and has reduced her salary – the salary of the previous mayor was outrageously high.
I personally have been participating in the meetings of the citizens and the local government. The representative of Colau in the district Gala Pin, allocates plenty of time to explain what the district is doing, and for public hearings and Q&A. The results of her policy are tangible in the sense that she listens more to the citizens. In the past, the mayor listened to the big business. Now, Colau, has cancelled previous contracts with electrical companies and other multinationals, reduced the corruption and the overspending for big businesses and oriented it to the people
Colau, in my opinion, represents the consciousness of many Barcelonans', who are not necessarily nationalists, but care for social issues, proud of their origin but also against islamophobia and open to receive many refugees.