How this Barcelona group is building community power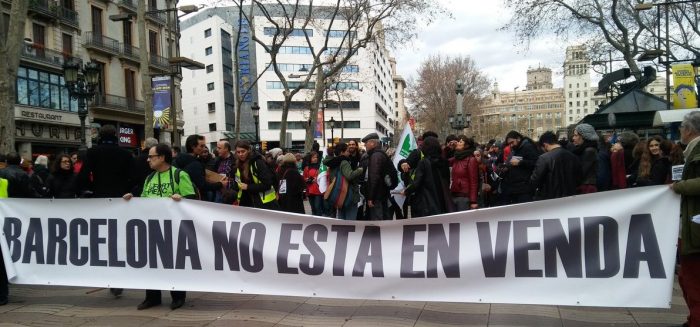 An interview with the vice-president of the Federation of Neighbourhood Associations of Barcelona
FAVB (Federation of Neighbourhood Associations of Barcelona) is a non-profit organisation that has been working with people in Barcelona since the 1970s to facilitate citizen participation in local government. It was groups such as theirs that helped bolster Ada Colau to victory in the 2015 mayoral election.
The Cable's Jenny Stringer spoke to Albert Recio, vice-president of the FAVB about civic participation in the city's politics, and how things have changed since the election of 'radical' mayor Ada Colau.
Jenny Stringer: What are the aims of your organisation?
Albert Recio: Our organisation FAVB (Federació Associacions Veins i Veines de Barcelona) is a federation of neighbour's associations, that exist in every neighbourhood of the city. We defend the collective interest of neighbours in a large range of questions: urbanism, public services, civil rights etc. The movement was born in 1960s.
JS: What is your relationship with the mayor's office and mayor Ada Colau?
AR: The federation has maintained institutional representation from the local government, independent of the party in power. It is true that the new government is closer than others have been to our movement, due to Ada Colau winning the election with the mobilisation of activists in social movements like ours. In fact, Ada Colau herself and other members of her group have been members of our federation in the past. But we maintain [independence]. We participate in several "participatory councils" and we have periodic meetings with the local government.
JS: Ada Colau has had to make the transition from activist to politician – how has that played out?
AR: After the 15-M movement (the Spanish anti-austerity protest movement which started in 2011) there was a sense in society that something was needed to change things in the institutional arena. In Barcelona the government was in the hands of the Conservative Catalan Nationalist party that practice a sectarian neoliberal policy. Several initiatives generated the need for change and led to the proposal for Ada Colau to run in the mayoral elections. She is popular, connected with ordinary people, and accepted the proposal to run for mayor.
JS: Are activist and grassroots groups playing an active role in city government?
AR: Many of the members of the city council in the "party" of Colau (Barcelona en Comú) come from different social movements: neighbourhood, ecologists, 15-M, Occupy, anti-evictions (the PAH – the movement of Ada Colau), and also people of several think-tanks on the left. All the parties of the left joined.
JS: How is the housing situation now? Do banks have less power?
AR: Housing continues to be a big problem. And we are inside a new process of inflation due the transformation of flats to tourist apartments and the arrival of middle class employees in the new sectors of tech, design etc. Local government has not enough mechanisms to change the situation despite its actions in order to control empty flats, reduce touristic uses and so on. Recently courts have eliminated a local tax against banks for tenure of empty flats. The local government is really making an effort to improve the situation in several areas: protection from evictions, construction of new houses, pressure to banks etc. But it still has to face central government laws, financial problems, etc. These are barriers.
JS: Do citizens feel genuinely engaged in politics and decision making?
AR: There are new measures promoting participation. There are contradictory politics between individualistic participation and a collective organised approach. In fact the engagement is still less than we need. Mainly due [to the fact that] for many people politics is still viewed as something far away and removed from their daily lives.
JS: How have things changed for citizens since the new mayor's office came into power in 2015? Have things got better for people?
AR: In my opinion things have improved but not enough. Improvement in participation, in social expenditure and social services, in new urban projects – yes. But changes are slow, due to many challenges, and I am not sure that many people really feel the improvements. On the other side, some districts of the city suffer new pressures related with tourism. And many people continue to suffer every day for the austerity and neoliberal measures in terms of unemployment, low wages, precariousness etc. Questions that not are in the capacity of local government to change.
JS:Has the mayor been able to stand up to central government and those in opposition?
AR: She has a strong voice. Sometimes effective but not enough. Colau's government is in minority. And she must to struggle with many "enemies". One the one side, state government of Partido Popular, a reactionary, neoliberal government. In the other side, Catalan nationalists that view the success of Ada Colau as the major obstacle to their control of Barcelona (the capital of "their state"). She has a fierce, very angry opposition that many times block progressive proposals.
JS: What are the challenges?
AR: The major challenges are in three spaces. One is to develop more efficient policies in the fields that local government have the power to change, especially in the next two years, before new elections. The second is to reinforce the confidence of people about the good directions of their policies and the difficulties ahead. The third is to improve the relations of a network between local government, social movements and think tanks.
JS: What could be done better?
AR: Many things: communication, participation, efficiency of services. It is not only a question of aim and political engagement. There needs to be a clear recognition of the main obstacles, the institutions that create barriers to change.
JS: What message would you give to both the mayor and citizens of Bristol who are facing brutal austerity measures that hit the poorest members of society?
AR: That they need to understand that are facing strong enemies, and have complex things to resolve, and they need to work in several fields: improving the efficiency of their teams, improve the participation of people, feed social movements, select the right challenges each time, and develop networks that can change national policies.