The Bristol Cable: inside your people-powered media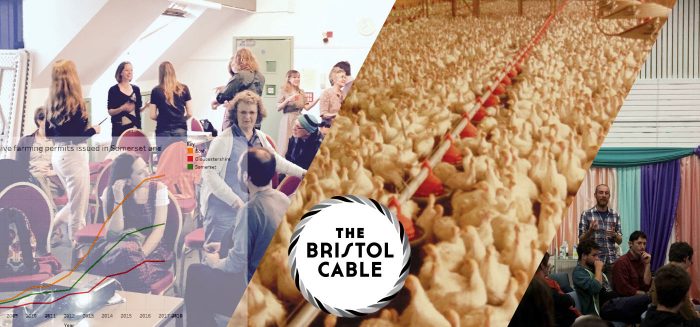 From edition 13, OUT NOW!
Read more from this edition.
When times are bad, we need public good more than ever.
Austerity is under the spotlight, migrants are being blamed for society's problems and people are struggling with the rising cost of food and housing – there is much work to be done by your local media cooperative. Our aim is to hold power to account while empowering people to participate. We could not do it without the support and input of our 1,850 members, so here's a brief roundup of what you've made possible over the last few months.
Animal cruelty exposé in Parliament
Cable journalist Lorna Stephenson worked with the Bureau of Investigative Journalism to report on the rise of factory farms in the South West. A number of US-style 'mega-farms' in Somerset and Gloucestershire are accused of keeping animals in squalid and environmentally unsafe conditions, on an industrial scale. Bristol East MP Kerry McCarthy took the issue to Parliament, both sharing Lorna's report online, and asking Environment Secretary Michael Gove what he was going to do about the trend. Gove insisted environmental and animal welfare standards would "not be compromised" while he was in the post.
Bringing you behind the scenes
More of you have been joining our monthly members' meetings, which have included some exciting talks and discussions at Windmill City Farm. Participants have heard the inside scoop on investigations and features from our journalists and suggested their own story ideas. Stay tuned for details of our next meeting – come along to share your views and ideas, or simply sit back, eat biscuits and hear interesting journalistic tales.
'Bet on the jockey, not on the horse'
That's what the president of the Reva and David Logan Foundation said in August, when awarding the Cable a £45,000 grant.
Like us, the Logan Foundation believes that a "just society" needs a "robust and unfettered press", and we're grateful and honoured to have its backing. The foundation based its decision on what we the team, our members and readers achieve together: democratic decision-making, free education and fearless journalism.
So we're keeping at it. We'll invest the fund according to members' decisions taken at the last annual general meeting. These included delivering more diverse and innovative journalism and providing full salaries for staff members.
And while the Logan Foundation's generosity and belief will be an immense help in keeping our doors open, we need you: your membership, participation, ideas and readership. With your support the Cable can become sustainable in the long term, and can work harder to raise the standards of local media.
Which brings us to…
Taking a leaf from Bernie's book
Credit: Norberto Fernandez Soriano
Last month the Cable took a leaf out of Bernie Sanders' playbook by organising our very own 'barnstorm' – the name given to Sanders' events at which people came together to plan and organise grassroots campaigning. As a result, 50 members will be 'Cable-ing' all over Bristol in the next few months. That means talking to their neighbours, friends and colleagues about the Cable's approach to journalism, community ownership and taking on important local issues. What's important to you? What do you think media should look like? Whether you're a Cable member or not, look out for our stalls and talks across the city. Come say hello and find out more!
Media Lab's back
We believe access to education is vital in making media more diverse, democratic and accountable. A person's life circumstances should not preclude a career in journalism or deprive them of the opportunity to learn new skills. In 2016/17, we ran the free Media Lab course, giving 15 people from diverse backgrounds the chance to learn from seasoned journalists and develop skills and experience, whether in writing, filming or making Freedom of Information requests. Our Media Lab graduates are a testament to the success of the programme, with many now producing confident and powerful journalism at the Cable and elsewhere. We're delighted to have been awarded a £7,600 grant from the Moondance Foundation to do it all again. Applications for the 2018 programme will open later this year.