Voice: A Bristol guide to racist Halloween costumes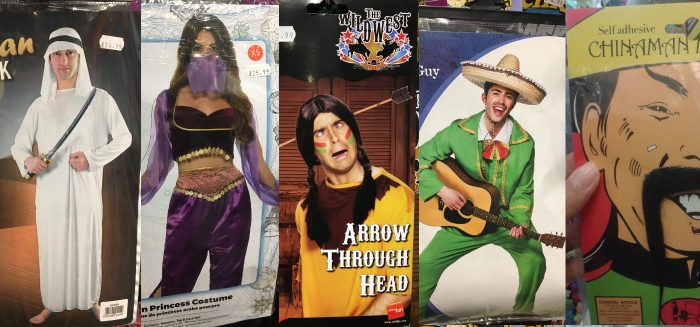 "If I can dress up as Captain America why can't I be an 'Arab' or an 'Indian'? And how dare you offend me by being offended?" Koel Mukherjee on why you should think twice before donning that Halloween costume.
A lot of people are dressing up as Wonder Woman this Halloween. Captain America and Iron Man are still popular, and people love pirates and zombies as much as ever. And then there are people who, every year, have to ask: "If I can dress up as a comic book character why can't I be an 'Arab' or an 'Indian'? And how dare you offend me by being offended?"
Some enthusiastic party-goers have no idea what's wrong with their 'Arabian Princess' costume, Hollywood fantasy 'Native Indian maiden' outfit or 'rasta hat with attached dreadlocks'. Others just use Halloween as an excuse to express their not-so-inner bigot – and luckily, for both the clueless and the callous, there's a whole industry on hand to help.
In costume shops caricatures of real peoples are sold side by side with pirates, monsters and superheroes – just another strange or fantastical costume to put on for a wild night and take off the next morning. Of course the minority groups whose culture and bodies are being parodied often have a harder time wearing traditional dress or hair in public than the revellers who mock them, due to the risk of hate crime and discrimination.
The stereotypes at the heart of this brand of Halloween fun contribute to a society in which ethnic minorities are treated as 'other' at all levels, from treatment by the state to what we encounter on the street.
People aren't objects, despite the best efforts of the costume industry and racist institutions throughout history. So there's always backlash and people always fight back (for example, the 'My Culture Is Not a Costume' campaigns in the United States). But you can still walk into a packed fancy dress shop and see racist mockery on sale with no one batting an eyelid.
Bristol is no different. Here are some costumes on offer at several of the city's fancy dress shops, photographed with a strong stomach this past weekend.
'Arab's beard'
Classic Halloween racism: a crude ethnic and cultural caricature that dehumanises and stereotypes millions of people. For those extra-special fancy dress nights when you feel like reinforcing the prejudice faced by Middle Eastern and Muslim people in Western society – using a parody of a part of some people's bodies as a nifty stick-on accessory.
This particular type of racist dress-up doesn't have to end with a fake beard. Each shop had on offer a veritable bingo card of Middle Eastern caricatures, from 'Sheik' to 'desert princess'.
'Chinaman moustache'

Spotted at the back of a Bristol shop: a disturbing costume idea straight out of turn-of-the-century racist hysteria. With exaggerated facial features and a sinister expression, this depiction of a Dr Fu-Manchu-style 'Chinaman' relies on hundred-year-old stereotypes of scheming 'Oriental' foreigners with buck teeth and exaggerated accents. Just £4.99 to re-enact this nasty history – for when 2017 just isn't 1917 enough.
'Mexican Tortilla Guy'

It's unclear in what way this costume is tortilla-based, or in fact what the point of it is, other than to throw together random things associated with Mexican people for the hilarity of a weird and offensive caricature. What's next, 'Bollywood Curry Guy'?
'Indians'
'Native American' costumes far outnumber any other cultural or ethnic parodies. Every shop visited had multiple dress-up options for caricaturing indigenous peoples. These are just a few examples.
Of course the hundreds of real Native American nations – although all subject to displacement, oppression and colonisation – have diverse traditions and beliefs. Meanwhile the classic Hollywood stereotype is a grab bag of elements from separate cultures mashed together for a nonsensical parody, with dehumanising attributes like 'savagery' attached (see Native American media outlet Indian Country Today's excellent takedown of these costumes). These actively harmful stereotypes are rooted in centuries of oppression. In real life Native communities face and fight institutional discrimination, inter-generational trauma and erasure of traditions. These are all a result of the oppressions your local fancy dress shop invites you to re-enact for fun this Halloween!
There could not be a better example than the below.
'Arrow Through Head'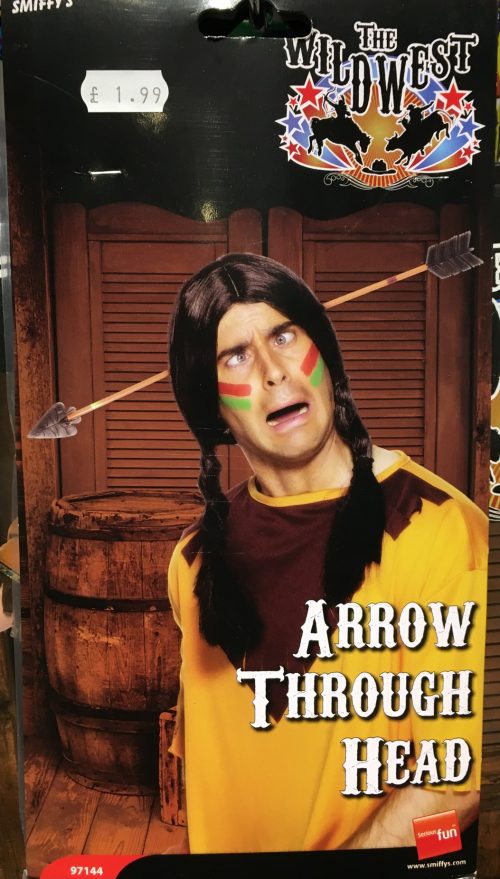 Yes, this is a fun costume encouraging you to parody the murder of indigenous people in the 'wild west'.
"Dressing as someone else's culture has lasting impacts on everyone's psyche," teacher and researcher Noel Altaha, an indigenous American woman from the White Mountain Apache Tribe, wrote in 2013 to accompany her video, 'I am NOT a costume'. "When you wear an 'Indian' or 'Savage' or 'Native American' costume you are basically stereotyping a culture, you are also making their culture a historical reference that sends a message to everyone: Native Americans no longer exist, only in history books and old western films. You are not recognizing the present day Native people who are professors, doctors, actors, and nurses who still identify with their Native culture and are successfully existing in the modern world."
Similar frustration at being dehumanised and erased has been expressed by Chinese-American poet Jason Chu. "I wake up in this body, and it's not a costume party," he raps in 2015's powerful 'I Am Not A Costume'. "You discard and dismiss it, I wrestle with and I live in it."
There's now a whole internet's worth of reading available on cultural appropriation, racist mockery, how it's been used as a tool of oppression, and how it continues to affect communities and society. People of colour who have to endure being the punchline in this yearly 'joke' (and so many in between) continue to campaign and share stories – so there's no excuse for claiming not to know. To all the sensitive souls who mock the thin skins of the people they've upset, while simultaneously reacting to criticism of their costumes like it's oppression under a police state (wake up, sheeple!)… particularly anyone in Bristol who might have purchased the above items – here's a diktat from your oppressors:
Educate yourself.