Kerry McCarthy MP on Brexit and the future of UK farming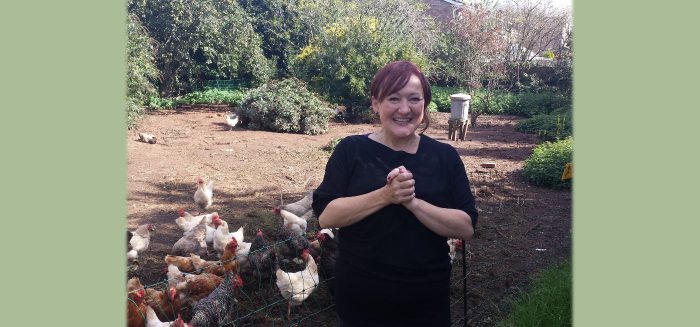 The Labour MP for Bristol East talks about the challenges of steering Brexit in a green direction.
"The economic and human cost of antibiotic resistance is immense, and will be paid for by future generations unless we take urgent action."
Asking Bristol East MP Kerry McCarthy about intensive farming, at this moment in time, somewhat opens the floodgates for a wider discussion about animal welfare standards and the environment – and what Brexit means for them.
The long-time vegan Labour MP is well known for her animal welfare and environmental concerns: McCarthy was previously shadow environment secretary and is the chair of the parliamentary group on agroecology. The issue of so-called 'mega farms' taps into the turbulence surrounding Brexit and its potential environmental impacts – something McCarthy is determined to steer in a green direction, protecting the EU-level regulations that Brexit threatens.
"I am so pleased there has been press focus around the prospects of future imports of chlorine-soaked chicken and hormone-fed beef on our shelves from the US, as a result of a future trade deal with the US," she explains via email, on her return from Washington DC, where she's been part of a trade deal delegation with North Somerset MP Liam Fox.
From edition 13, OUT NOW!
Read more from this edition.
'Huge implications'
She says Fox, the international trade secretary, considers the farming aspect as "just a detail of a much larger agreement", whereas in her view it's something that "actually has huge implications for British food and farming".
In July, the Bureau for Investigative Journalism exposed a dramatic rise in the number of permits given for intensive farming – for operations with capacity of more than 40,000 poultry or 2,000 production pigs – in the last decade. This included a six-fold increase in the number in Gloucestershire and Somerset since 2010.
McCarthy raised the issue in Parliament, concerned about the environmental and animal welfare impacts. Environment secretary Michael Gove responded that there was no way we "would see US-style farming in this country" – but there are already more than 800 farms of enormous scale that meet the US' category for the largest and most intensive operations.
McCarthy doesn't buy the argument that the farms are necessary to meet consumers' demands for cheap meat. "Short-term benefits will be paid for by future generations who will find it harder to produce enough nutritious food with depleted soil, water and biodiversity," she says.
Her view of food security is much more environmental and holistic. "We need to cut food waste, change our diets and maximise farming that restores our soils and has lower inputs," McCarthy goes on.
In her previous position as shadow secretary for the environment and rural affairs (between 2015-2016), McCarthy spoke out about the routine use of preventative antibiotics in livestock farming, which is contributing to the increase in antibiotic-resistant infections in humans. "The economic and human cost of antibiotic resistance is of course immense, and will be paid for by future generations unless we take urgent action now," she says.
Although the government recently committed to reducing agricultural antibiotic use by 20%, something recommended by the O'Neill commission into the issue back in 2015, McCarthy says there's much further to go. Particularly "perverse", she says, is that the government has recently licensed the 'last resort' antibiotic colistin, which is used in critical human cases resistant to other antibiotics, for use prophylactically in pig feed.
'Zombie legislation'
Overall she is "slightly sceptical" of Gove's green pronouncements despite, naturally, welcoming them. She's certainly not convinced that Brexit as a whole will deliver environmental protection. "Up to one-third of our environmental protections will not be covered by the Repeal Bill, and those which are transposed are at risk of becoming 'zombie legislation'," she says, the latter referring to regulations which will no longer have a body enforcing them.
"If Theresa May makes good on her threat to turn the UK into a deregulated, offshore tax haven if a deal can't be reached – which of course has long been a dream of many within her own party – we will almost certainly see further deterioration of our environmental protections," McCarthy says.
She has tabled a number of amendments to the government's EU (Withdrawal) Bill (previously called the Repeal Bill), on behalf of environmental organisations to try to rectify its many flaws, which could leave our natural environment less protected that it is now. These amendments require, for example, retaining the legal principles that underpin good environmental protection, such as the precautionary principle, which underpins the EU's ban on neonicotinoid pesticides which harm bees.
With an eye on the post-Brexit future, McCarthy is also hoping to be selected to sit on the committee of the Agriculture Bill that will follow the EU (Withdrawal) Bill. Important, and potentially positive, developments could come in the replacement of the EU Common Agricultural Policy (CAP) subsidies, which have been criticised for not targeting funds where they are most needed.
"We should definitely take this opportunity," she says, "to ensure subsidies are better used to promote and protect public goods, to improve people's access to the countryside, as well as to support biodiversity, soil health, flood prevention, and a more sustainable system of farming."