Victory for campaign as mayor scraps council tax changes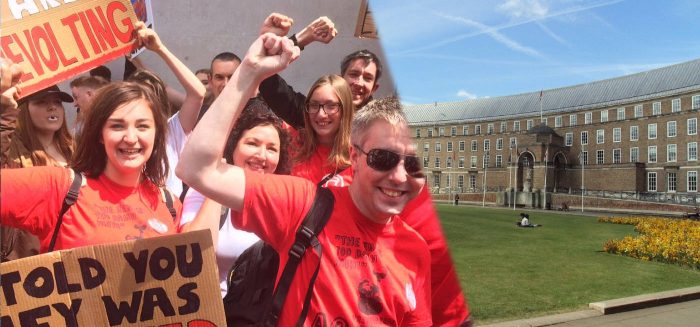 The plans would have hit 16,000 of the poorest households.
Mayor Marvin Rees has scrapped plans to change the Council Tax Reduction scheme, at least for the coming year. The plans would have removed the full council tax discount from 16,000 of Bristol's poorest households.
The move follows mounting pressure from a campaign led by ACORN community union and backed by Bristol Lib Dems, the Green Party and multiple local Labour party branches, as previously reported.
"This is a vindication of all the hard work that ACORN members have put in over the last few months, taking on what looked like a hopeless campaign and smashing it into the ground. We can fight and we can win," a representative from ACORN said.
Campaigners called on the mayor to "put a clear distance between Labour Party actions in power and Conservative Party policies".
ACORN had called on the mayor and Labour to "put a clear distance between Labour Party actions in power and Conservative Party policies".
As recently as last week Rees hit back at the campaign for not offering alternative solutions for plugging the gap in the council's finances. However, with multiple Labour councillors pledging to vote against the plans amid concerns that the changes would further burden Bristol's most deprived areas – and achieve very little, if any, savings – the mayor has now taken heed of the calls for a rethink.
In the annual 'State of the City' address, delivered yesterday, Rees outlined how the administration had brought "Labour values of fairness and equality of opportunity" to the running of the city. Referring to the Council Tax Reduction scheme the mayor said "for this year at least, we will recommend to full council that we retain this scheme intact".
The change of heart will mean that Rees may dodge another sticky question. The council's Greens and Lib Dems have been challenging the legality of the public consultation on the changes on the basis that it only offered no options except cuts. The council stood by the legality of the consultation, but refused requests to disclose the legal advice to support their position.
Carla Denyer, Green councillor for Clifton Down, said: "I warmly welcome the mayor's u-turn on this and congratulate the grass-roots campaign that has proven to be so successful. Greens have been campaigning alongside residents for months saying that cutting the scheme would have a devastating effect on the city's most vulnerable residents."
Referring to the fact that the council will review the scheme next year, Cllr Denyer continued, "While we welcome this 11th-hour decision we are deeply concerned that the mayor has put a proviso in to say it is saved 'for this year at least'. I know that residents have been worrying about this and it seems astonishing that the mayor still holds open the possibility that this will then be forced upon them next year."
A representative for ACORN said, "We've done it before and we'll do it again, because we are ACORN and we refuse to lose."