Cable members in Knowle West talking about drugs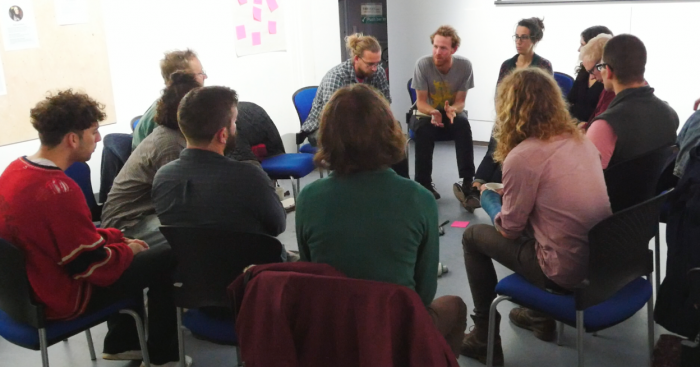 Our monthly members' meeting took place in Knowle West this week, exploring drug related issues in the city
As the Bristol Cable reaches out to neighbourhoods across the city, monthly meetings continue to be an opportunity for members to get involved with the media they own. This month we were in Knowle West.
"It was a really great opportunity to meet people behind the Cable and other members" said Phil, who attended the meeting for the first time. "It gave a much clearer understanding of what the organisation is doing and how."
The audience received an update from Membership Engagement Coordinator Izzy Tarr on the latest achievements and prospects:
Finally a victory for housing transparency! A joint Cable and community campaign has led to a successful campaign for transparency around controversial secret housing documents.
But there's more to do…The Cable is launching a national campaign calling for police to come clean on indiscriminate surveillance technology known as IMSI-catchers.
We're hiring! Could you be our Workplace coordinator?
Next up, media coordinator Alec Saelens introduced the 'What's wrong with drugs?' series launched this Autumn to raise awareness about drug policies and their day-to-day effect on people from all walks of life.
Cable journalist Matty Edwards then gave a presentation on his recent hard hitting investigation on the devastating use of synthetic cannabinoids in HMP Bristol.
For the rest of the evening, members socialised around cups of tea and fed ideas into the Cable's approach to covering drug use, related policies and support services in the city.
Want in on member owned media?
Join 1,850 others and make it happen.