Interview: Shackelia Jackson, human rights activist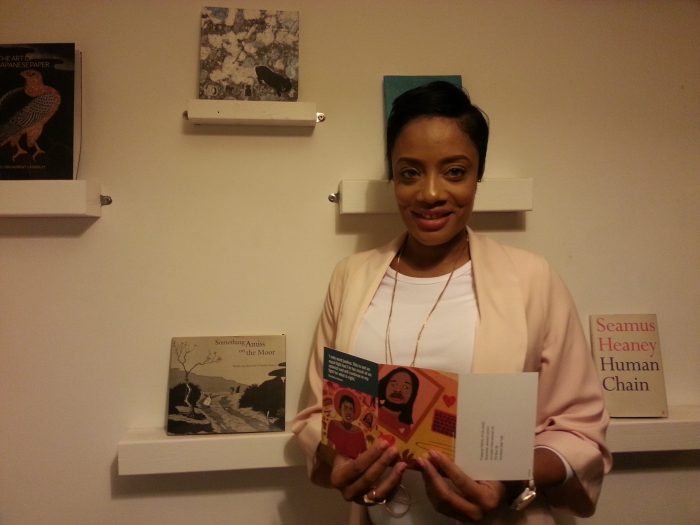 The Cable spoke to Jamaican activist Shackelia Jackson, who has been campaigning against unlawful police killings after the murder of her brother in 2014.
Shackelia Jackson's brother Nakiea was murdered by police in his restaurant in Jamaica in 2014, one of the estimated 2,000 people killed unlawfully by the country's police in ten years. The police said they mistook him for a wanted man. Since then, Shackelia has been an activist for police and judicial reform in Jamaica.
Her fight widened beyond seeking justice for Nakiea when she realised how many other families were "cut off from the corridors of justice", many of whom never even saw charges brought against the officers who had killed their loved ones.
Shackelia recently became one of Amnesty International's ten 'human rights defenders' chosen for 2017. "I felt very privileged, I was grateful," she says of the position. "I knew that they were the linkages that I needed to establish if we were to secure no longer just justice for my brother but to really highlight the plight of so many other families, and what was really happening in Jamaica and the actions that state must be compelled to take."
Shackelia was in Bristol as part of a European tour with Amnesty when she spoke to the Cable about her experiences and her campaigning, which has seen her and her family face harassment and threats. Shackelia now lives in New York, feeling 'like I am in exile' because she no longer feels safe in Jamaica.
Losing a brother
Shackelia's determination to secure justice for her brother began as soon as she heard that he had been shot, after running to his restaurant and seeing the abandoned food preparations and blood on the floor. Members of the community outside were talking about what happened.
"Somewhere in between it I heard he was at the hospital, and knew I had to make my way there," she says, noting that police officers are known to shoot to kill, rather than injure. She locked the restaurant, "because I also had a crime scene on my hands" and, at the hospital, told Nakiea that she loved him for the first time as he was clinging onto life.
While Nakiea was in the operating theatre, Shackelia was rushing around town. "I left and went to the various media houses trying to get journalists involved … It would have been insult to injury if the police were allowed to come on the record with their usual narrative and to further defile who my brother was." She says police always paint victims of unlawful killings as gangsters, bad people, or somehow deserving of their fate. She also contacted the oversight body that's supposed to investigate police killings.
"I know what I'm capable of, I know what my core values are, so it's not about trying to prove that to people who have seemingly lost theirs."
"I was thankful that I was not naive enough to not see the need to be prepared or to have that kind of knowledge base in the event that this was to happen. The fact that I appeared so prepared, almost as if I had a template – it speaks to the kind of society that we were living in. There was no innocence, there was no confidence in the security forces."
Later that afternoon, Nakiea was tragically pronounced dead, "so we no longer had injuries… we had a murder on our hands".
Shackelia says, "I think our greatest tragedy came after the death of my brother, in as much as his death was significant and it cost the family a lot psychologically and in every other way possible, I think the things we were subjected to post his death and because of the stance that we took further aggravated the situation. Because we were treated as enemies of the state, or actual villains."
The police officer was charged, but Shackelia says that's no assurance that justice will be done: "A charge sometimes is just a way of getting the public to relax, and lay low. Because you know there are other structural barriers that ensure that this officer gets away [it]."
Observing the court case, Shackelia "watched the power play" in the courtroom, and "the violations which occurred" – missing documents, unnecessary adjournments, no proper witness system.
"I've always said that it would have been better for an ordinary citizen to murder my brother I think it would have been much easier to prosecute because then we could leverage not only our own resources but that of the state, but when it was done by a police officer, all of those state resources were used against us. And the state is serious when it wants to protect one of its own, it pulls out all the stops."
Continuing the fight
The case was eventually dismissed. It was in highlighting the miss steps in the case that Shackelia says she "never became satisfied". She put forward recommendations to make the system more "tolerable". She says that "In doing that, I realised it was necessary work because there was too many other persons who lacked the strength, lacked the support, lacked the avenues or the channels to secure justice or even to get a case be brought before the court… I became synonymous with a fight that was bigger than my brother and even if I wanted to stop, stopping became difficult!"
But activism in Jamaica comes with risks and challenges. Activists, Shackelia says, are seen as "trolls", people "there just to destroy law and order". But in her view, the role is to make people uneasy, and rightly so. She was recently called 'ISIS' by a police officer.
"The fact that you would liken me to such a group shows that you know who I am and if my name will function as a deterrent in terms of how you operate, then I'm OK with that," she says. "I know what I'm capable of, I know what my core values are, so it's not about trying to prove that to people who have seemingly lost theirs."
Find out more about Shackelia's role as an Amnesty International human rights defender.