This is how many Bristol rough sleepers will be 'removed' from UK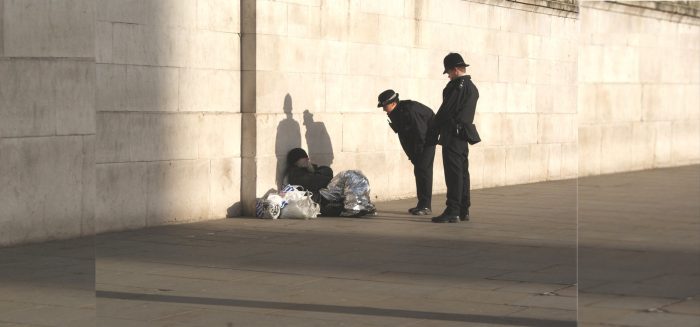 Documents reveal council plans for 'Controlling Migration Fund' project
Photo: Özge Çağla Aktaş
Removing Rough Sleepers
Part of an investigation into the council's partnership with Immigration Enforcement.
Documents obtained by the Cable show the council anticipates up to 128 non-British rough sleepers will be removed from the UK over the next two years by force if necessary.
The plans are part of the 'rough sleepers project' funded by the government's 'Controlling Migration Fund' as previously revealed the Cable.
The council-led Streetwise team will continue at least two years worth cooperation with Immigration Enforcement, with an aim to detain and remove non-British rough sleepers from the UK, specifically those from Europe.
Immigrant rough sleepers targeted for removal
New information shows the council has identified 36 'immigrant rough sleepers', 25 of which are from EU countries. Shockingly, one quarter of the EU rough sleepers are in employment but unable to access accommodation. While these people may be supported into better circumstances by the council team, others will face an order to leave the UK or be forcibly removed.
The remainder of non-British rough sleepers are from a range of countries, including those that may produce refugees such as Sudan and Eritrea.
The council stresses that the programme aims to help people leave the UK voluntarily. However, the documents state that where "individuals are persistently not exercising [EU] treaty rights and not willing to reconnect voluntarily Streetwise liaises with Immigration, Control and Enforcement (ICE) to facilitate administrative removal". Streetwise are the council team responsible for delivering the project.
The council's stated 'key performance indicators' show a predicted 64 rough sleepers will be removed each year for two years, both through 'voluntary' and 'forcible' means.
Charities and the mayor unaware of plans
Whereas the council list several charities as part of the plans to deal with complex cases, two leading organisations have said they were not informed and are not participating in the controversial programme.
Beth Wilson, director of Bristol Refugee Rights (BRR) said,
We are not and have not agreed to be part of an action plan as part of the Controlling Migration Fund rough sleepers project. BRR believes that everyone has a right to shelter and access to good advice. We will be seeking urgent clarification from Bristol City Council about how we were included in this plan without our knowledge or prior agreement.
Bristol Red Cross have also said they were not informed that they have been listed and are not part of the programme.
It appears as though BRR and Bristol Red Cross weren't the only ones in the dark about the controversial funding. "The Mayor's cabinet were only made aware of the application after the bids to the Controlling Migration Fund had been submitted," a council spokesperson said.
'City of Sanctuary' status under threat?
The council partnership with Immigration Enforcement has raised concerns over Bristol's City of Sanctuary status. City of Sanctuary is the national movement aimed at creating a hospitable and welcoming environment for migrants, especially those fleeing war and persecution.
Beth Wilson, director of Bristol Refugee Rights said: "We are very concerned to learn that Bristol City Council has been working with Immigration Enforcement, targeting rough sleepers.
"Targets for detention and removal are particularly troubling. We know that barriers in the asylum and immigration system and successive cuts to legal aid mean that those with protection needs are often left street homeless.
"Questions must now be answered about how in this 'City of Sanctuary' refused asylum seekers and other migrants are being targeted at such a vulnerable time."
Speaking earlier this year following the initial revelations, vice chair of City of Sanctuary Caroline Beatty said forcible removal of anyone from the city "directly opposes the council's stated commitment to uphold Bristol as a City of Sanctuary, so we have grave concerns about the scheme."
She added, "We hope that the council will divorce itself from cooperation with the Immigration Enforcement Agency in the way that it implements the programme".
However, the council denied that there was a contradiction between its partnership with Immigration Enforcement, and Bristol's status as a City of Sanctuary.
A council spokesperson said, "We are confident that our approaches to both preventing homelessness and tackling crime and disorder are completely compatible with our City of Sanctuary status and the spirit of those commitments."
What is the 'rough sleepers project'?
The 'rough sleepers project' is funded through the council's successful application for £180,000 to the government's Controlling Migration Fund. The project is in close co-operation with Immigration Enforcement and specifically targets rough sleepers from the European Economic Area with an aim to "to target detention of [rough sleeping] individuals for enforced administrative removal".
Bristol has also been awarded £300,430 for two projects focusing on migrant employment and integration and a further £321,750 to tackle rogue landlords, with the latter also in close partnership with immigration enforcement.
As previously reported, the government policy of deporting rough sleepers from the EEA and EU is subject to a legal challenge in the High Court. The hearing for this case will be held in late November with a ruling expected after Christmas.
The council have said they will not be stopping the programme pending the case, saying "There is no judicial review into the activities of Bristol City Council and our work to tackle street based Anti-Social Behaviour funded via the Controlling Migration Fund."