Voices: My community doesn't need a Somali word for autism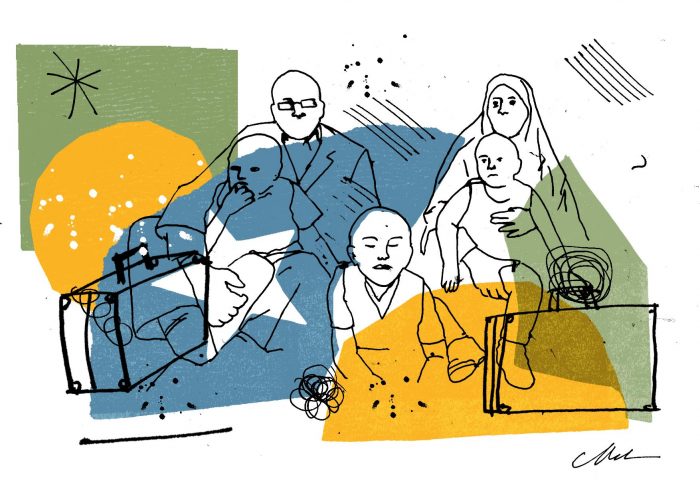 Autism cuts across all communities – understanding it is crucial.
I am the Somali parent of an autistic child. When my son was diagnosed six years ago our paediatrician said, "It's autism: we don't what causes it or how to cure it." We were not afraid; we have family with an autistic child, and had recognised the signs. Our family life changed, and we were able to go to seminars and join support groups.But it's harder for people who do not speak good English. There is translation support at appointments, but what happens after they go home? Most resources and support groups use English.
There are many misunderstandings about autism among Somali communities. People have heard the false claims about links between autism and the MMR vaccine, and many still believe them. My community is an oral society, and while these beliefs have been publicly discredited, stories heard stay in people's minds, even more so when their English is limited, and especially because there is little understanding of autism in Somalia.
There is also a cultural stigma about illness. Somali parents love their children – if something is wrong, they go to the NHS. But they don't like other people hearing about it.
At one of my son's doctor's appointments I saw a Somali lady who was afraid when we went in, and took her child to the park until we finished our appointment. I thought, 'I know the reason she's come here; there's no reason for her to hide.'
Understanding is growing in the community, parent groups are being made and community organisations like Autism Independence provide support to Somalis. But it is still difficult for non-English speakers.
The day my son was diagnosed, I started writing a guide for Somali parents in the Somali language. It collects information about what autism is, the warning signs, the next steps after your child is diagnosed, special education information, and contact details for organisations that can support your family. The more people read, the more they will talk, the more knowledge they will share and the stigma will go.
There is no word for autism in Somalia. People don't understand the name, so they translate it wrongly and start thinking of terrible diseases. The problem is not to make a new word. The international name is the only one you have to understand what's wrong with your child, and that word is 'autism'.
Waxaan ka mid ahay waalidiinta Somaliyeed ee haysta carruurta Autism-ka ah. Lix sanno ka hor ayay ahayd wakhtigii wiilkayga aan jecelahay la ogaaday inuu Autism yahay, dhakhtarka Ilmahaygu ayaa noo sheegtay, waxayna nagu tidhi: "ilmihiina waxa hayaa waa Autism, mana naqaan waxa keena, iyo waxa lagu daweeyo." Wakhtigaa waxba kamaanu baqan, kamanaanan xumaan, calaamadihiisana waanu ku sii aragnay wiilkayaga, maxaa yeelay waanu naqaanay waxa uu yahay Autism oo reer aanu qaraabo nahay ayaa haystay ilmo oo Autism ah, horena waan u maqalnay magaca Autism. Marnaba umaanan baahan turjumaan, nolosha qoyskayguna waxa ku yimi isbedel weyn ka dib markii la ogaaday waxa ka khaldan wiilkayaga, waxaan tagnay siminaaro badan, tababaro iyo guruubyo waalid oo aanu ka mid noqonay.
Si kasta oo ay tahay aad bay ugu adag tahay waalidka aan afka Ingiriiska si wanaagsan u garanayn, waxaad heli kartaa caawimaad turjubaan marka aad ballan leedahay, laakiin maxa dhacaya markaad gurigaagii ku laabato? Meelaha aad tixraacyada ka raadinayso ama kulanka waalidiinta kale intuba waa luqada Ingiriisiga.
Waxa jira faham la'aan badan oo Autism-ka ah halkan Somalida Bristol iyo kuwa wadankiiba. Halkeenan dad badan ayaa waxa rumaysan yihiin in talaalka MMR uu xidhiidh la leeyahay Autism-ka, waayo dad badani waxay maqleen dhakhtarkii Andrew Wakefield oo sagaal iyo toban sano ka hor xidhiidhiyey talaalka iyo Autism-ka 1998 balse cadayn kari waayay markii danbe. Mararka qaar markaan wada lugeynayno wiilkayga oo marmarna iga orda, ayay dadku i waydiiyaan maxaa ka khaldan inta aan aqooni, waxaan ugu jawaabaa "Waa autism", su'aasha ku xigtaa ee ay i waydiiyaan waxay noqotaa "Ilmahaga ma talaalka MMR ayaad siisay?" Bulshadayadu waxay fariimaha isku gaadhsiisaa waa hadalka, markaa waxay maqlaan maskaxda hore ugama baxdo, welina waxa jirta faham la'aan Somalida halkan degan iyo kuwa wadankii oo maqalkiisubu ku cusub yahay.
Waxa kale oo jira dhaqan Somalidu iska leedahay oo dadka xanuusanaya ah, balse waxaan aqaanaa waalid badan oo carruurtooda jecel, haday wax ka si noqdaana dhakhaatiirta u geeya, balse aan jeclayn in dadka kale ogaadaan ama maqlaan waxa ka khaldan caruurtooda.
Maalin maalmaha ka mid ah oo aan ballan la lahayn dhakhtarka wiilkayga, ayaa waxaan arkay gabadh Somaliyad ah oo diidaysa in aan ilmaheeda la aragba markaan galay meeshii ballanka markiiba waxay bannaanka ula baxday wiilkeedii ilaa intii aanu ballantayada ka soo dhamaynaynay, waan garanayaa sababta ay meesha u timi. Mana jiro wax la qariyaa oo Ilahaybaa xannuunka keena.
Fahamka Autimsku ee Somalida Bristol wuu soo kobcayaa, hadda waxa la sameeyaa kulan waalidiin Somali ah oo ay qaban qaabiyaan ururo sida Autism Independence oo kale. Si kasta oo ay tahayna wali way ku adagtahay waalidiinta aan luqada Ingiriisigu ahayn toodii koowaad.
Maalintii wiilkayga la ogaaday inuu Autims yahay, waxaan bilaabay inaan u qoro waalidiinta Somalida Buug ku qoran luqada Somaliga, magaciisana la yidhaahdo 'Waa Maxay Autism iyo Xaaladaha la Xidhiidha?' Buuggu wuxuu ka hadlayaa Autims-ka, wuxuu soo koobayaa macluumaad badan oo ay u baahan yihiin calaamadaha lagu garto, talaabada ku xigta marka la ogaado, baahida waxbarashada gaarka ah iyo waliba cinwaanada iyo telefoonada meelaha kale ee ay qoysasku caawimaad dheeraad ah ka heli karaan.
Akhrinta ay dad badan akhriyaan, arkaana buugan, ugana sheekeeyaan dad kale, waxaan qabaa inuu wacyigelin iyo barraarujin noqon doono sidii loo fahmi lahaa Autims-ka, dhaleecaynta iyo takooriduba meesha uga bixi lahayd.
Ma jiro weedh u dhiganta Autism oo Somali ahi, dadkuna ma fahmaan magaca buugga, mararka qaarna waxay u turjuntaan si khaldan waxaanay bilaabaan inay ka fekeraan xannuuno khatar ah. Magacana waa caalami waana sida kaliya ee dad badan iyo adiguba aad ku fahmi kartaan waxa ka khaldan ilmahaaga, magacaacisna waa Autism, mana qabo in magac Somali cusub loo raadiyo.