Another victory for campaigners on Bristol's slavery legacy as momentum builds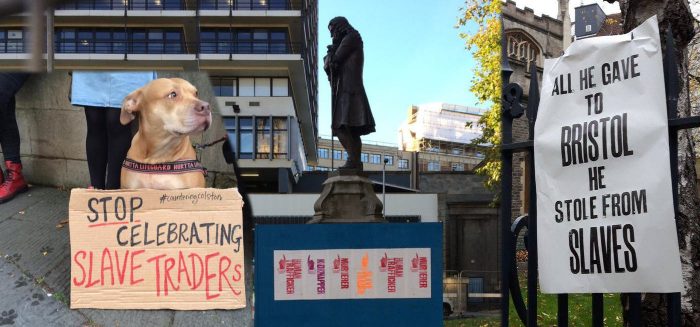 Momentum is building in the struggle for how Edward Colston, and slavery itself, should be remembered in Bristol in 2017.
Photos: Countering Colston
Another nail was hammered in the coffin of Bristol's most famous slave trader today. Colston's Primary School will be changing its name to drop the reference to Edward Colston, following a consultation with pupils and parents. A donor has previously pledged to cover all the of the re-branding, which could be up to £3,500.
This move is the latest chapter in the city's changing relationship with Colston, a 17th century manager and deputy governor of the slave trading Royal African Company, which in the years of Colston's involvement (1680 – 1692) transported around 85,000 enslaved Africans across the Atlantic. Of these, nearly 20,00 died on the crossing, including several thousand children.
First, major venue Colston Hall announced a rebrand. Then, after nearly 100 years of an annual service dedicated to the man, St Stephen's Church cancelled their event on 'ethical' grounds in mid-November. Protestors were ready to gather outside the church for a second year, only to be greeted with the news of the cancellation.
Colston's image as 'Bristol's great philanthropist' is fading fast. Instead he is being put to rest next to others generously described as 'men of their time'. But, how should Edward Colston be remembered in Bristol in 2017, and how can the city address the legacy of slavery in a meaningful way, yielding positive results for the city moving forwards?
Suggestions are coming from across Bristol, fuelled in no small part by campaign group Countering Colston. Comprising of community members, academics, artists, activists, and politicians the group combines community activism, research, and art, to "improve understanding across different parts of the community, and in the long run to be part of a respectful and much deeper conversation".
The prominent Colston statue near the fountains in the city centre at the foot of Colston Tower is another site of dispute. Cleo Lake, councillor and former pupil of yet another establishment named after the man, Colston's Girls' School, feels the "presence of his statue is at great odds with our standing as an international and forward thinking city to the point of it being quite embarrassing".
Opponents accuse campaigners of wanting to censor history. But Katie Finnegan, also a member of Countering Colston, doesn't see it that way. "We want the statue moved into a museum preserved as a piece of cultural history…preferably in a dark corner," she says.
The decision by Colston's Primary School is in contrast to Colston's Girls' School who recently announced they would be sticking with the Colston brand. However, pressure may be building. Students recently held a 'referendum' resulting in excluding Colston's favourite hymn from the annual Cathedral service.
In a statement, Countering Colston said, "Transforming the ceremony is a radical and progressive step, which was moved forward by students who bravely challenged the status quo."
As well removing statues, proposals are on the table to erect others. Art project Daughters Of Igbo Woman will shortly be crowdfunding for statue commemorating Frances Corner, a former slave who is buried in Greenbank Cemetery.
Another important aspect has been documenting the present struggles over history. Michael Jenkins, local filmmaker and founder of 8th Sense Media, has been following Countering Colston over the last year. "Bristol struggles to look in the mirror when looking at its dark past," he says. Jenkins aims to "change the narrative of Colston, not as a figure that is celebrated." He adds, "but if people do want to celebrate him just be honest about the complete history."
Looking to the future, the filmmaker is working with local poet Lawrence Hoo on plans for a 'immersive installation' called CARGO. Shipping containers outside City Hall will take the public on a journey through Bristol's role in the transatlantic slave trade.
The Watershed has funded the research stage of the project which will hopefully take place next summer. Jenkins is hoping the council will get behind the project which if they do "will be one of the first things that the city has done of this scope looking at its slavery past".
But these efforts are not without push back. A petition to keep Colston Hall's name has so far gained 5,109 signatures.
In Colstons' corner also sit many of Bristol's wealthy elite in the form of the centuries old Merchant Venturers. The Venturers are an exclusive club of which Colston was himself once a member, alongside many other prominent people in the city past and present, including former mayor George Ferguson.
Caroline Duckworth, finance director for the Venturers, stresses that the organisation is not political or a 'lobbying body' describing them as a "modern progressive organisation, but that everyone has their own views".
Despite strong historical links with Colston, she said the Venturers themselves don't continue to celebrate Colston although some of the 76 members may do so in their own time – under the umbrella of three charitable societies established to 'honour' his memory: Grateful, Anchor and Dolphin.
"What we're interested in is helping to facilitate a dialogue in the city about how we all move forward with Colston, whatever that might be. We want to part of a dialogue about how we embrace our history and recognise the past," says Duckworth.
With the theatre Bristol Old Vic launching its 2018 program as 'The Year of Change,' momentum continues to build. The question is how will Bristol and Bristolians come to see this history, and what will that mean for the present and future.