Calls for Bristol Night Czar to fight for city's nightlife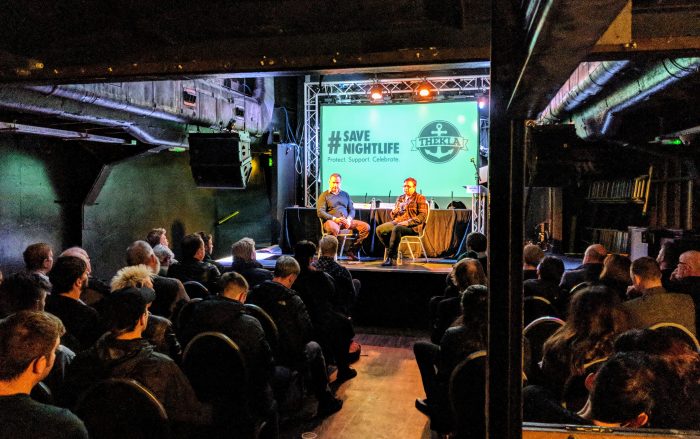 Nightclubs and music venues increasingly under threat from new developments, experts say Bristol can take a leaf out of London's book.
Photo: DHP Family
Venue owners and industry figures have called for a Night Czar and Night Time Commission to help safeguard Bristol's nightlife amid fears of its future and venue closures.
At a public meeting held at Thekla on Wednesday as part of the campaign to save the iconic music venue, local figures from Bristol's night-time economy urged councillors, council planning officers and developers to work with venues to find ways to coexist.
Alan Miller, Chairman of the Night Time Industries Association (NTIA), who led the discussions, said: "I think we need to make a point about urban master plans, where everyone sits down and thinks ambitiously again about our cities of the future.
"This should involve having a Night Time Commission with key stakeholders from Bristol as well as a Night Czar to work alongside Mayor Marvin Rees and Councillors to ensure everyone gets to maximise the benefits of our much-loved venues while mitigating any costs"
Mayor Sadiq Khan appointed Amy Lamé as London's first ever Night Czar last year, and there is now growing consensus that she has galvanised the campaign to protect the capital's nightlife.
"Now we've got a situation in London, it's not a panacea or utopia, but we have someone who's talking to the different councils- a champion of some kind," Miller said.
The panel event came after a campaign was launched to protect Thekla from a residential development across the water at Redcliffe Wharf, which was recently granted planning permission despite a noise survey being deemed inadequate.
Julie Tippins head of compliance for Thekla's owners, DHP Family, said she wanted the second sound report to be "robust" so that it "protects us and the residents".
"We're still not in a good place, but I am more hopeful now than I was. We will continue with the campaign until we have definitely protected the Thekla," she said.
A Night Czar would be a "good focal point", who could speak on behalf of all venues, she added.
Also on the panel were Tom Paine (Love Saves The Day); Leighton De Burca (Nite Watch Placemaker Bristol) and John Hirst (Bristol BID).
Tom Paine said: "The safeguard we're looking for is someone at the council to support our industry. We need someone who understands what we do and will fight our battles with us."
He also called for a more united front between venues. "Bristol has an amazing reputation for the whole independent success of what we do, but part of the problem has been that by being independent we've also been quite fractured."
Leighton De Burca urged people to get involved in strategic planning in the city, because the night-time economy isn't written into most future plans.
Agent of change principle
There was also widespread support for another measure being implemented in London – the agent of change principle, which would force developers to soundproof new properties when building next to night-time venues.
Paul Gray from the Musicians Union, who was in the audience, spoke of how agent of change had been embedded into Welsh planning policy after campaigning for four months to save a Cardiff venue from a nearby development.
There was consensus that with an increasingly densely populated city centre, residents needed to accept everything that comes with that, including noise from night-time venues.
Tippins said: "There are going to be more developments and I want the council to wake up to this and start thinking about how we can build better plans so we can coexist."
Discussions focused on the tension between the business arguments for the night-time economy and the cultural value of nightlife that means so much to people.
Paine said: "None of us got into this industry to make money, we got into this because we love music and bringing people together, but the council only started listening to us when we started talking about money and economics."
There were also reminders of the difficulties that venues are constantly facing. Daniel Cleary, owner of Fiddlers in Bedminster, a music venue of 23 years, revealed the he has just received a planning application for nearby flats. He said that residents' committees had been consulted, but until recently he had not.
Since the meeting, The Fleece, a much-loved venue that has also had to contend with a nearby development, announced huge increases in what it pays in business rates, which is yet another factor threatening the survival of many night-time venues.
Paine said that prominent figures needed to use their voices more to make an impact. "Campaigns like Save Fabric, Save Nightlife and Save Thekla have woken us up to the power that we have to reach people to help support worthwhile causes."
Julie Tippins said: "I was totally surprised by the amount of public support for the Thekla campaign. If you go out and ask the public to support you, you can change people's attitude and change policies, but we have to do that together."