The cared-for become carers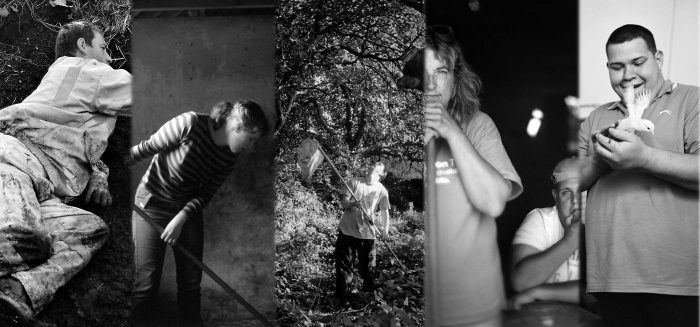 Elm Tree Farm is a working farm in Stapleton providing support and training to adults with learning disabilities and autism. Photographer Esther May Campbell spent a year documenting it.
Photographs and words: Esther May Campbell
Elm Tree Farm nourishes and practices what it means to be human: community, tending, taking time, reflecting, feeling the weather and the soil, knowing your land, laughing, singing, weeping, touching, proximity to birth and death. This is crucial. To stop and take care of one another and our surroundings is now a radical act of defiance in a culture that promotes qualities of force, greed, superiority and separateness.
"The photographs capture moments that can be hard to appreciate, or even recognise. People with learning disabilities are a marginalised, underrepresented group, but they must show the multiple different faces of their experiences – sadness and isolation, community and joy.

"There's one man deep in the earth, picking vegetables, so immersed he's sinking into his surroundings. There are portraits of older folk, many of whom spent their formative years in institutions, and the ghosts of their experiences can still be felt. People on our farm, who are so used to being cared for, become carers themselves – of plants, animals, tools and one another. This is powerful role reversal. It brings growth and healing."
Lisa Allen, horticultural support worker
From edition 13, OUT NOW!
Read more from this edition.
The images on these pages are available in the limited-edition book Water Salad on Monday; a collection of textural black and white photographs that reveal how those who are often cared for by others, become carers themselves.