Opinion: Bristol Pound 'looks like Monopoly money', but is quite the opposite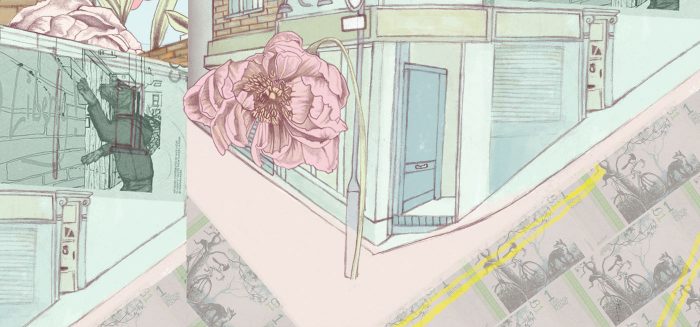 It may not solve everything but it is a great start.
Words: Adam Rich (works as a communications manager for the Bristol Pound.)
Illustration: Francesca Hooper
Bristol's got its own currency: the Bristol Pound. It's a digital currency which allows its members – participating residents and businesses – to trade between one another instead of using Sterling.
Interestingly, while I have looked to Catalonia in Spain for for best practice in local currencies, Catalonia has been looking to Bristol
But what's the problem with sterling? And will the Bristol Pound solve this problem?
In essence, money isn't available for those things which matter to us, while there's an endless supply for those which don't. There are two key mechanisms which make this happen: money creation and monetary transactions.
New money is created all the time, but not in the way people think. Campaign group Positive Money revealed in a survey of 100 cross-party MPs that only one in 10 knows how money is created, while a whopping seven out of 10 think the government creates money through the Bank of England. This is incorrect. Only 3% of money is created in this way. The other 97% of money is created as loans and interest paid on loans, made by profit-hungry banks.
Bristol Pound in numbers
1,433 personal accounts
832business accounts
159people regularly using them to pay council tax or business rates
80,000digital transactions (online, text and app) since launch
£B300,000paper notes issued since launch
£B5 millionspent (digital and paper)
Since the 1980s banks in the UK have been loaning to, and primarily investing in, the financial sector and the housing market. According to the New Economics Foundation, less than 10% of loans made by banks are to non-financial sector businesses, meaning credit is denied to industries and sectors that produce tangible products and services.
Unfortunately, the money that does make its way to us and our communities is quickly lost through transactions. Every time we go into a chain store and spend a pound, that pound is then re-spent by the store, often on the products of other chain companies. This means that money leaves the local economy and ends up concentrating in major companies, offshore tax havens and executive pay deals. With this filtering up of money, the poor keep getting poorer while the rich get richer.
How can we fix this?
If I take that same pound and spend it in a local independent shop, and if that local shop spends that money with another local shop, most of the money stays circulating in the area.
Not only has the money been kept in the local economy; supporting small businesses and contributing to taxes and infrastructure, schools and hospitals; but it has also been kept in the 'real' economy. The real economy accounts for those goods and services which actually exist (as opposed to a bank's exotic IOUs), and are useful for humanity to function: food, water, shelter, energy, entertainment, health and wellbeing and so on.
Alternative currencies work to solve the problem of money leaving the real economy by only allowing it to be spent in the local economy. This would mean that for the £1 I spent in the earlier example, most or all of £1 stays in the local economy. Users are encouraged to shop with local businesses, and those businesses in turn shorten their supply chains by buying from local independent suppliers as much as possible. Aside from making the money stick, local currencies also support businesses and business owners that have a stake in the communities we all live in.
There is no one way to run a local currency. Hull rewards volunteers with Hull Coins; the Brixton Pound has a community grant fund; and the Catalunian Bona Hora's value is attached to production time of goods.
In the town of Vilanova i la Geltru, Catalonia, they use 'Turutas', a currency that has no paper notes or digital payment system. Each member of the currency has their own paper ledger and both parties record each transaction on their own ledger, handing it to the other party to sign. Once the ledger is complete, it is returned to the currency coordinator who enters it into a database. A business wishing to join the currency has to be local, independent and comply with ethical criteria. The currency is run as a cooperative with members meeting every two months to make decisions: one member, one vote. They also create money. Once a year, members meet at an assembly and decide how they would like to spend this new money. Paying an unemployed person to paint a bench in the local area means the painter will then have Turutas to spend with local businesses, helping people to break out of the poverty trap.
This embodies all of the most important parts of new economic approaches: accessibility to the currency; transparency of transactions; ethical criteria for membership; and democratic control of the money through assemblies.
Interestingly, while I have looked to Catalonia for best practice in local currencies, Catalonia has been looking to Bristol with the left-wing Barcelona government citing Bristol Pound as a precedent for their own currency.
From edition 13, OUT NOW!
Read more from this edition.
The Bristol Pound
Much like other cities, a group of people came together to self-organise in response to the inability of both state and market to meet the needs of Bristol citizens. This group built on the Transition Town model, forming a Community Interest Company in 2010 and partnering with Bristol Credit Union.
Any person or business with a Bristol postcode can apply to become a member of the Bristol Pound for free. The eligibility of businesses is decided at the discretion of the board. Once an account holder, you can use the digital currency through an online banking platform, pay by text, use the app and withdraw the paper notes.
Its use is still small relative to the Bristol economy, but big relative to other local currencies, with £B 5 million circulating over the last five years.
Bristol Pound member Jon Ralls uses the currency for all sorts: "I pay my gas and electricity, my council tax, my office rent – and also buy most of my food in Bristol Pounds. It breaks my heart that so few of my friends use them much yet, when it's so easy and makes such a difference. But then, I trained as an economist… I do find one of the nicest things about using either text2pay or especially the notes is the conversations it triggers, both with shop staff and with other customers, which makes shopping or buying a coffee more fun."
Gabor Valter moved to Bristol three and a half years ago and does not use Bristol Pounds: "Initially I was quite excited about it, I thought it is a great idea. But then I never have gone to the effort of even getting some or trying to replace some of my cash. I am not sure where to use it, and as I imagine I cannot use it everywhere in Bristol, it feels like a commitment that I am not sure what the benefits of it are."
Putting aside practical barriers, Gabor says, "Theoretically, it ensures that money circulates in Bristol. But does it? It is freely transferable with GBP and doesn't seem to give any benefits to its users apart from feeling better for using local money. Personally, I think a bartering and skill sharing economy would be much more powerful in localising transactions and their benefits, for which Bristol Pound could be a complementing currency."
It's true that the Bristol Pound does not offer a wholesale solution to the continued crisis of our financial system. But it has to be seen as crucial part in developing alternatives. Ultimately, it's 'success' will be measured by different people in different ways: for some it is the amount of money it stops from leaving the city, while for others it is the sense of pride they feel using something within the community's control. Arguably, one of the biggest successes the Bristol Pound has had on the city and the world is that it has made people question what money is, who has the power to create it and who has agency over it.
Adam Rich works as a communications manager for the Bristol Pound.