'Science is a public service, and we should be doing it in the public eye'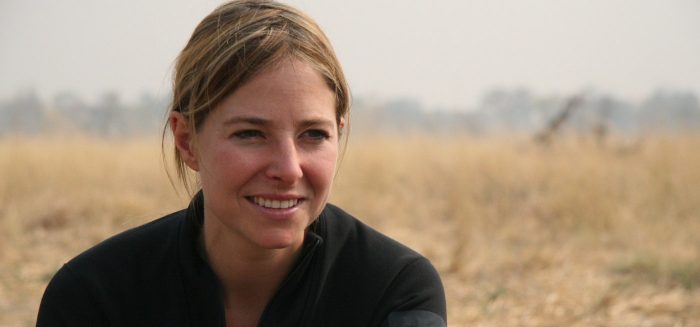 Professor and TV presenter Alice Roberts speaks with the Cable about her mission to bring science to the people.
Professor Alice Roberts remembers sitting on the floor in the foyer of Bristol Museum as an eight-year-old, watching scientists dissect an ancient Egyptian mummy on a live screen.
She still feels the same childlike wonder for ancient human origins, but these days she's more likely to be the one doing the dissecting.
Photo:Andrew Yarme
The 44-year-old scientist, who has become a familiar face on screen, started out as a junior doctor in the 90s, and was later an anatomy lecturer, landing a spot as a bone specialist on Channel 4's Time Team. She's since become a specialist in human origins research, and a popular BBC presenter, with series including The Incredible Human Journey, which explored ancient human migrations. Since 2012 she has also worked to widen access to scientific knowledge, as professor of public engagement in science at the University of Birmingham.
This month she's back in her hometown of Bristol as part of a national speaking tour about her new book, which charts the story of how we domesticated wild animals and plants.
An enthusiastic public speaker, Roberts was at Glastonbury earlier this year, explaining evolution to a packed tent of festival-goers with a crowd-pleasing sheep skull she had in her bag.
"I think it's really important for scientists to keep communicating," she says. "If there are people who are trying to peddle lies, or peddle 'alternative realities', it's really important that people in general have access to something which looks more like the truth… based on solid evidence and critical thinking."
As well as encouraging academics to engage with the public, she has made her own contributions: her multiple popular science books include the Wellcome Prize-shortlisted The Incredible Unlikeliness of Being, about the human journey from embryo to adult. She's also active in science debate and discussion on social media, and has fronted television programmes such as Digging for Britain, showing viewers the year's best archaeology.
"[I want to] actually get the public involved with research," she says, "… something that is being done for the good of society, rather than just being done in elite institutions shut away from everybody else. Science is a public service, and we should be doing our work in the public eye."
"I get huge fulfillment from talking to people who get bitten by the [science] bug," she says, "particularly people who didn't think they would be." While filming for Channel 4 recently, Roberts was moved to be told by the parents of an excited ten-year-old girl named Lily: "You're her hero. She's really interested in what you talk about on television, and she's really interested in archaeology."
"That kind of thing is amazing," she says. "It makes me think, yeah it's all worth it."
Who is science for?
Roberts hopes for girls like Lily to be able to grow up to choose a science career, she says, as social barriers are discouraging talented women from opting for science subjects.
From edition 13, OUT NOW!
Read more from this edition.
"We need to look really carefully at why some subjects are seen to be 'feminine' and some subjects are seen to be 'masculine', because of course they're not… we need to look at how we gender stereotype when we look at children."
It's not all bad news, though. "Everything is moving in the right direction," she says by way of reassurance for young women, citing equality schemes that are having an impact. "If you want to get into science because you love science, follow your dream."
Speaking of loving science…
Tamed: Ten Species that Changed our World, Roberts' latest book, is as the name suggests a history of ten species, including dogs, apples and wheat, all of which were domesticated by humankind. There is plenty to learn from it, and Roberts hopes it will make people think about the future of the planet.
"How do we manage with our expanding human population?" she asks. "How do we make room for wildness, if 40% of the world is taken up by us and our domesticated species? That's something I'd like people to think about by the end of the book."
However, looking beyond what the book can teach, Roberts is at pains to point out that science is fascinating and fun for its own sake: "I think we sometimes forget that. [We say], 'You have to read a science book because it's going to be good for you or it's going to be edifying or educational'. Actually these are just absolutely brilliant stories."
It was a good yarn, rather than grand themes that sparked the idea for the book in the first place.
"I became absolutely fascinated by the idea of apples, which seem so quintessentially English, having originated on the flanks of the Tien Shan mountains in Kazakhstan," she says. "How on earth can that be possible? I'm sitting here looking at apples growing in a bushel in my garden, and their ancestors came from central Asia… I knew there were wonderful stories to be told, and I had great fun delving into [them]."
Those stories include the suggestion that explorer John Cabot may have brought this country's first sweetcorn back to his Bristol garden from the Americas!
After many years in the field Roberts is still thrilled by the possibilities of science. "To reach back into the past, and uncover stories that have never been written down before… that's terribly exciting."
Professor Alice Roberts will be touring the UK with Tamed: Ten Species That Changed the World, out 19 October (Hutchinson). Tickets and information at www.alice-roberts.co.uk.