Becky Romero's family: "Our children deserve better than this"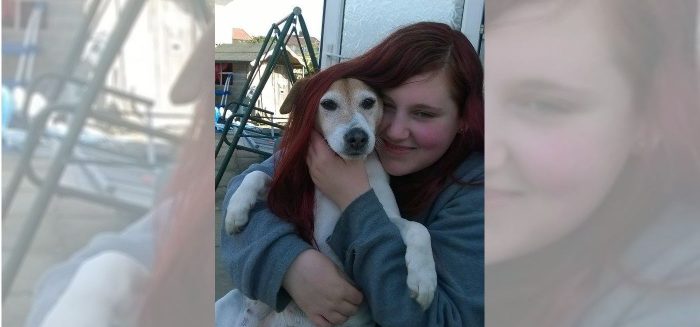 Family of teenager failed by Bristol's mental health service demand more funding for the sector.
Photo: Nicky Romero
The family of a teenager who took her own life last July are taking to the streets tomorrow (Saturday 13 January) to protest the underfunding of Bristol's mental health service.
15-year-old Becky Romero, from Bedminster Down, was found dead last July less than a fortnight after being discharged from a mental health facility in Bournemouth. Last month, an inquest announced a verdict of accidental death with neglect.
The ruling outlined "gross failure to provide basic medical attention" by Avon & Wiltshire Mental Health Partnership and Dorset HealthCare, the two trusts responsible for her care. The coroner's report partly blamed neglect from the NHS for her death, saying there is a lack of sufficient resources, staff, beds and facilities in Bristol.
"Bristol's mental health services are desperately underfunded and staff are not able to do their jobs, as they have extremely limited resources," Becky's mother Nicky Romero told the Cable. "Our children deserve better than this."
Neglect
Becky was admitted into hospital after trying to take her own life in May 2017. She'd been struggling with her mental health since primary school, where she'd been bullied, and had started self-harming.
There weren't any beds available at Bristol's only adolescent mental health unit, Riverside, so she was sent 70 miles away to Pebble Lodge Psychiatric Unit in Bournemouth. Four weeks later, Becky was sent back on a home visit but was then formally discharged while back in Bristol. This was despite Becky and her family saying that she wasn't ready to be back home.
Treatment at Pebble Lodge had been limited. Formal psychology and psychiatry work hadn't yet started because Becky was an 'out of the area' patient: managers didn't want to start the work to then have her moved back to Bristol once a bed became available.
In the 13 days between being discharged and her death, Becky didn't have any face-to-face contact with a qualified mental health professional. Instead, she was getting texts and phone calls from Pebble Lodge (although usually her mother Nicky spoke for her, as she couldn't cope with talking on the phone), and the family had a conference call with Bristol's Child and Adolescent Mental Health Services (CAMHS). Becky was visited by a social worker and two people from young people's mental health charity Off The Record.
Becky had been prescribed with a new antidepressant medication, fluoxetine, just before leaving Pebble Lodge, which has been linked to agitation, self-harm and suicidal thoughts in young patients. NICE Guidelines say that young people taking it need to be closely monitored for side-effects with a weekly face-to-face assessment.
"[The coroner's] verdict lists actions that she feels should be taken to prevent future deaths, which has inspired me to try and bring changes in Becky's memory, to hope that she didn't die in vain."
Becky's parents claim that they were often patronised and not listened to when they told CAHMS about their concerns. Nicky says that she had known that many things had been inadequate with Becky's care but she hadn't expected much from the inquest, thinking there'd be a verdict of 'she did this to herself'.
"The coroner's verdict was above and beyond anything I expected. I am so grateful to Maria Voisin, Senior Coroner for Avon, for her thoroughness, understanding and efficiency," said Nicky. "I feel she left no stone unturned, she listened to us and heard us."
"Her verdict lists actions that she feels should be taken to prevent future deaths, which has inspired me to try and bring changes in Becky's memory, to hope that she didn't die in vain."
The verdict has already prompted changes: NHS England have announced that Bristol will be getting an additional 20 beds on top of the current 10, which Nicky says is "a fantastic step in the right direction" (Amendment: This article previously said that the additional 20 beds would be for Riverside Adolescent Unit). However, sources in the sector have said that only one of the new beds will be at Riverside, with the rest likely to be in the private sector.
"Diabolical" provision
At the moment, Bristol teenagers with mental health problems are being sent as far away as Manchester because of lack of beds and specialisation. (Amendment: This article previously said that Riverside only deals with eating disorders and suicidal cases, but the facility is a generic adolescent inpatient and day service.)
Just before Christmas, all nine of Riverside's beds were full and seven young people had to be sent out of Bristol for treatment, the Bristol Post reported. That's not the furthest someone has had to travel: a Freedom of Information request to the Avon & Wiltshire Mental Health Partnership found that in 2016/17 one patient had to travel up to 301 miles for treatment. The average waiting time for patients referred to the Bristol's CAMHS between 2016 and 2017 was 47 days – the longest someone had to wait in that period was 250 days.
"Nine beds with a population of 500,000 is diabolical," says Kaz Higgins, co-organiser of the Justice for Becky demonstration. "We need keep the pressure up to make sure this happens and fast. We cant be waiting, say a year or two years and then it's forgotten about, these problems aren't going away."
Bristol funding for CAMHS is among the worst in the country, according to 2016 research from the Royal College of Psychiatrists. Tom Renhard, representation and accountability officer for the Bristol Independent Mental Health Network says that in recent years caseloads have increased to "unmanageable" levels in services such as crisis and assessment and recovery.
"This can often put staff in the challenging position of either providing the care or ensuring the paperwork gets done," says Renhard.
He continued: "I am supporting this demonstration to help raise awareness of the issues of the underfunding of mental health services alongside the need for better coordinated care care for those with mental ill health, which needs to include better multi-agency working and more careful listening to both the individual affected and a person playing a role as a carer (whilst being mindful of the individual's rights)."
Nicky says that the protest is about the lack of funding for the Children's Mental Health Services but also a tribute to Becky. "We are hoping to raise awareness as people need to know how the lack of resources can and are affecting the lives of our children. I'm hoping for many changes in the way these services are run, but I am mindful that we are in for a long hard struggle to make them happen, if at all."
The 'Justice for Becky Romero' protest is taking place 1 – 3pm on Saturday, 13 January at the water fountains in Bristol city centre. Local councillors, Bristol People's Assembly and NHS campaign groups are joining the family in their demonstration to discuss the impact of the current funding crisis on young people's mental health.
Most suicides are preventable. If you are concerned about someone, or need help yourself, please contact the Samaritans for free, at any time of day or night, on 116 123. You don't need to be suicidal to call.