Controversial waste plant gets final go-ahead after council error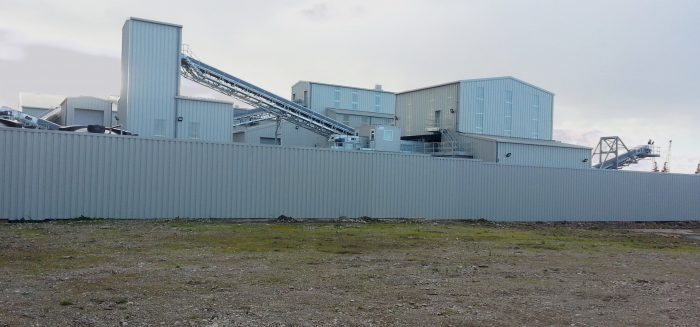 Environment Agency grants permit despite local opposition based on pollution fears.
Another waste processing plant in Avonmouth docks was granted an environmental permit to operate yesterday after bypassing planning scrutiny because of an error by the council.
The ruling comes after a long campaign by local residents to prevent the plant from going ahead, some of whom live just meters away and are facing more pollution, noise and dust.
The company, Day Group, built the facility for processing ash waste from municipal incinerators between 2016-2017.Designed to process more than 75 tonnes of 'incinerator bottom ash' daily, the plant will repurpose some as construction materials.
Their application for a permit from the Environment Agency to operate the plant was denied in April 2017, but the company appealed the decision.
At a planning inquiry in December 2017, the company and the Environment Agency announced at the outset that following negotiations into dust and noise mitigation efforts, the Environment Agency was willing to grant the permit.
Yesterday's announcement is the official ruling of the planning inspector, who also considered the evidence presented by Bristol City Council on noise concerns and from local resident, Mr Ian Robinson, who opposed the plans due to environmental and public health impacts.
Particularly infuriating for some residents, and emphasised by Mr Robinson, was the planning process: Day Group had received a 'certificate for lawful use' for the site, which is a mechanism though which it bypassed normal planning scrutiny from the local authority. The council's planning department later admitted it had issued the certificate 'in error', but couldn't rescind it due to potential legal costs.
Robinson and others active in the local Avonmouth Community Action Group claim that the Port of Bristol is treated favourably by the council in relation to planning issues and planning enforcement.
"They're in it together. It was preordained in 2011, we started protesting about it in 2012," said a furious Mr Robinson, referring to the council, the Port of Bristol and Day Group.
Central to the opposition by Avonmouth residents was the fear of the cumulative effects of another potentially polluting operation in the docks area, which already houses industries that have caused nuisances to residents nearby and fears for the environment.
The Day Group plant would receive the dust waste from ships, transport it to the site adjacent to Avonmouth Village and 50m from the nearest residences. There, it would be left to stabilise and 'mature' in high-walled enclosures before being processed.
Avonmouth Docks houses a concentration of waste processing operations, including scrap metal recycling, household recycling, clinical and municipal waste incinerators, and sewer waste processing.
Distribution of waste operations in the City of Bristol area.
Source: Environment Agency