Baling out the housing crisis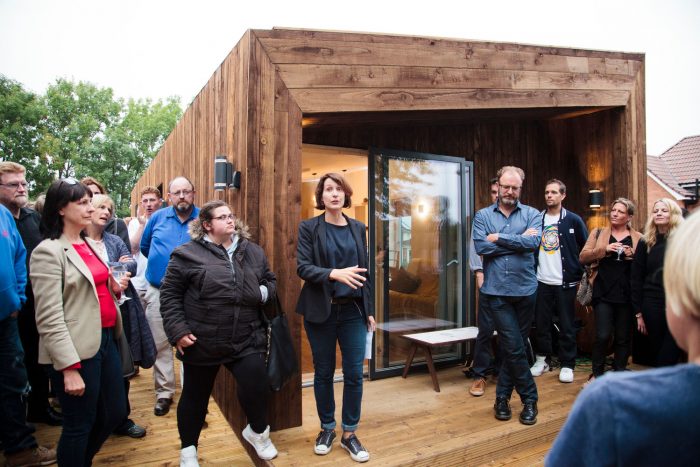 Could straw and timber houses on street corners be the future of urban development?
Photo: Ibolya Feher
An unusual building has cropped up in the grounds of Filwood Community Centre. Made of straw bales clad in timber, the one-bedroom house was built in just 10 weeks in a pop-up factory. It's a prototype for a new kind of home that could be an answer to Knowle West's housing crisis.
We Can Make has identified 1,500 'micro plots' – spare land on street corners, between buildings, and in gardens – each with space for one of these homes.
The We Can Make… Homes initiative is spearheaded by Knowle West Media Centre (KWMC) and Bristol-based sustainable architecture firm White Design Associates. It involves Knowle residents, artists, academics, designers, architects and policy makers. We Can Make identified an urgent need for affordable smaller homes in the local area.
"The need is to have a variety of affordable homes," says Tim Jones, resident and trustee of the Filwood Community Centre. "The estate wasn't built with much variety so making smaller houses will add what's needed into the mix."
The estate has an abundance of three-bedroom houses and not enough one- and two-beds, which has contributed to the twin problems of families living in overcrowded conditions, and older people living in houses too big for them. For many residents, moving into more appropriate accommodation would mean moving out of the area and away from support networks.
"We've been here 21 years and we know this community, we're part of it," says Melissa Mean, head of arts at the KWMC. "The big issue [here] is around housing. So many people don't know where their kids are going to live, don't know where they're going to live when they're older."
How affordable?
A 1 bedroom unit costs £90,000. With a 10% deposit of £9,000 and 3% interest, the remaining £81,000 is paid off over 10 years at £674.80 a month.
The initiative has found that the solution to the problem lies in the makeup of the estate. Knowle West was built between the first and second world wars as a garden city, so the density of housing is lower than in other typical urban areas. We Can Make has identified 1,500 'micro plots' – spare land on street corners, between buildings and in gardens – each with space for one of these homes.
"If my husband's health keeps going down, then I think this could be a real option for us," 59-year-old local resident June told We Can Make. "We can't afford a bungalow, but we could move out of our house into the garden".
"And what if you could do all the little sites in Knowle West? That would be a thousand families you'd be helping. With this, we've got a fighting chance."
Mean says that there has been a "phenomenal" response from the community. 400 people came to visit the prototype house on its opening weekend, and people are staying overnight in order to 'try before they buy'.
Credit: White Designs
"It's a completely different way of delivering housing"
Community-led housing
We Can Make is not the only building project going on in Filwood. There's a nearby Barratt Homes Filwood Park development opening in Spring 2018, but it promises to be more of the same: some two-bedroom properties, but the rest with three- or four-bedrooms. And while the new houses don't have price tags yet, the company's other developments in that part of Bristol suggest that this new one will also be out of many people's price range.
The We Can Make houses will be a very different kind of development. The idea is to put the people in need of housing at the heart of its production, says Craig White, CEO of White Design. He says that this kind of house production is of no interest to big developers, because only one house can be built in each plot.
"Instead of it being one big site on which we do 30 houses, it is an enormous site made up of micro sites where you can only do one development at a time," he says. "I think the community should be the developer. We're just trying to enable that."
"It's a completely different way of delivering housing," agrees Mean. "It's really about delivering housing at point of need, rather than speculative housing, which is generally low quality and hideously expensive."
Everything about the prototype house – made from bales of locally farmed straw and put together in a pop-up factory three miles away – is local. The prototype house is one of five models buyers could choose, from the five architectural firms partnered in the initiative, each providing their own sustainable, affordable, locally-built houses.
"This is a real 'Made in Knowle West' kind of house," says Mean. Local people are employed to put it together, and the kitchen and furniture are all made in the KWMC factory. "We thought, 'Why can't we build jobs as well as houses?'" says Mean.
This type of housing subverts conventions in other ways too. The straw bale house is sat on wheels, which allows it to escape the usual rules of planning – you don't need permission for something that can be moved off the land. It also makes it more affordable: you don't need to lay foundations, so you can lease the land the house is on instead of having to buy it, and it's easier to finance because the house counts as a "recoverable asset".
From edition 14, OUT NOW!
Read more from this edition.
The White Design houses will be affordable, but White – who is vehemently opposed to using storage containers to house people – is keen to make the point that the quality of the homes won't be compromised to save money.
"We haven't skimped on the space or the quality. In fact, I'd put that house up against house builders in Bristol."
The plan is to start production on 350 of these homes in spring 2018, if they get the funding they've applied for from the EU and the Nationwide Foundation. A report released in October 2017 by KWMC and White Design says this model of delivering housing is replicable in other low-density estates across Bristol and nationally.
"I think that in Knowle West you get quite a lot of theoretical regeneration frameworks and visions of stuff that's going to happen in 20 years time, whereas this is here, tangibly here right now; you can feel it and touch it," Mean explains.
"This is a genuine way that citizens could really, genuinely take back control of their lives and their own housing in a way that doesn't ask them to do impossible things," says Mean.