Being black at Bristol's universities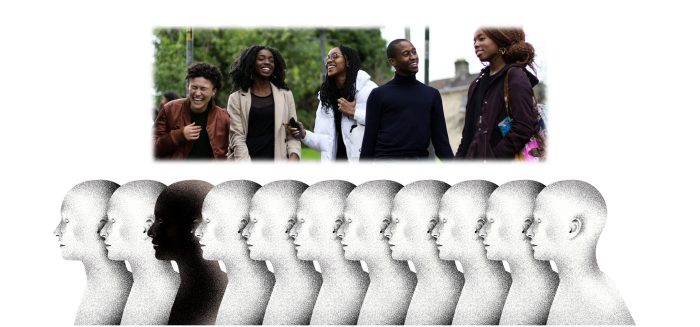 Bristol is the New Black is a group of students creating media that tells their own stories as young people of colour in Bristol.
Bristol is the New Black is equipping black students across Bristol with the skills, space and opportunities to creatively tell their own stories and control their unique narratives.
It was conceptualised as a way to close the gap between the wider black Bristol community and the universities, thereby helping black students find a home away from home. We have gone on to produce written and filmed content, events and a series of radio podcasts expressing our views and experiences.
On these pages two members of the BITNB team, Yasmin Warsame from the University of the West of England and Ayo Anibaba from the University of Bristol, share their different experiences of university.
Yasmin Warsame
'University is the place where I have found the ambition that was once stifled by institutional racism'
As a British Black Muslim, who also happens to be a woman, I've always been aware that my walk of life was distinctly different from my white counterparts. I was raised to always achieve academically – at home my father spent time making sure I was well read and well spoken so that I was equipped to handle academia.
My father graduated when I was three and managed to provide for his wife and five children. Receiving higher education was his legacy and something I always desired to fulfil. Despite the glowing achievement at home, I was always a black face in a white space. My father made sure I went to the best state schools, which unfortunately meant I was alien in comparison to my white middle-class peers. The start of my academic career had a bonus lesson of teaching me that my race would be a source of discomfort.
Looking back it's strange how young I experienced microaggressions* – from the age of five my classmates found my coiled hair bizarre, asking me why my hair grew like 'that' and why my braids looked ugly. Later, when I wore my headscarf in an attempt to avoid comments, I received more scrutiny about my religious background. When another Somali girl briefly attended my primary school, my classmates failed to recognise the difference between us, exclaiming how we appeared as twins: the ethnic girls, one homogenous group. For white students school never affected their identity or their sense of self, because whiteness was the norm.
Secondary school, where there were many more students from minority backgrounds, was an opportunity for me to feel normal. But it actually led to further alienation, because this black face that had always stood out in white space strangely appeared white in black spaces. The way I spoke was white, my love of fiction was white, my music taste was lacklustre, and I didn't swear enough. And more importantly, I was too smart for a black kid.
Retrospectively I can see that I was in an environment that equated blackness with inherent ignorance, and a lot of people bought into that propaganda, black students included. There was a rigid stereotype of how a black person should act, which is dated all the way back into slavery. So at my school people believed black people were inferior, and as I wasn't exposed to anything different, I believed it too.
My experience of education from a young age turned sour when I took the initiative to learn about my own history. I independently studied ancient civilisations in Africa, the treatment of black people in the West and the progression of Islam. I began to resent the education system in Britain, for making me think that my blackness and my intelligence were incompatible. Furthermore, it made me resent myself for believing that I was inherently lazy, and that I would never be able to achieve.
By the age of 17 I had lost faith in a British education system that had made me feel isolated and unworthy. So, the promise of getting the best education from a Russell Group institution – with the prospect of facing further microaggressions and alienation, not to mention a beige-at-best curriculum – stopped appealing to me. It's no wonder Britain will take 50 years to bridge the attainment gap when it leaves children of colour feeling disenfranchised.
Studying at the University of the West of England has been my favourite stage of academia. It is a place filled with like-minded people, and I have never felt more supported. Thoughts and feelings of not being good enough, which had plagued me since childhood, are a distant memory as I no longer hold the false beliefs that my race puts me at the bottom of the pecking order.
My course is English Literature with Writing, which was a red flag when applying to university: I remember attending open days and noticing how whitewashed the curricula were. This is all a stark contrast to my UWE course, which had a whole module dedicated to colonial writing and continues to give me opportunities to interact with fiction that discusses themes of racism, sexuality, and sexism – as well as furthering my understanding of literary devices.
I thought going to university would drown my voice, but it turned out to provide the space where I found it. It's the place where I have found the ambition that was once stifled by institutional racism. The only way to stop being controlled by the narrative is by owning it.
* 'Microaggressions' have been defined by Columbia University professor DW Sue as 'brief and commonplace daily verbal, behavioral, or environmental indignities, whether intentional or unintentional, that communicate hostile, derogatory, or negative racial slights and insults toward people of color'".
Ayo Anibaba
'I had to forge my ideas and goals into existence'
As a high achiever coming from a mostly white grammar school, I had a lot of expectations and preconceived ideas as to what my university experience would be like. I had friends of colour and friends who were also Nigerians all throughout my secondary school years. I expected my university experience would be exactly the same.
I had heard plenty of myths about Bristol during the application process – phrases such as, "Bristol is like London without being as expensive!" – and the constant rhetoric of Bristol being one of the best cities in which to live in. Before coming to Bristol, I didn't really think I was asking for much: I just wanted to ease into a group of friends, to ease into a space where I could continue to be remarkable and satisfy my ambition. I believed that this was going to be incredibly easy. I had not visited the university and had done little research into university life, instead taking on casual reviews about the city of Bristol as gospel.
It obviously wasn't too long before I came crashing into brutal reality. Life really handed my nonchalance and arrogance a serious beating, knocking my self-esteem to tatters in the process. While university is a bubble, it is at the same time a real taste of the way one must function once we move into employment. You really, really must chase after what you want! I've never been one to expect everything to fall into in my lap, but I've always taken a situation and made the best out of it. For me to have the experience I wanted I had to actively pursue it. I had to forge my ideas and goals into existence.
Chasing after goals and dreams while handling a degree is also extremely difficult to do fresh out of sixth form, moving to a new place and starting life with a bit more independence. When you multiply all these factors with the effect of being a person of colour in a university that struggles with diversity, the difficulty of completing university feels comparable to conquering Mount Everest.
This increased difficulty gets to the heart of what my blackness means for me at university. I have two options: I can either use it as a crutch and explain away a poor, substandard university experience, or I can use the fact that it makes things that little extra harder to clear obstacles – making all my achievements and experiences at university all the sweeter. It makes my circle of friends even more tight-knit. It makes the fulfilment of my goals feel ten times as great.
My blackness allows me to push boundaries and change minds just by being myself. My blackness has let me know that it is a privilege to face the trials and tribulations that come with being a person of colour, because it builds character, makes one thick-skinned and heightens all of my achievements. The fears of not fitting in, having to hold our tongues, having to forcefully create spaces and platforms for our own voice within a non-diverse university – all is a privilege at the end of the journey. Despite all the obstacles and fears that could hold me back, to still manage to work towards my goals and strive for greatness is a testament to what it's like to be black at the University of Bristol.
From edition 14, OUT NOW!
Read more from this edition.
Bringing this sentiment to my time at Bristol has been crucial. The casual, everyday racism that students face in the city can be unwelcoming. My friends and I have one too many stories about strangers asking us for drugs. My friends and I have one too many stories about security at university residences treating us like a threat, kicking us out of common rooms and calling the local police on us. It is very easy for black students to feel Bristol is not a place for them to truly prosper. They can feel unwelcome and marginalised.
One thing that hinders us as black students is the friction between each other. We have an African and Caribbean Society that is working harder than ever to heal the divide among black students and it appears that the University of Bristol has increased its contextual offers this year. As a second-year student, I have noticed a drastic increase in diversity and hopefully it is here to stay. After all, conquering Everest on your own is kind of boring.
Illustration: Sean cox