Bristol University lecturer: 'Why I'm going on strike'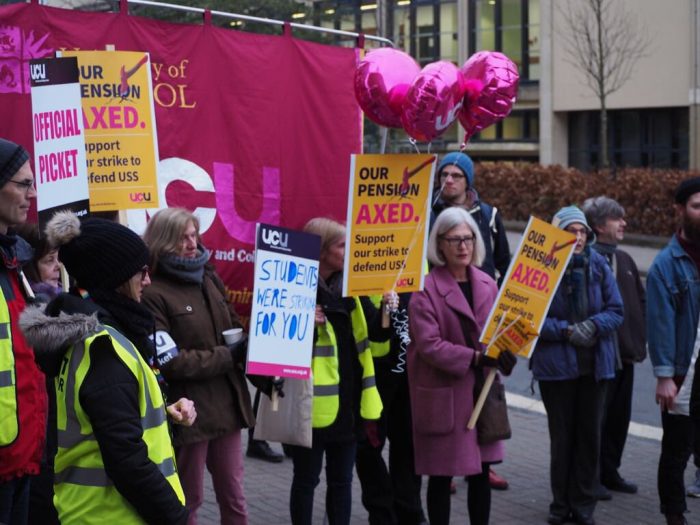 As Bristol University staff go on strike over a pensions dispute, English lecturer John McTague writes why industrial action is needed.
Photos: Bristol Univeristy UCU
"I can't believe what they're trying to pull," said one of my students in response to an email I sent explaining why I will be striking with my fellow members of the University and College Union (UCU) for up to 14 days over the next four weeks.
University of Bristol UCU members will begin strike action on Thursday 22 February to prevent proposed cuts to their pensions, which could see up to £10,000 less in annual retirement earnings from the University Superannuation pension Scheme (USS).
More than 90% of Bristol University UCU members who voted supported taking strike action, which will include a main picket line outside Senate House from Thursday and a rally outside the Wills Memorial Building at 11:30am.
Bristol University UCU President, Tracey Hooper, said: "No one takes strike action lightly, but when Bristol UCU members are faced with a 40% cut to expected retirement income, the choice is stark."
'They' are Universities UK, the Vice-Chancellors club: our employers. What are they trying to pull? Our legs? The other one? The carpet from under us? All of the above, in a way.
To be plain: proposals put forth by this cabal seek to reduce the value of our pensions, and to remove any guaranteed level of pension income. The value of our pensions will depend on the fluctuations of the stock market. As everyone knows, that has always been an excellent policy and nothing bad has ever happened as a result.
It looks like I will lose out to the tune of £200,000, my annual pension income being reduced by 56%, or about ten grand. Like all the best privateers, the employers are shifting the financial risk away from the institution and on to the individual (remember tuition fees?).
What are they trying to pull? I guess my student was simply expressing support for our strike. But their disbelief helped me realise what is making me angry enough to sacrifice up to 14 days salary and potentially a further 25% for 'partial performance' until the dispute ends.
"The employers are pretending that their hands are tied, but really they've tied up their own hands with a pretend rope, artfully obscuring all the money clasped between their palms"
It's not just the pension income that my colleagues and I stand to lose, but the fact that this pensions 'crisis' and the discourse about it exuding from the employers is unbelievable. I am incandescent with incredulity.
It is unbelievable because it is fabricated — a tall tale. The employers pretend that they are acting decisively to protect the future security of the scheme, as if this is the only thing they can do.
This is a lie, and were it not, they would have agreed to negotiate with the union, who have suggested that both the employers and employees up their contributions. This and all other compromises were immediately cast out of the employers' golden prams.
The employers are pretending that their hands are tied, but what they've really done is tie up their own hands with a pretend rope, artfully obscuring all the money they are clasping between their palms — to be used, perhaps, to build more sports centres.
The dishonesty is both foundational and continual. For instance, the employers use the most pessimistic calculations to tell everyone how terribly bad a state the university pension scheme is in, and the most optimistic ones to pretend that the changes they are proposing really aren't so bad after all.
It's so badly done, with such indifference and in such plain sight, that I hesitate to dignify it with the word deception.
Overworked, underpaid
Working in a university at the moment is like working for the narrator of a Samuel Beckett novel. The trust that once informed the vague terms and conditions of an academic's contract has been steadily undermined.
These contracts which, like mine, give academics 'the professional autonomy to work flexibly as required to meet the demands of their job' are a legacy of another time.
But it turns out that's 'professional autonomy' is the sign under which academics are asked to do more and more for less and less. Now they are cutting our pay from both ends — salaries have been eroded by 14.5% in real terms over the past decade.
"What I can't believe is the contempt in which the employers hold the people who  make our universities, the staff and students. My colleagues. Let's see how they do without us"
To trust someone you must be able to believe certain things about them. What are we to believe about employers who seek to take 25% of pay from staff who refuse to reschedule teaching cancelled as a result of strikes, for as long as the dispute persists? Remember that those staff will already have lost pay for the withholding of that labour.
Another thing that it is hard to believe: that the employers thought that anything other than extended industrial action would be the result of proposing changes of this enormity.
There are two possible interpretations: firstly that they are unbelievably incompetent; and secondly that their express aim in this dispute is to hurt staff financially both now and in the future, and to disrupt the education of our students.
The FAQs provided by the University of Bristol offer the following justification for disemboweling our pensions: 'For Bristol, every 1% additional contribution to the scheme would represent around £1.5m less to invest in our academic activities, pastoral care and infrastructure.'
See, 1% is very small, but £1.5 million is very big! There you have it: paying academic staff properly is not investing in 'academic activities' or pastoral care.
What good is 'infrastructure' without a properly supported workforce, the workforce whose work and care for students keeps these buildings alive, gives them purpose?
Finally, what I can't believe is the contempt in which the employers hold the people who — I am speaking literally — make our universities: the staff and students. My colleagues. Let's see how they do without us.
John McTague is an English lecturer at the University of Bristol