One protest, two outcomes for Bristol anti-arms activists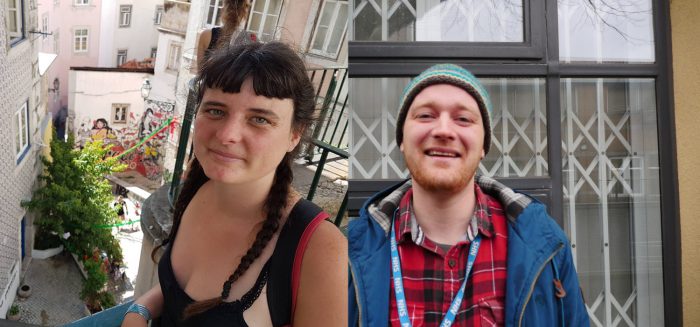 Two activists, one act of protest, two different outcomes. The Bristolians campaigning against UK arms sales.
Photos: Matty Edwards and Rosie Sinfield
"It felt scary, adrenaline-filled and empowering. I didn't go to the event with any intent of being arrested."
Rosie Sinfield was arrested and went on trial for 'obstruction of a highway' after she blocked lorries arriving to set up the Defence and Security Equipment International (DSEI) arms fair in September 2017.
She, like many other activists, was protesting the UK's role in the global arms trade, in the form of the world's largest arms fair being held at the Excel Centre in east London.
She cites the humanitarian crisis in Yemen as evidence of the damage caused by the UK's role in selling arms to foreign powers.
"If I'm going to risk getting a criminal record, I don't want it to be for nothing"
"Saudi Arabia is bombing Yemen, which is causing a huge humanitarian crisis," tells the Cable.
"The law states that the UK should not sell weapons to countries violating international human rights law, as Saudi Arabia is through its targeting of civilian populations, but the sales not only continue, but are increasing," she says.
The UK's arms sales to repressive regimes, from Saudi Arabia to Azerbaijan, Kazakhstan and Venezuela, which are worth billions of pounds, have become increasingly controversial, as MPs and campaigners have called for the trade to be scaled back, or in the case of Saudi Arabia, halted altogether.
Weapons and military aircraft are even being manufactured in Bristol, before being sent off to conflicts in Yemen, Iraq, Syria, Afghanistan, and Libya.
The DSEI arms fair has become a flashpoint for this highly-charged issue, as protesters are arrested in their hundreds for trying to disrupt preparations. In 2017, London Mayor Sadiq Khan said he opposed the capital hosting the event, but that he doesn't have the power to stop it.
Sinfield wants the UK to no longer be the "global powerhouse of the arms trade". This would start with stopping hosting the enormous arms event, which has even been found to be selling illegal weapons.
The global arms trade is such a central part of UK foreign policy, she says, that changing the discourse can have a subsequent wider impact on the foreign stage.
In September 2017, she joined hundreds of protesters, who camped nearby in the week before, in an attempt to delay preparations for the fair – a huge sales and networking event for arms companies and foreign delegates.
However, after repeatedly being shooed off the road by police for days-on-end, she became increasingly frustrated. "I didn't feel like that was effective and I felt inspired by seeing other people doing a lock-on."
On her fifth day, she decided to finally do a 'lock-on', where protesters lock their arms to a concrete device and lie in the road. The police have to then cut them out, which can cause hours of delays.
After being cut out by the police early in the morning with another Bristolian, Tim Hill, Sinfield was immediately arrested and taken to a police cell.
Although it wasn't a particularly unpleasant experience, the prospect of having a criminal record, which could have jeopardized her DBS checks needed for her job at a mental health charity, has loomed over her ever since.
"If I'm going to risk getting a criminal record, I don't want it to be for nothing. I just want it to be over and done with," she says on the eve of her trial.
Unlike many of her fellow protesters, however, Sinfield was eventually acquitted, because her act of protest was deemed "targeted and limited" and therefore reasonable.
She was "really pleased and surprised" at her verdict, which "shows how important these issues are with one judge going one way and one the other".
"It's a historic moment showing that these things aren't ok," she says triumphantly.
One convicted, another acquitted
Not all of Sinfield's fellow protesters were so lucky. Randel Harford, another activist from Bristol, was found guilty and given a £310 fine and six months conditional discharge.
And yet he was arrested for the same act – locking-on and blocking the road to the fair.
"I knew I was going to be arrested after I volunteered. I felt at that moment that it was something I should do. There's a lot of adrenaline involved and it's quite scary, but I would make the same decision if I was faced with it again," he tells the Cable.
"For a long time it's been something I knew I should do something to try to stop"
Harford, an IT support worker at the Bristol Royal Infirmary, had previously been arrested for obstructing a road to Heathrow in 2016, and protested the nuclear weapon testing site at Reading Burghfield.
He soon became engaged with the arms trade. "I know in my heart that the arms fair is completely wrong and that Saudi Arabia is targeting the civilian population while our government is happy to continue selling weapons to them no matter what they do," he says.
"For a long time it's been something I knew I should do something to try to stop," he says, so early the next day he travelled to the Excel Centre on public transport, carrying his locking-on equipment in a cricket bag.
"We managed to block the road for a total of an hour and a half," after which four waves of protesters followed. "It was like a rolling blockade."
"Over the course of the week, about 100 people were arrested at the arms fair for similar acts, if that had been five or six times as many, then they might not have been able to continue. It really adds up," he added.
"I was taken in a van to a police cell, which was by far the worst part of the whole experience." In the hours he spent in the police cell, it felt "very isolated and lonely".
When Harford was convicted, the judge admitted that protest law was a grey area and that testing it in court is the only way of working it out. "It was a nice thing to hear at the end," Harford says.
"We are moving towards the point where the legitimacy of the arms trade can be properly scrutinised"
He's "not worried in the slightest" about having a criminal record. "If it matters to anyone who's going to employ me then they're not an employer that I would want to work for," he adds.
Undeterred, he plans to protest again. "If there's any way that we are going to change things, it's going to take masses of people to take non-violent direct action."
Harford and Sinfield committed identical acts on the same stretch of road in the space of a couple of days, but one was convicted, the other acquitted.
Because of this inconsistency in outcome for anti-arms protestors, Harford has decided to appeal his guilty verdict.
Activists arrested at the arms fair have been found not guilty before, but these latest acquittals give renewed impetus to people's ability to protest this event that has come to symbolise the UK's role in the global arms trade.
For Sinfield, the contradictory verdicts represent "an important shift in how we view the arms industry and its perceived legitimacy".
"We are moving towards the point where the legitimacy of the arms trade can be properly scrutinised, but we are only on the tip of this – there are still judges who will rule that it is a greater crime to lay in the road for an hour, than it is to promote illegal torture equipment to an audience of human rights abusers from within a fair in the middle of London," she says.
"We need public engagement to ensure that we continue to move in the right direction on this issue as there are a lot of powerful people who don't want to see any changes to the arms trade."
The next DSEI arms fair will take place in 2019, when the saga will continue.