The Bristol Cable wins major grant funding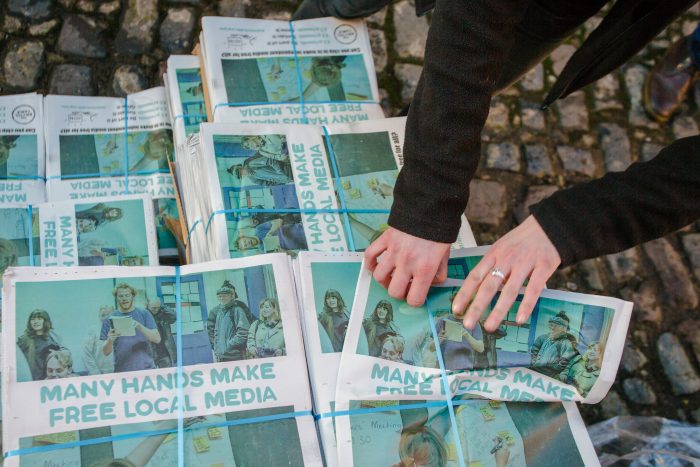 What this exciting grant means for the Cable, how members got us here, and why it's still all about membership.
Three and a half years ago, the Bristol Cable was a fledgling idea of community-owned media, being worked on by committed volunteers. Over the following few years, bucketloads of goodwill and grit built the Cable, putting out and delivering copies of the paper, providing training courses, and organising a democratic member-led cooperative. We now have a small team of paid coordinators and almost 1,900 members contributing to make this a reality.
However, we still have a long way to go to achieve financial stability with this radical new model of local media. At our last AGM, we discussed the question of how to immediately fund and expand the work we're doing, and came up with a few options. Now, 10 months later, we have some exciting news.
"The Cable's ethos and practice is driven by a determination to turn readers from consumers into producers and owners of their media. This relationship is a radical departure from the traditional model of local news media"
We've been in contact with a major funder of journalism – the Omidyar Network – who we believe are an ideal funder due to their mission of supporting independent media. We are delighted to announce that the Omidyar Network, impressed with our member-driven organisation, has awarded us an unrestricted grant of £100,000 a year for two years, so that we can continue to work on creating a community-owned media with a sustainable business model.
This is a credit to all of you who have turned this big idea from a few bullet points on a piece of paper into the small, yet pioneering member-led organisation it is today.
The grant places us in the esteemed company of other organisations funded by the Omidyar Network, such as the International Consortium of Investigative Journalists – of Panama Papers fame.
The Omidyar Network also recently announced funding for other UK organisations, including The Federation, a cooperative co-working space in central Manchester, Open Data Manchester, an advocacy group that encourages and shares open data, and Campaign Bootcamp, a nation-wide initiative to empower early-stage activists.
The Omidyar Network said: "The Cable's ethos and practice is driven by a determination to turn readers from consumers into producers and owners of their media. This relationship is a radical departure from the traditional model of local news media."
What does this mean for the Cable?
We retain our full independence, and the only influence the funder can exercise is to withhold the second year of funding if we have not made sufficient process towards the goals we've set ourselves. These goals are to significantly increase our membership, improve how we engage and involve our members and publish more impactful investigative journalism.
This substantial grant means we have a longer runway to get off the ground and achieve financial stability through membership. It not only gives us more time and the ability to pay coordinators and contributors sustaining what we already do, but the money to ambitiously expand our capacity and deepen our commitment to creating quality journalism rooted in the communities of our city.
We will be presenting our full strategy and plans for spending the grant to members at our next Annual General Meeting on 14 May, where members will have the opportunity to review it, ask questions, and suggest changes, before approving them.
Our main approach will be to invest in the things that will bring and sustain members: producing quality, impactful investigative journalism, supported, informed, produced, and discussed by members.
Some of the innovations we're looking at include hiring a community media coordinator, so we can continue to open the door to the media for a range of people, alongside our training programmes. We will also be investing in developing an online platform to make it easier for members to contribute, discuss, and make decisions about our media.
This grant is a big responsibility. As we work towards our long-term aim of being mainly funded by member contributions, we're working hard to strengthen our organisation by ensuring our policies, procedures and strategies are up to scratch.
We've still got some way to go to get to this stage. But we're hopeful that with the continued support and contributions of our members and (the many still needed!) future members, we will continue to reshape what local media means. We have to.
Onwards!