Prisons: From 'warehousing' to workshops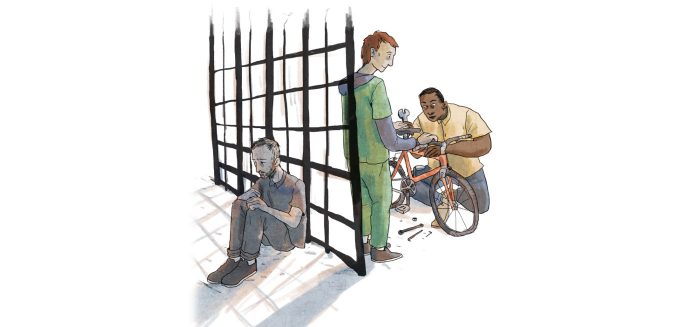 Could education and training for prisoners help solve the crisis at HMP Bristol?
"It was a dark time for me, full of despair, and when the inevitable blows came in the form of a 'Dear John' letter…I was rapidly abandoning all hope," confides former prisoner Adam in a letter to the Prisoners' Education Trust.
For Adam, who was released from Nottingham prison in 2016, life behind bars coincided with a stark decline in his mental health. It was here that he reached his "lowest ebb".
"Being in the bike workshop is the best medicine. There are moments when…your soul lifts" – James, a prisoner involved in Bike Back Bristol.
The mental wellbeing of prisoners is an often neglected aspect of the prison crisis, lost among headlines about riots, drug abuse and violence. But many suffer a sharp deterioration during their time behind bars.
Our prisons house some of the most vulnerable, marginalized people in society. The prison suicide rate is almost 10 times higher than the general population, with a prisoner taking their own life every three to four days in England and Wales.
But longstanding calls for penal reform are getting louder. Campaigners seek the end of crowd-control tactics in favour of a prison estate that places education, training and meaningful work at its heart. Could this shift in emphasis resolve some of the problems at HMP Bristol?
A failing narrative
Last winter, over a three-week period, a series of prison riots spread across the UK, engulfing HMP Bedford, Moorland, Lewis and Birmingham.
The lid was lifted on a system in crisis, forcing the then justice secretary, Liz Truss, to finance the recruitment of 2,500 additional prison officers and to introduce a new law designed, for the first time, to make prisons places of reform. To campaigners' disappointment the Prisons and Courts Bill was dropped from the Conservatives' agenda following the General Election in June 2017.
illustration: B. Mure (
www.bmurecreative.co.uk
)
In the absence of a political solution, the crisis continues. At HMP Bristol, a dramatic increase in incidents of self-harm culminated in five prisoners taking their own life last year; the second highest number of any prison in England and Wales. An official inspection in spring 2017 painted a bleak picture of squalid conditions, high levels of violence and a 'deluge of illicit drugs'.
With these challenges to contend with, purposeful activities at HMP Bristol have suffered. Inspectors found half of prisoners locked up in their cells during the day, while those fortunate enough to attend education and training sessions were disadvantaged by a narrow and unambitious range of options, poor learning resources and, at times, inadequate delivery.
Progress in this area, concluded the chief inspector Peter Clarke, is hard to envisage "until the prison becomes a safer place in which…to live or work".
Ray of light
One project that appears to be successful despite the difficulties is Bike Back Bristol, run by charity Life Cycle UK, an award-winning bicycle recycling project. Offenders repair and rebuild unwanted bikes, which are then sold to the public at affordable prices. It offers prisoners the chance to gain an accredited qualification in cycle mechanics.
The will to rehabilitate prisoners was lost amid a political drive to 'get tough' on criminals.
Many prisoners at HMP Bristol describe their involvement with Bike Back in therapeutic terms. "It made me realize I can do things without drugs," one man told the charity. "It helps the way I think, takes my mind off using." Another inmate described it as a rare opportunity to "take off your war face".
Research by the Prisoners' Education Trust (PET) in 2016 found education and training improves learners' wellbeing, conferring a sense of empowerment, and discourages negative and self-destructive behaviours.
"At Bristol you have a situation where, for safety, prisoners remain in cells. But it's not safe if all prisoners are doing is staring at walls," Rod Clark, the PET's chief executive, tells the Cable.
Although Clark says local prisons like Bristol, where men enter the prison system for the first time, are "very difficult environments in which to deliver learning", he considers education part of the solution to the safety concerns, rather than a lesser goal to be pursued after these issues are resolved.
Deborah Coles, executive director at INQUEST, a charity that provides expertise and support following deaths in custody, agrees. She says activity providers play a pivotal role in recognising signs of mental ill-health in prisoners and fostering the kind of relationship and inspiration that can lessen its impact.
Adam's own experience chimes with this. It was his English teacher who encouraged him to apply for a PET-funded course in sport psychology, offering him a "lifeline when [he] needed it the most". He then began mentoring for Safer Custody, an initiative to reduce self-harm, suicide and violence in prisons.
This anecdotal evidence backs up another argument in support of meaningful education in prisons: it has a 'ripple effect', building a culture of rehabilitation as opposed to despondency and violence, according to PET research.
Business of warehousing
Staff shortages pose one of the main challenges to building this culture. Without enough staff, the system "becomes just about warehousing people," says Coles. This is a problem HMP Bristol knows all too well. A freedom of information request submitted by the Cable to the Ministry of Justice reveals that the proportion of staff leaving HMP Bristol annually increased by more than 100% from 2010 to 2016, while overall staff levels fell by more than a quarter.
Understaffing has been blamed for the cancellation of education, training and work at HMP Bristol by work providers themselves. Blue Badge Company, which produces display wallets for disabled parking permits, used to outsource its textile manufacturing to the prison but director Ellen Green terminated the relationship in 2014 shortly after a year.
Although her experience was largely positive, she said the project relied wholly on the availability of one prison coordinator. "If [she] wasn't in, there were no products to collect," she explains.
Her words echo those of other providers, who say internal prison staff are often pulled in too many directions, which can disrupt the effectiveness of workshops.
Blue Badge Company also found the quality of output varied. Green links this to the high turnover of prisoners at HMP Bristol, which accommodates not only sentenced prisoners, but those on remand. "The prison wasn't very forthcoming with a way to [facilitate ongoing training]," she says.
These problems aren't confined to Bristol; nor is it uncommon for local prisons to lag behind training compared with high-security institutions, which accommodate more stable populations.
Outside the tick box
PET CEO, Clark, believes it is still possible to draw prisoners in, even for prisons dealing with a high churn. At Bristol, he says, "there are huge numbers not engaging with the provision on offer" – a reference to the attendance rate of just 30-40% among prisoners involved in purposeful activities.
"It's about offering something that excites them," he goes on, and thinking "beyond a conventional classroom setting", which so many prisoners associate with failure – 42% of adult prisoners report having been permanently excluded from school.
Last year, the PET published a paper advocating for a broader, more rounded approach to prison education. 'A tick-box culture that met the targets, but missed the point' was its take on the current, output-focused regime; one that doesn't sufficiently measure, or value, the soft skills education can bring.
Stephen, a former prisoner and founder of the national charity, Justice in Prison, agrees. Speaking to the Cable, he blames the payment-by-completion system in operation, which he believes incentivises commercial providers to run low-skilled courses in order to maximize pass rates.
Despite this, the PET takes a cautiously optimistic view. Clark says the old system of "churning people through" is changing. Following a comprehensive review into prison education last year, from early 2018 governors will be given greater flexibility over the commissioning of education and training services.
The Cable contacted HMP Bristol to find out how it intended to use its new commissioning powers to improve education and training at the prison, but a spokesperson was unavailable for comment.
The bigger picture
Notwithstanding the urgent need for improvement at HMP Bristol, everyone we spoke to for this article commented on the 'bigger picture': the political obstacles to providing meaningful education, training and work. For Stephen, who was imprisoned in UK prisons from 2009 to 2015 and witnessed the steep decline in standards firsthand, the political context is crucial.
"At first, classes were run every evening and jobs were readily available. I remember having to wait around a week to join an art class," he reflects. "But [by the time] I left, there were no evening classes and it was very hard to access immediate or advanced courses."
From edition 14, OUT NOW!
Read more from this edition.
"It goes beyond [spending] cuts," he argues. "There was an ideological shift." He says the will to rehabilitate prisoners was lost amid a political drive to 'get tough' on criminals.
The reality, says Dr Michael Naughton, a professor of sociology and law at the University of Bristol, is that most people are imprisoned for 'poverty crimes', rendering prisons repositories for some of the most vulnerable in society.
For that reason, many campaign groups, including the Prison Reform Trust, say the answer to today's crisis does not lie in education and training behind bars. Instead, they focus on investment in community resources capable of diverting people from a life of crime in the first place.
Yet, for the likes of Adam, its effective provision remains a crucial interlude in what the Howard League characterizes as a 'seemingly never-ending story of wasted potential and human misery'.