Transforming mental health provision in schools?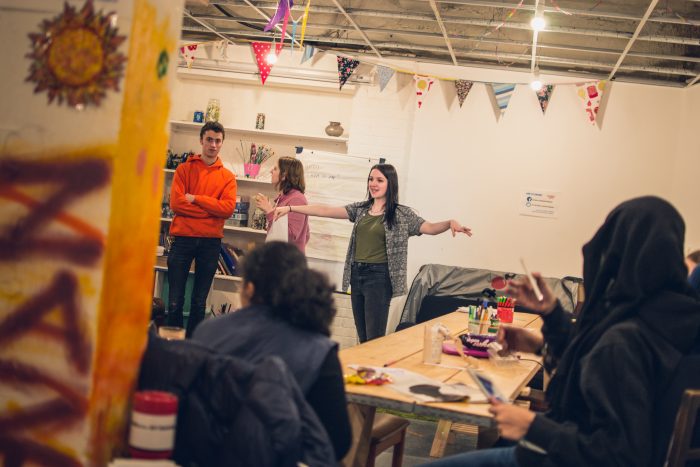 Therapists and educators criticise the government's proposed changes to how mental health services are delivered.
Photo: Off the Record (Bristol)
Children's mental health charity Place2Be launched the annual Children's Mental Health Week in 2015 to raise awareness of young people's emotional wellbeing. This year's week, running 5-11 February, takes place against a backdrop of depleted mental health services nationwide, with therapists struggling with overwhelming case loads.
Could the government's green paper on 'Transforming children and young people's mental health provision', released December last year, improve the situation? Medical and education professionals across the city have warned that the new plans may not amount to much more than spreading existing resources even thinner.
The plans put schools at the heart of identifying and intervening with children with mental health needs. Proposals include having a designated mental health 'lead' in all schools and colleges by 2025, introducing mental health support teams to provide a link between the NHS and schools, and to shorten waiting times for children waiting for treatment to four weeks – less in urgent cases.
"Paying lip service rather than investing"
Therapists and teachers have welcomed the idea of a 'joined-up' approach, and the potential that the changes could reduce stigma around mental health issues. However, there's no indication that there will be any extra funding to support the extra responsibilities expected of services that are already under-resourced – Bristol's child and adolescent mental health services (CAMHS) is among the worst-funded in the country.
"Without the money, they're just paying lip service to the needs rather than actually investing in dealing with it," said Jamie Barry, headteacher of Parson Street Primary School. He points out that the school has had to implement cuts which affected wellbeing services. Parson Street has lost learning mentors and family support workers to budget cuts.
"The workforce in CAMHS is wholly inadequate for the numbers of children needing support"
The school still has its 'Every Child Matters' team – though working on reduced hours – to help support children's emotional and social needs, but the waiting list to use the therapy services "is just astronomical," said Barry. "I'm struggling to see that it will be anything other than an increased expectation of us at a time when schools are already at breaking point."
The Association of Child Psychotherapists (ACP) has criticised the proposed changes for being "inadequate" and "based on false assumptions", saying that making CAHMS responsible for supervising mental health support teams in school would take staff attention away from the children who need it the most.
Systemic problems remain
The ACP's chief executive, Dr Nick Wagget, warned that children with the most serious and complex mental health problems could be harmed by the proposed changes. "We are concerned that, in many parts of the country, there has been a recent reduction in the quality of specialist NHS mental health services and this is not being addressed by the proposals in the green paper," he said.
In December, ACP, the British Association for Counselling and Psychotherapy, the British Psychoanalytic Council, and the UK Council for Psychotherapy released a survey showing the decline in children's mental health services. Eighty-four per cent of mental health professionals surveyed said that children now can't get help unless their illness is severe enough, meaning that children have to wait for their mental health to deteriorate sufficiently before they can see someone about it.
Across the country, waiting times have increased and services are being downsized or closing. The green paper would place yet more demands on a service that already struggles to cope with its current caseload. In November, the Bristol Post reported that 43% of children referred to the Avon and Wiltshire Mental Health Partnership in 2016/17 had their referral rejected, though the partnership insisted that children weren't turned away and that cases that were not taken on by CAMHS were signposted elsewhere, such as face-to-face and online counselling.
"There's a huge amount of children needing support and they need additional services, not alternative services. You can't take it away from one place and put it in another," said Dr Tessa Weir-Jeffery, child and adolescent psychotherapist and clinical service manager of the Bridge Foundation. She worked in CAMHS for 15 years and says that Bristol's mental health services need investment, not just more demands.
"The green paper perpetuates the idea – unique to mental health – that you can treat your way out of a public health crisis"
"The workforce in CAMHS is wholly inadequate for the numbers of children needing support," she said.
"If schools are going to become the front line in mental health we really need really well trained staff. I'm really concerned that there could be non-qualified staff potentially identifying mental health difficulties in schools."
Missing the wider picture?
Simon Newitt, CEO at young people's mental health project Off the Record Bristol, further commented that the proposed changes don't address the "wider drivers of this current wave of distress, which remain embedded in our social, cultural and economic life".
"The green paper is well intentioned, but it still fundamentally places 'the problem' inside the heads of young people," he added.
"As a result, the green paper perpetuates the idea – unique to mental health – that you can treat your way out of a public health crisis. Insofar as having an impact on young people's mental health and wellbeing, you wonder whether the proposed funding might not be better spent on recruiting more teachers and reducing class sizes."