Hamilton House: 'This is an incredibly important moment for Bristol's future'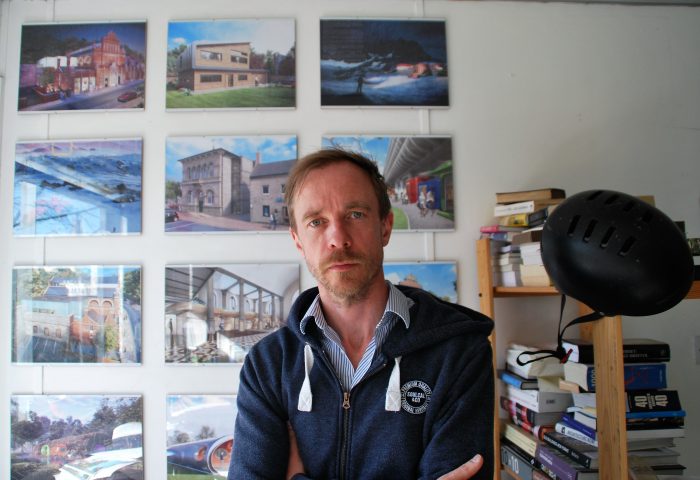 The fate of Stoke Croft's Hamilton House encapsulates whether Bristol's culture can survive the house building drive, says tenant Sean Redmond.
Photos: Matty Edwards
"If we lose all these spaces to housing, there's a real danger that we end up with a city that's just a suburb, and then there's no point being here because that's not what Bristol's about."
Sean Redmond is an architect based at Hamilton House, where 150 creatives and social enterprises are being forced out because the building owners want to develop part of the building into new flats.
Redmond has a studio space in block B, where around 50 of those being forced out are being relocated. "It's a difficult time, but the community is really pulling together to try to ensure as many people as possible are re-housed within the remaining studio spaces," he tells the Cable.
"Our fear is that in nine months' time the rest of the building could be lost"
"We're getting six people into a space meant for two, so it's racking and stacking as much as possible."
"As a community, we've been trying to work with [owners] C&C as positively as possible all the way along but half the studios are being closed down, and it seems that people have only started waking up to this issue now."
Coexist, the social enterprise that has managed the building for a decade, is currently negotiating a lease with the building's owners, Connolly & Callaghan (C&C), for the front of the building (blocks A and B).
"The 10-year lease doesn't provide any real protection for the tenants and our fear is that in nine months' time the rest of the building could be lost," Redmond says.
Hamilton House has become the frontline of the battle between the drive to build much-needed housing and the cultural spaces that make Bristol what it is. The fate of this building in the heart of Stokes Croft has come to represent Bristol's cultural future, Redmond says.
"Bristol is an incredibly powerful creative city and this area is the nursery of a lot of that. In the last 10 years, all these pockets across the city that were similar have by and large been redeveloped. If we lose this building, there are very few spaces left for these people to go to."
Stokes Croft's community asset
This is not just time running out for artists who have benefited from affordable rent for years – Redmond thinks Hamilton House has given more to the local community than it has taken out.
"For 10 years the community invested blood, sweat and tears in this building to create something incredible and it has acted as an anchor for Stokes Croft as it changed and evolved," he says.
"It's taken a long time to create what exists in Hamilton House and you can destroy it overnight"
"There's been a really organic regeneration of this part of town, which is also the seedbed for a lot of the creativity in the city. Easy-in, easy-out, low-cost space, supportive networks and communities that allow these things to grow or fail without sending people to the bank. That is an incredibly important part of what Bristol is about."
"When I arrived, I was struck by the approach from the tenants and users of the building to the people living on the street. Some of those people used to sleep in the building and it was a conscious, careful decision to welcome not exclude these people, which says a lot about the kind of project that Hamilton House is."
With close-knit communities increasingly hard to find, the building connects people from different parts of society and generates millions of pounds that stays in the local economy rather than offshore to some tax haven, he says.
However, the sequence of gentrification has been on repeat all over the country: creative people move into a cheap, run-down area and gradually attract more and more people, until property developers sense an opportunity to cash in on the newfound vibrancy.
"I don't like the word gentrification because it's so aggressive, but I think it's about the loss of empowerment, people taking ownership of things they haven't invested in over time and coming in and removing the sense of power from the people who built those spaces."
"It's taken a long time to create what exists in Hamilton House and you can destroy it overnight," he says, which is what he fears will happen if C&C get the green light for the new flats.
"Our fear is that if the building is given planning permission for housing, it's a lost cause and it's only a matter of time before all of the studio spaces here are lost," Redmond says.
C&C initially tried to get permission for blocks B and C to convert the space into flats under permitted development rights, but this was refused by the Bristol City Council in December because the blocks were not deemed to be office space.
They have just submitted a second application under permitted development for the now empty block C only, which will be decided by May.
Permitted development rights allow office spaces to be converted into flats without the same scrutiny of a full planning application. This means that developers can build residential developments without any affordable housing at all, which is the case for a huge new development in south Bristol.
"With permitted developments rights, we've already lost a huge amount of low-cost office space that was perfect for studios. This isn't just a problem for creative practitioners, but also for the wider city where we now have a huge undersupply of office space generally.
"We desperately need the council to look at removing permitted development rights across the city. There's a huge demand for office and studio workspace that we can't fulfill and the city is suffering economically as a result," Redmond says.
'We need Bristol City Council to be more ambitious'
"The redevelopment of Hamilton House plays into a wider debate around how we as a city value the creative sector. If we want to continue to benefit from this amazing creative output, then as a city we need to start having a proper debate about how we protect and support that creativity."
"We're already seeing high profile artists moving to Hull on the back of their incredible 'year of culture', because of the situation here. Bristol has traditionally been a real powerhouse for culture and creativity, but it's worrying. I love Hull, but we should not be losing artists to places like that," he says.
"This is an incredibly important moment for the future of Bristol. If Bristol wants to remain a powerful creative city, it needs spaces like Hamilton House."
Redmond suggests other ways Bristol City Council could support Bristol's creative sector without requiring huge financial investments, and has also submitted proposals to local MP Thangam Debbonaire.
"We urgently need a citywide masterplan to nurture and support creative communities like this across the city because if things carry on as they are, in five years it'll be too late.
"There are already policies in the local plan to protect community spaces, which could be used more robustly, but we realise that the planning department are between a rock and hard place with the huge drive to create new housing."
He also cites an example where Liverpool Council have agreed to borrow money from central government to finance the construction of Everton's new football ground, which the club rent back off them, meaning capital spending becomes revenue income.
"We need Bristol City Council to be more ambitious and look at what Liverpool and other councils are doing. For example, they could take Hamilton House on, by buying the whole or part of the building, and reinvesting the rental income into the city, to pay for libraries or social care."
But time is running out. "This is an incredibly important moment for the future of Bristol. If Bristol wants to remain a powerful creative city, it needs spaces like Hamilton House," he says.
"We need to protect these kinds of spaces right across the city, which at the moment is not happening. The need for housing is being played off against culture and jobs, and it's always housing that trumps. We're keenly aware of the need for housing, but we need to create spaces that aren't housing. Otherwise you may as well move to Swindon, what's the point?"