National report slams police 'digital stop and search' following Cable investigation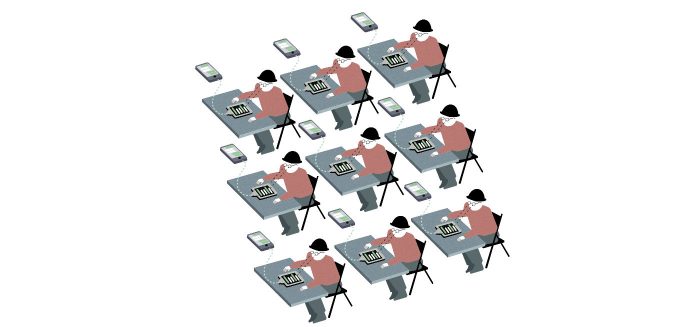 Privacy International seek urgent answers from Home Office on potentially unlawful action by police.
Illustration: Liane Aviram
Prompted by a Bristol Cable investigation in 2017, charity Privacy International have today published a new report into mass police surveillance of mobile phones.
The report, 'Digital stop and search: how the UK police can secretly download everything from your mobile phone', details how phones belonging to suspected criminals, as well as people not convicted of any crime and even witnesses and victims, are subject to the invasive and poorly regulated technology.
Data can include photos, texts, calendar, internet browsing, emails and call logs – virtually everything on a mobile phone.
Police powers, the report states, have gone unchecked with no independent oversight to identify abuse and misuse of sensitive personal information.
Responding to these concerns, David Lammy, MP for Tottenham, said: "The lack of transparency around new policing tools such as mobile phone extraction is a serious cause for concern."
"There are no records, no statistics, no safeguards, no oversight and no clear statement of the rights that citizens have if their mobile phone is confiscated and searched by the police," he added.
"We entrust so much personal information to our phones that the police having the power to download every message and photo we have sent or received without any rights and protections is another worrying example of regulations not keeping up with advances in technology."
According to a report produced by the Police and Crime Commissioner (PCC) for North Yorkshire Police, poor training and lack of proper oversight in using such technology had undermined prosecutions into serious crimes, including murder and sexual assault.
Beyond serious criminal cases, it was also found that this technology is being rapidly rolled out to investigate lower level crime.  A mobile phone search may be used to investigate assault, burglary and traffic offences.
Uncovered in Bristol and beyond
Procurement records obtained by the Cable showed that Avon and Somerset Police (ASP) had contracted with Cellebrite, an Israeli technology company that has become the go-to supplier for the FBI, surveillance agencies and at least 28 British police forces wanting to crack phones.
In 2017, ASP again contracted with Cellebrite. ASP bought the company's UFED devices – a suitcase sized hacking tool which can be taken out on patrols – spending £56,000 on the product over the next three years.
Nationally, 26 out of 47 police forces admitted to using mobile phone extraction technology. Out of the remaining 21 police forces, eight have trialled or intend to trial this technology, and 13 either failed to respond or stated they hold no information on the use of this technology.
Millie Graham Wood, solicitor at Privacy International, said: "You could search a person, and their entire home, and never find anywhere near as much information as you could from searching their phone.
"Yet the police can take data from your phone without your consent, without your knowledge and without a warrant," she added.
"Given the serious problems we still face in the UK with discriminatory policing, we need to urgently address how this new frontier of policing might be disproportionately and unfairly impacting on minority ethnic groups, political demonstrators, environmental activists and many other groups that can find themselves in the crosshairs of the police."
More original reporting on police surveillance by the Cable.