Students occupy Bristol University in support of striking staff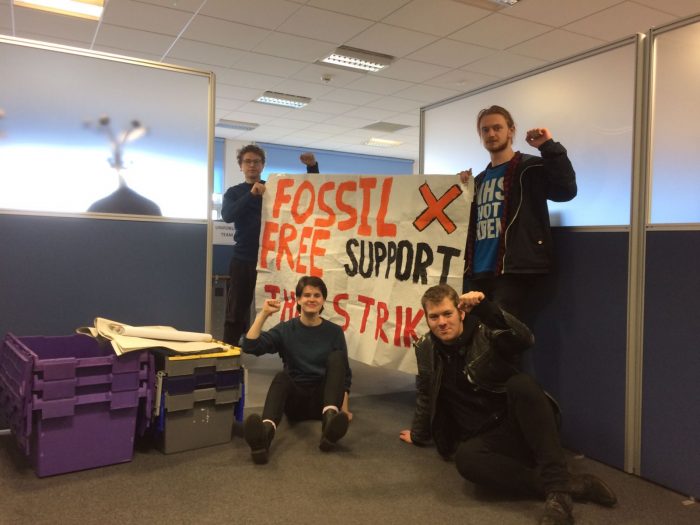 Students have occupied the management floor of University of Bristol's Senate House, demanding that the Vice-Chancellor supports striking staff
Photos: Students-Staff Solidarity Group
A group of Bristol students are occupying the management floor of Senate House in solidarity with the ongoing strike action for lecturers' pensions.
"It has been too easy for Hugh Brady to ignore his workers and bully other divisions of the university workforce into taking an unfair deal"
The Student-Staff Solidarity group took over the offices of the University of Bristol's senior management early morning on 5 March. Alex King, who spoke to the Bristol Cable from inside the occupation, said that they're not leaving until the Vice Chancellor, Hugh Brady meets with them and hears their demands.
"Our demands are that Hugh Brady comes out in support of the strikes and calls for staff to have fair pensions," he said.
"The casualisation and marketisation of universities is degrading higher education and we need to stand up together and fight against that both students and staff".
The group's list of demands includes increased transparency and accountability of university management, that the university doesn't dock striking staff's pay – something that universities around the country have been threatening – and that it opens up the occupation, allowing other students to join. Security are not currently letting anyone up to the occupied floor.

Student protestors are also demanding that the university backs down on its threat to deduct staff pay by 25% from staff taking part in action short of a strike, saying that it is "legalised theft and undermines the sacrifices made through strike action".
Another occupier, Luke Tyers, says that they will "force a free and open discussion."
"It has been too easy for Hugh Brady to ignore his workers and bully other divisions of the university workforce into taking an unfair deal. The attitude is shocking amongst management and we can no longer allow them to get away with ignoring the demands of the workers, with nothing but empty statements in response," he said.
Industrial action – including striking, picketing and marches through the city centre – is in its third week and similar occupations are taking place in Exeter and Leicester Universities. Bristol Students' Union voted in support of the strikes at their Annual Members' Meeting last week, with more than 95% voting in favour of the strikes.
Some lecturers and other staff are set to lose up to £10,000 in annual retirement earnings from the University Superannuation pension Scheme (USS). Last week, a lecturer told the Bristol Cable why he was striking, saying that he looks set "to lose out to the tune of £200,000, my annual pension income being reduced by 56%, or about ten grand".
Another lecturer, who wanted to remain anonymous, told the Bristol Cable that the students' support of the strikes has been "fantastic".
"People are realising that it's not exclusively about pensions, it's not only about staff and our future but it's really about an attack to higher education, an attack to all the people who are not higher up in the organisation," he said.
"Slowly people are getting together in the different universities. Today was the first time… that all the people who spoke – students, staff, the UCU Union –  all made reference to the importance of thinking of the broader picture."
A University of Bristol spokesperson said: "A group of Bristol students are currently holding a peaceful protest on the 5th floor of Senate House in support of staff who are taking part in national industrial action over plans by Universities UK to reform the USS pension scheme.
"The University is proud of its staff and students and respects the right of students to make their voice heard on this important issue. We have welcomed the students to stay in Senate House where they are safe and comfortable, with access to kitchen and bathroom facilities, and have allowed them to hang banners from the building.
"We welcome open dialogue and have made a commitment that the students will be able to meet with Professor Hugh Brady, the University's Vice Chancellor, when he returns to campus later today."
The students have  confirmed that Brady is meeting them tomorrow morning, and that they will maintain the occupation until then.