The council have set bailiffs on tens of thousands of Bristolians. But there is another way.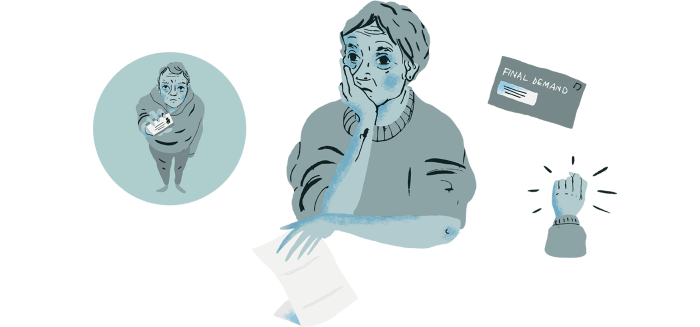 This investigation is part of a Bristol Cable campaign calling on the council to stop using bailiffs to collect council tax.
UPDATE: In July 2018, Bristol City Council agreed to meet the demands of the Cable campaign and introduce an ethical debt collection pilot. See the full story here. 
Illustration: Jes Hunt
Lucy got home one day in summer 2017 after picking up her kids from school, she found a stranger standing outside her door – a bailiff come to collect a debt owed to Bristol council.
"I felt intimidated and scared," she recalls, "and put the kids in the front room because I didn't want them to be affected."
The man said she needed to pay £1,000 in cash immediately or he would seize her car. "I didn't know if he was able to do that, but he insisted he could. I tried to Google it, but couldn't find a clear answer," Lucy continues, visibly shaken by the memory.
Lucy's story is one of thousands. According to information obtained by the Cable, in the two years to January 2018 the council outsourced the collection of 25,000 council tax debts to four bailiff companies. Behind every account is a struggling individual or family who will have to pay bailiff fees on top of the original debt.
Although council tax itself hits poorer people hardest, at a time of devastating cuts imposed by central government there's a strong case to collect the £6.8 million in unpaid council tax in Bristol.
So how to collect that money? Contracting heavies to enforce debts is a story as old as money itself. But in recent years charities have been calling on councils to review and even scrap the use of bailiffs due to the stress and debt traps it creates.
While improvements to procedures have been made, a professional debt advisor in Bristol told the Cable the council is still too quick to resort to bailiffs. "It's ridiculous," she says. "I've seen a £44 debt rapidly become £457 once court fees and bailiff fees are added to the total."
Once bailiffs receive an account from the council, they can add £75 to the debt for dropping a letter through your door, and £235 for knocking at it. If they take your stuff, you'll have another £110 added to your bill.
Part of our campaign calling on the council to stop using bailiffs
Read more from this campaign.
This isn't just a Bristol problem. Nationally, the Money Advice Service has found one in six adults have missed three council tax bills in the last six months, or are struggling with repayment. With the financial year end in early April, demands for unpaid debts dropping on doormats and the problem is set to get worse.
'If they had been more human, I wouldn't have felt so scared'
Lucy's council tax debt built up because of a mix-up in benefit entitlements. Letters demanding payment arrived, but Lucy, who has bipolar disorder – a condition that affects mood, which can swing from one extreme to another – felt unable to deal with them, and things got out of hand.
"If they had been more human, I wouldn't have felt so scared. The letters you get are very intimidating," she says. "That's what makes you put them aside and not want to acknowledge them."
The Citizens' Advice Bureau had told the council Lucy suffered from poor mental health and was a mother to two kids with disabilities, but the bailiffs remained on the case.
Now she was facing down a burly man on her doorstep demanding she hand over the keys to her car or cough up £1,000 on the spot. "I begged them to let me set up a payment plan, and they said, 'No, pay up or we take your goods'."
With her children and a work commute there was no way she could give up her car. And more private debt wasn't the answer. "I've gone through payday loans before, and I didn't want to go through that again," Lucy says. Reluctantly, she turned to her family. A few phone calls later, she wrote a cheque for over £1,000 and the bailiff left. Her original council tax debt was only £500.
'It was basically one rolling payday loan every month for 14 months'
Lucy knows that she was fortunate to be able to turn to family for help. Megan had fewer options. In summer 2015 she fell behind with repaying a council tax debt when payments stopped automatically coming out of her income support benefit, when she returned to work after having a child.
"It almost immediately went to the bailiffs, and it was a really severe situation. It's a really scary time," she said. "They would bash the door very loudly, which is very intimidating when you're a single woman on your own… I hate that they do that to women."
Megan eventually let the bailiffs, who would turn up unannounced as late as 9pm, into the house. She didn't have anything they could take, she says, "so they started noting down silly things like the wall clock and the bookcase".
She set up a payment plan to get them to go away. "But I couldn't afford it, it was crazy money and I was barely living and there was barely any food," she goes on. "So I had to stop paying. Then they started coming again."
Council tax is considered a 'priority debt', meaning there can be serious consequences such as being declared bankrupt and, in rare cases, being sent to prison if it is not paid back before other debts.
So Megan turned to payday loans – only to find herself in a predictable but unavoidable trap.
"It was basically one rolling payday loan every month for 14 months. Pay back, top up, pay back and so on," she says. Two and a half years later she has only just cleared her original council tax debt, which began at £700 but ended up over £1,100. Other debt taken on to pay back the council tax is still with her.
'I didn't know my rights'
Once an account is with the bailiffs, council oversight is minimal. A council source told the Cable it's up to the bailiffs to tell the local authority and respond accordingly if a person they are dealing with is vulnerable in some way. Firms also have the liberty to determine repayment plans – or refuse them. When Lucy begged for an affordable repayment plan, she was met with a flat demand for the amount in full.
Another concern is the lack of widespread knowledge of people's rights when it comes to dealing with bailiffs. "I didn't know my rights the first time they came," Megan says. A quick scour of Google shows forum after forum of people asking whether bailiffs can do this or that.
Fortunately there are still some advice services available, such as those given by Fran Begley and the team at South Bristol Advice Service in Withywood, one of several services in the city.
Begley is a 20-year veteran of advising people on how to navigate the maze of welfare, debt and employment issues. She says her team have seen 1,000 people over the past year specifically for debt related issues.
But times are tough here too; council cuts mean the budget for the advice centre is 17% lower than it was two years ago. Nonetheless, the team organise regular drop-ins and appointments to help people with debt and other issues such as welfare and employment. Fran's advice for people struggling with debt or bailiffs? "Don't put your head in the sand. We can help you. And we won't judge you."
'Severe emotional and financial costs'
But too many people still end up on the sharp end of debt collection, and calls are mounting for councils to stop using bailiffs and find better ways to recover council tax.
One council in London has answered that call. As of April this year, Hammersmith and Fulham council will no longer use bailiffs to enforce council tax debts. In what it claims is a "revolutionary new joint venture" the council has partnered with Intrum, a self-styled ethical debt collection agency that claims to "take your financial circumstances into account and set up an affordable payment plan, allowing you to repay your debts and get on with your life".
Hammersmith and Fulham council say the new approach isn't solely about reducing distress. By using tailored payment plans and investing in early intervention, it is confident the amounts collected will rise and save money in the long run.
"If a bailiff pressures someone into paying their council tax arrears at the expense of their rent, they are more likely to be evicted and end up in temporary accommodation," says Hammersmith and Fulham Labour councillor Max Schmid. "This can have severe emotional costs for the evicted family and huge financial costs for the council and other parts of the public sector."
The idea has caught on with Paul Goggin, one of the three Labour councillors representing Hartcliffe and Withywood, wards that include areas within the 100 most deprived parts of the UK. Though cautious about any private sector debt collectors, he wants to see Bristol follow Hammersmith and Fulham's lead and find another way.
Having fallen into council tax debt because of ill health himself, Goggins has first-hand experience of what he calls "the pleasure of intimidatory and deceitful behaviour from bailiffs employed on behalf of Bristol council".
"I appreciate that, due to the massive cuts to local government funding by successive governments, it's important to collect monies from those who can afford to pay," he says. But sending in the 'heavies' with inflexible demands is ineffective, and doesn't mesh with the Labour Party values of the current Bristol administration."
Goggin thinks that there is a appetite within the Bristol Labour party for a new approach. But the ball is firmly with the mayor, along with cabinet member for finance, councillor Craig Cheney and the rest of the council to make it happen.
The council did not respond when asked to comment on whether they would consider another approach to council tax bailiffs. How many more knocks and payday loans will it take before alternatives are explored?
Names have been changed to protect privacy.
Help us #bootoutbailiffs by sharing this investigation with your friends, family, your local councillor, and the mayor.
Share and follow the campaign on social media and together we can #bootoutbailiffs