Women who built Bristol: 'We were challenging all the time'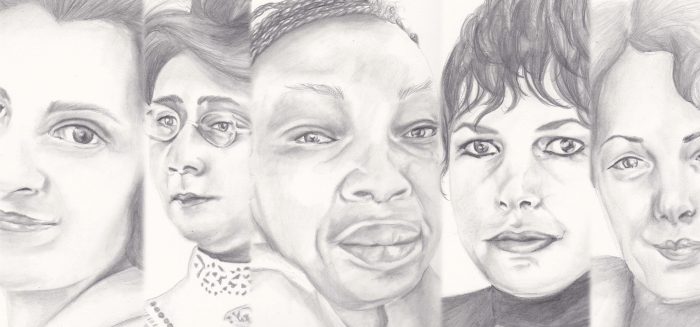 A look at some of the great women who helped shape this city.
With so much discussion and action around the gender pay gap, the glass ceiling and the under-representation of women in politics, media and the arts, you could be forgiven for thinking women have always been robbed of the opportunity to shape their societies. But that is far from the case.
Thousands of brilliant women have defied the odds to make their mark throughout history: social reformer and anti-slavery campaigner Mary Carpenter, who also set up a reform school for girls in Bristol in the 19th century; Bristol's first female MP Lady Apsley, a qualified pilot who had served in World War I; journalist Barbara Buchanan, whose reporting and campaigning was instrumental in seeing cervical screening rolled out in the UK, and Nobel Prize winner and chemist Dorothy Hodgkin. These are just a few of the many women who helped shape this city.
Most people have heard of the suffragettes and, as Bristol marks the centenary of property-owning women over 30 first getting the right to vote, we'll probably be hearing more about the likes of former Clifton residents, Annie Kenney and Mary Blathwayt, who were key players in the suffragette movement in the West Country.
As part of the centenary celebrations going on throughout 2018, the local campaign charity Bristol Women's Voice (BWV) has organised a programme of events including comedy nights, talks and exhibitions. It is also sharing the stories of many notable local women from history in a new book, The Women Who Built Bristol.
"There are so many books about Bristol's past and Bristol's great people, and the near-absence of women in almost all of them is painful," says the book's editor and BWV trustee Jane Duffus. "There were many more wonderful women in Bristol's past than Mary Carpenter, Hannah More and Annie Kenney, who are typically among the better known. Of course, I'm not taking away what those three achieved, but they were far from alone. Far, far from alone."
A selection of women who helped make Bristol as it is today:
MARY BLATHWAYT (1879-1962)
Mary Blathwayt was a staunch supporter of the suffrage cause. The Blathwayt family opened their Batheaston home as a refuge for suffragettes who needed a space to recover from hunger striking and force feeding while in prison. Mary's father gave three acres of the family grounds for the Suffragettes' Wood, where suffragettes planted trees marked with a plaque. Mary was close friends with Annie Kenney, the suffragette organiser in Bristol, and the two lived together in Clifton. They chalked pavements, distributed leaflets and arranged meetings. Mary never took part in any violent suffragette activities and it was the intensification of suffragette militancy that led to the Blathwayts' withdrawal from the cause. Mary spent the remainder of her life in Batheaston. The Suffragettes' Wood became wildly overgrown and was bulldozed in 1965.
LEOTTA GOODRIDGE (1939-2015)
Known as the 'Queen of St Paul's', Leotta 'Leo' Goodridge worked tirelessly for equality and social justice and was a founding member of the Bristol council Race Forum. Leo arrived from the West Indies as part of the Windrush generation and eventually became a part of Bristol's welcoming committee to greet future immigrants to the city; she was "more a mother than a friend", wrote Ujima Radio's Roger Griffith in his obituary for Leo. She was concerned with the health and social welfare of the diverse communities in Bristol and she particularly wanted to support young people. Her friend, Carmen Beckford, who she worked with for decades, said of Leo in her eulogy, "We shared a lot of laughter, which helped us face the future challenges in a more relaxed but very determined focus going forward."
ANDRÉE PEEL (1905-2010)
Andrée Peel was running a beauty salon in Brittany when World War II broke out. Following the German invasion of France in 1940, she joined the French Resistance, was promoted to sergeant and became one of two women known as Agent Rose. In this role Andrée distributed secret newspapers and signalled to Allied planes to guide them to improvised landing sites. The Guardian noted that she also "helped a total of 102 allied aircrew to evade capture by the Germans and to get back to Britain by small boat, submarine or night-time collection by RAF Lysander aircraft … this was the contribution of which she was most proud". Upon arrest in 1944, Andrée was beaten, tortured and sent to the notorious women's concentration camp, Ravensbrück. When US troops arrived to liberate the camp, Andrée was being lined up for a firing squad. After the war, she married and relocated to Long Ashton.
PAT VT WEST (1938-2008)
After arriving in Bristol in 1967, Pat became involved in the performance poetry scene. She attended consciousness-raising meetings and found them revolutionary in terms of expression: "It was hard to find the language; we didn't know how to give voice to what we were feeling." In 1970 she met Jackie Thrupp and, tired of just talking about women's liberation, Pat and Jackie decided to "move out of dull meetings [and] use art to show what we meant". They were a disruptive force. It seemed obvious to both that theatre was the logical next step. For example, they gatecrashed a Women's Institute lunch in Bristol, marched through the doors in French maid outfits, dished out spoons of alphabetti spaghetti and told the stunned guests to "eat their words". After spending time at Greenham Common, Pat began to write a novel and to lead creative writing workshops for women in Bristol. She said, "Women had been held back for so long that when the lid was taken off, there was an explosion! We were challenging all the time."
PEGGY ANN WOOD (1912-1998)
Peggy Ann Wood's work in the arts was prolific. During the war, she boosted the morale of the city by keeping the doors of the Little Theatre, which she managed at Colston Hall, open. At one point, with the Blitz having destroyed much of the city, it was the only live theatre available to Bristolians. Air raid sirens blasting, the audience would be asked, "Do you want to continue?" and the response was always "Yes!". When the company's home burned down in 1945, the Little Theatre somehow re-opened five days later. Peggy was busy running her company but she also found time to direct, write and even star in many productions. A talented actor, she was a recognisable face in homes up and down the country, working steadily in TV until the mid-1990s.
The Women Who Built Bristol (£12.99) is available to buy direct from Bristol Women's Voice and will also be available at independent retailers in Bristol. Proceeds will go straight back into funding the work that Bristol Women's Voice and Bristol Zero Tolerance do towards making women's equality in Bristol a reality.