Community action around the city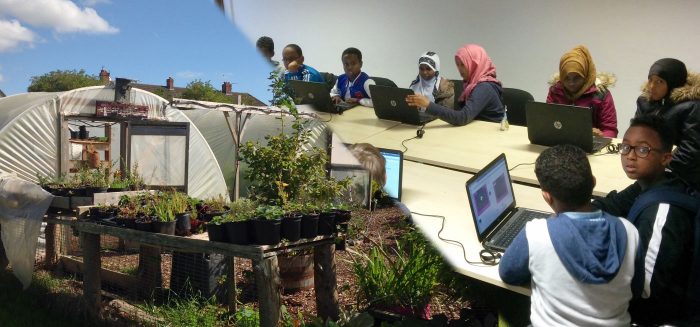 Digilocal wins funding (Barton Hill)
DigiLocal has secured funding from The Engine Shed to develop its coding clubs.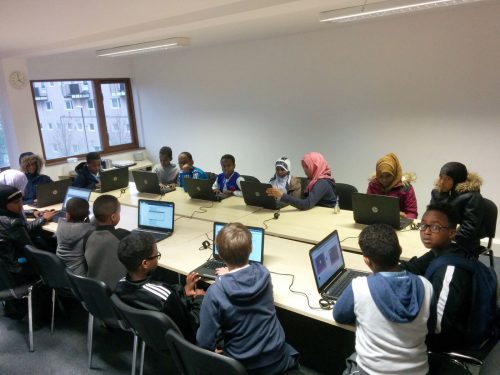 Credit: John Bradford
Children at the DigiLocal club in Barton Hill learn coding language to make games and acquire developing skills, working on projects that take two to three weeks to complete. They learn Scratch first, a simple coding method to make games, before progressing to learning Python, a powerful programming language used by professional developers.
The DigiLocal initiative supports 12 communities across the west of England to run 16 clubs every week, with 48 volunteers helping to run the clubs across Bristol and Bath. "We want young people to see their culture positively reflected in the high tech world around them, something which is all too infrequent at the moment"
John Bradford, CEO of High Tech Bath and Bristol CIC, which launched the initiative, says that the plan is to develop a package of content that comes from the community.
"DigiLocal has been supporting the Somali and other communities around Barton Hill for nearly three years," he says.
"They undertake projects with the support of mentors from tech companies and the local community, structured within our LINKS progression scheme. This funding will allow the development of new projects based on the stories and games from their cultural heritage. We want young people to see their culture positively reflected in the high tech world around them, something which is all too infrequent at the moment."
They want to have volunteers and mentors from each community they're based in, and hope that in the long-term some of the young people going to the clubs now will go on to volunteer and mentor other young people.
The Engine Shed project is running until September, with all of the clubs coming together in late summer to showcase projects from all over Bristol.
Knowle West Health Allotments
"You can't hear the cars and there are amazing views down to the suspension bridge. It feels like you get away and have breather."Photo: Knowle West Health Allotments
Fleur Handley is a community gardener at Knowle West Health Allotments, a project that offers rare moments of quiet for children, adults with learning difficulties or simply local people wanting to get involved.
Set up in 2012 as part of the Knowle West Health Association, the allotments provide various workshops and sessions in gardening, cooking, and woodwork as well as selling cheap produce.
"I think it's super important just having a green space. Especially around here where for generations people have lived in the same area and don't often get out and about," Handley tells the Cable.
The allotment used to be funded by the council's public health budget but this was cut last year, forcing them to look for alternative revenue and smaller funding pots.
"We are looking at quite a lot of uncertainty, but we have some really strong members of staff and the board who work tirelessly to find a way forward. It's not uncommon at the moment that people are in a precarious situation," Fish says.
And yet, the allotments provide a community space for often neglected areas of south Bristol, from Knowle to Filwood and Hartcliffe.
Fish says it's difficult and will take time to challenge assumptions about these areas, but "actually when you come to a place like this there's definitely a really good sense of community and people are proud of the area".
You can get involved with the allotments here.
Team Southmead wins legacy money to award local grants
"It's not uncommon at the moment that people are in a precarious situation"
A Southmead volunteer-run organisation has been awarded legacy money from the London Olympics to give small grants to local groups.
Team Southmead – a group created by local residents to fill the gap left by the Neighbourhood Partnerships – has been awarded money from the Fourteen Foundation, a programme set up by a Big Lottery Fund charity, to boost local projects. It's the only community in Bristol to have been able to continue giving out grants, say organisers.
Fourteen has chosen 14 communities across the UK to receive three years of funding to improve wellbeing and increase community participation in sport, physical activity, the arts, culture, social action and volunteering. The aim is to ensure that the money goes where it's most needed, and local communities are best placed to decide where that is.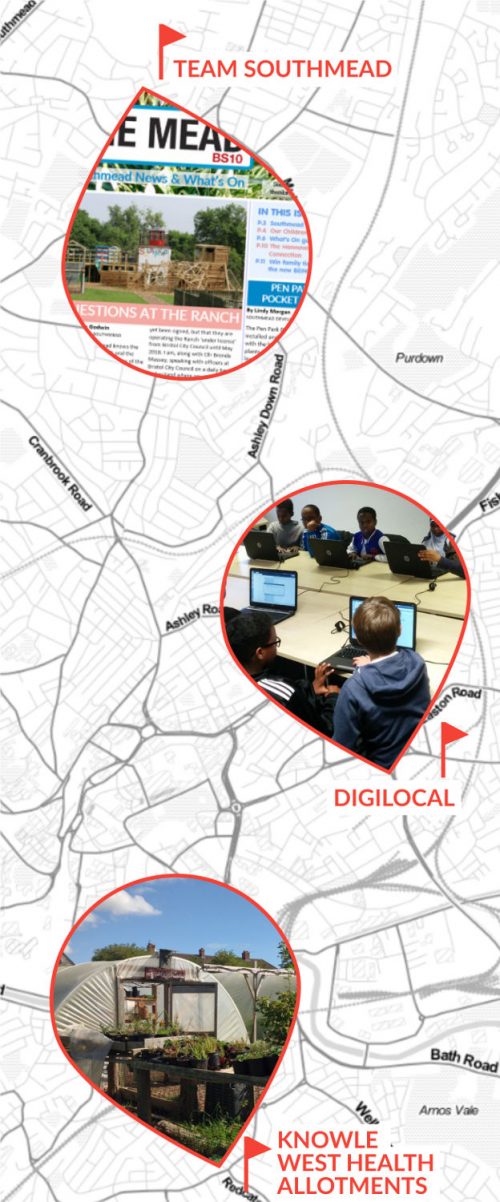 Volunteers at Team Southmead say that the money awarded will be given out in £250 grants to support new and existing local projects that will increase wellbeing in the area.
"The grants will be to help set up a group or support an existing one with a view to making it sustainable," says Team Southmead member, Deana Perry. "We would fund activities and perhaps equipment to set things up, but it has got to benefit the residents of Southmead.
"This is the last of the legacy money from the 2012 Olympics so we must make sure that it is spent wisely and makes a change to residents' lives."
With Bristol's 14 Neighbourhood Partnerships falling victim to the more than £100 million in cuts the council is implementing, a hole has been left in many communities. Residents formed Team Southmead to fill the gap and meet regularly to discuss local problems and opportunities.
Member Spotlight: Got something to share?
We're looking for members to feature in our Member Spotlight. Do you know a Bristol Cable member doing something big in Bristol that should be celebrated? Let us know!It's not just members' stories that we're after.