NHS members' meeting: Tapping into our membership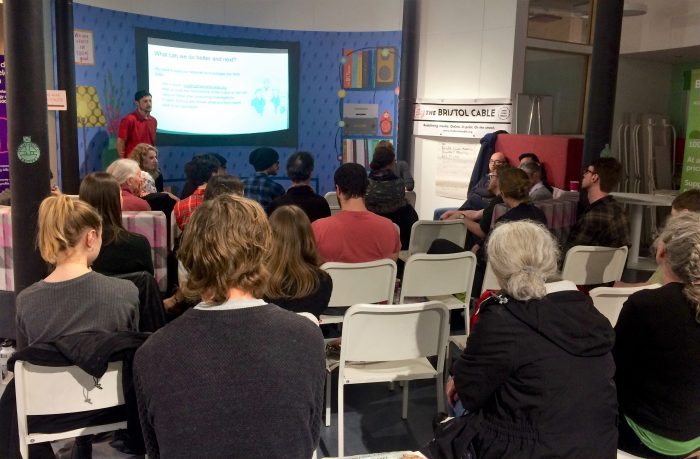 Our journalism is steered by the people affected by the issues we report on. This time it's all about the NHS.
At the Cable, we're committed to digging beneath the surface. We want to go beyond bog standard reporting to understand the stories that really matter in-depth. Our small team of journalists will publish a focused series on an area every three months- starting with the NHS in Bristol.
Part of our series: Inside the NHS
Read more from this campaign.
Among our nearly 2,000 members, there is an immense amount of knowledge, expertise and personal experience that we need to amplify, so we decided to tap into this.
We invited NHS workers and campaigners along to our April members' meeting, many of them Cable members, to exchange ideas and start a conversation about the health service in Bristol.
After hearing from Cable journalists Adam Cantwell-Corn and Richard Muir about their investigation into skyrocketing stress-related absences among NHS workers, we heard from the people on the frontline – NHS staff.
They spoke honestly and passionately about the difficulties of working in our health service in 2018, from the influence of privatisation to the relative benefits of being an agency worker. We listened and scribbled things down furiously to gather a melting pot of contacts, leads and story ideas.
Off the back of this, we are launching an editorial series – Inside the NHS – which will try to lift the lid on how Bristol's health service is coping in the face of years of underfunding.
Over the coming months the Cable will publish stories about the NHS in Bristol that desperately need to be told, but often aren't.
The Cable's membership has so much to offer in the way of informing and steering its journalism. By holding open meetings, listening to members and collecting story ideas, we can report on key issues of public concern.
This is the kind of grass-roots, bottom-up, community-based journalism that the Cable was set up to produce, and we want to keep it going.