Stillbirth: a grief like no other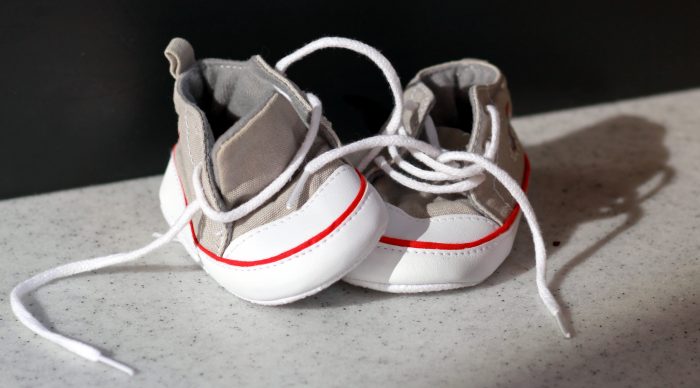 A Bristol charity helps families through the death of a baby. But what can we do to reduce the number of such losses?
"My pregnancy continued fairly normally with the exception of very close monitoring at the hospital until I awoke one morning when I was just over 30 weeks gestation," recalls Charlotte Coombs, the chair of charity Bristol Sands, which helps families through the loss of a baby. "I discovered I was bleeding and in extreme pain. I was rushed to hospital and was given the devastating news that our baby's heartbeat could not be found."
Charlotte is one of around 15 people per day who lose their baby before, during or soon after childbirth. In fact, all of the volunteers who run Bristol Sands have experienced the death of a baby – and know how important support is for families facing such tragic circumstances. The charity is turning 40 this year, and raising funds for a memorial at Arnos Vale Cemetery, where currently babies' graves are unmarked, to mark the occasion.
For parents affected by stillbirth, the experience of losing a baby is a grief like no other. "Losing a baby has simply been life changing…Both my husband and I have suffered with our mental health, it's impacted our relationship, relationships with other people," Charlotte explains. "Our grief will be lifelong, we are essentially grieving for a life that never came to be, grieving for the things that we will never get to experience – no first words, no first steps, no first day at school to name but a few. Christmases, birthdays, even family holidays become emotional as our family can never be complete."
"Danny has not changed our lives for the worse. He has made us as a family more compassionate and understanding"
Such a devastating experience can leave families feeling isolated. There is still stigma associated with the loss of a baby, and many people find it hard to talk about for fear of saying the wrong thing. Yet an estimated 4.2 million women are living with depression associated with a previous stillbirth, which is why it's so important for those affected to feel able to talk about it.
Bristol Sands offers bereavement support groups and 'befrienders', who have had a similar experience and make themselves available to those who've just suffered the loss of a baby, for crucial communication and reassurance, either by phone or in person.
"It's hugely important to have access to support of this kind as you're in such a vulnerable state, it's confusing and you're so emotionally raw that having someone to talk to who simply just understands just gives you a release. It was a lifeline for us," Charlotte remembers.
The charity also offers 'pregnant again' support meetings to help families cope with the anxiety of going through another pregnancy having suffered an earlier loss.
Risk factors and unanswered questions
Officially, a stillbirth is when a baby is born after at least 24 weeks of pregnancy, having never breathed or shown signs of life. Before that, the death is officially classed as a miscarriage (although of course, families may experience similar feelings of grief for a death at any stage of pregnancy).
There are many possible causes for a baby to be stillborn, although there is still a high proportion of unexplained stillbirths. Causes include infections in the mother, such as rubella or Lyme's disease, that also affect the baby; bleeding before or during labour; diabetes; and fetal growth restriction (FGR), where a baby slows or stops growing inside the womb.
"Every baby matters, and their loss sends ripples affecting not just parents, but also, for instance healthcare professionals who help these families, local communities too"
There are also known risk factors that increase the chance of a pregnancy ending in stillbirth. These include maternal obesity (which increases the risk to 1 in 100), smoking, drinking alcohol, drug misuse, and being over 35. But there are still unanswered questions around their loss for many families.
The latest figures show there were 3112 stillbirths recorded in the UK in 2016, and 696,271 live births. This means one out of every 225 births ended in stillbirth, or a rate of 4.4 per 1000. This is a slight improvement on previous years and the lowest rate since 1992. Bristol Sands hopes to reduce this figure further through funding research.
Could more babies be saved?
But despite the improvement, the UK still has much to do to: of high income countries, the UK is 24th out of 49, in terms of stillbirth rates, behind countries including Slovenia, Croatia and the Czech Republic. The country with the lowest rate of stillbirth was Iceland, which has a rate of just 1.3 per 1000.
Globally, 98% of stillbirths take place in poor and middle income countries, so we know that different levels of wealth, resources and access to good healthcare are contributing to these outcomes.
Among the richer countries, the large variation between stillbirth rates raises questions: with rates varying from 1.3 to 8.8 per 1000 across high-income countries, reductions to the UK's relatively high rate should be possible. Nationally Sands aims, by 2020, to reduce the number of babies dying by at least 20%, and to fund research to better understand what causes these deaths.
Medical journal the Lancet has reported that substandard care contributes to 20-30% of all stillbirths. The report also found that women living under 'adverse socioeconomic circumstances' have twice the risk of having a stillborn child than more advantaged pregnant women. It suggests programmes should be available locally and nationally to address the inequalities.
Current figures show that within England, stillbirth rates rise along with deprivation levels, from a rate of 3.9 per 1000 births for the least deprived families up to 5.5 for the most deprived. It follows that in reducing deprivation levels, pregnancy outcome rates could also be improved.
Support through grief
There are also inequalities in the care available following the loss of a baby. Charlotte explains, "One of our key aims at Sands is to ensure that all areas of the country receive the same level of care. We were very fortunate with the level of care we received here in Bristol, however other areas of the country don't have bereavement suites in hospitals, for example…It's vital that parents receive the appropriate care and it shouldn't depend on where you live as to whether you receive it."
"I will always be a Mum to four, it's just one of my children I did not get to keep"
Bristol has two specialist bereavement suites, funded by Bristol Sands, within Southmead and St Michaels hospitals. Here families can spend precious time with their baby following death, a very important step in the grieving process. We also have a below average stillbirth rate of 3.3, whereas there are parts of the country where the rate is closer to 11.
Another Sands volunteer, Abbie, lost her third child, Danny, to an undiagnosed heart condition at one day old. "Our loss is always there. Even though we were lucky enough to go on and have another little boy, he does not replace Danny. I will always be a Mum to four, it's just one of my children I did not get to keep."
Abbie's family managed to find some positives in their experience, "Danny has not changed our lives for the worse. He has made us as a family more compassionate and understanding. Because of him I have challenged myself more, for example I've done a skydive in his memory, taken up running. I have met some amazing people because of him."
As part of the 40th birthday fundraising drive, Bristol Sands has 42 people running the Bristol 10k race on the 13th of May. The money raised will go towards improving the stillbirth section of Arnos Vale cemetery, where currently the graves are unmarked. The plan is to erect a stone marker or monument in memory of all babies buried there. "This will create a calm, respectful space for long ago bereaved parents to remember their babies in peace, offering much needed bereavement support," says Abbie.
Another way people can help in supporting families undergoing this painful experience is by breaking through the barrier to talking about it. "It is better to say something to a bereaved parent than nothing, even if it's just a simple 'I'm sorry'. This acknowledgement of their baby is so important," says Abbie. "Every baby matters, and their loss sends ripples affecting not just parents, but also, for instance healthcare professionals who help these families, local communities too…"