The Labour councillor calling time on council bailiffs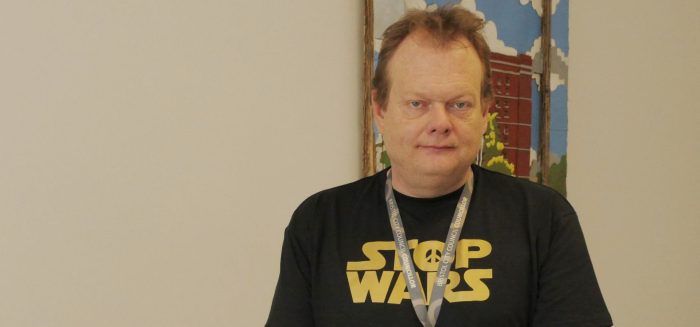 He has been on the sharp end, and now wants to change how the council collects debt.
Part of our campaign calling on the council to stop using bailiffs
Read more from this campaign.
Paul Goggin, a Labour councillor for Hartcliffe and Withywood, has been there. As a child, growing up with a dad who had a problematic gambling habit, Goggin faced bailiffs on his doorstep demanding debts. Later on in life, after a brief spell of homelessness and suffering from health issues, Goggin "endured the visits and the lies" from bailiffs working on behalf of Bristol City Council. Now, back on his feet with the help of the council and charities, Goggin wants to give something back.
"Once my health problems were mostly resolved, I got involved in local politics," Goggin says. His election in 2016, after a failed first attempt, helped to clinch the Labour party a majority in the council alongside the convincing win achieved by mayor Marvin Rees.
As a representative for one of the most deprived wards in the country, coupled with his personal experiences, Goggin wants to use his position to improve the situation of working class people in the city.
Sitting in a small room in the cavernous City Hall, Goggin tells me: "I've always been interested in helping others… that sounds very grandiose, sorry. I've always found that in my darkest times the best way to feel better was to help others, because there is always someone worse off than you."
One area Goggin is keen to fight is the 'poverty premium' – where poorer people are burdened with extra costs, for example metered electricity and high interest loans. Within this problem Goggin sees the extensive use of bailiffs by the council to collect debts. According to council data this amounted to 25,000 separate individual or household accounts for council tax alone between January 2016 and January 2018.
"I've heard lots of stories of people who have got into a small amount of debt, and not been able to pay it for various reasons. Then with the bailiffs their debt has ended up being quadrupled by bailiff fees."
"I had to endure the visits and the lies the bailiffs were telling me while being told that the council will be passed the debt back once they had pocketed their £310 plus fees. But until then it was out of the council's hands, which just seems absolutely crazy."
So what do to do about it?
"I've often been told there is no other way than using bailiffs. That in times of austerity, debts need to be collected," Goggin says. But his efforts were invigorated in seeing another council test and introduce an alternative approach. As of April 1 2018, Hammersmith and Fulham Council have announced that they have ceased using bailiffs and embarked on public-private partnership with self-styled ethical debt collection agency, Intrum, (formerly 1st Credit).

Hammersmith and Fulham say the new approach isn't solely about reducing the well-documented distress caused by bailiffs. By using tailored payment plans and investing in early intervention, the council is confident the amounts collected will rise, and save money in the long run. Key to this calculation is reducing costs associated to homelessness and other social issues arising from debt.
Although being suspicious of private debt collectors and uncertain that the same approach is best for Bristol, Goggin sees an opportunity in the Hammersmith and Fulham model. "In the context of being in a situation where there is a lot of Labour party values that we can't implement because we don't have the money or power, if we can find an ethical approach that can look after vulnerable people, and save money, then we have to take it."
Bringing debt collection in-house has been raised previously by the council over the years, however bailiffs would still be used in such a scheme. This falls short of stopping their use entirely as Hammersmith and Fulham have, under what is known as 'the social model' approach to debt collection.
Doing what can be done
Goggin's not naive to the pressures facing the council. "Due to the massive cuts to local government funding by successive Conservative governments, it's important to collect monies from those who can afford to pay," he says. "But sending in the 'heavies' with inflexible demands is ineffective, and doesn't mesh with the Labour Party values of the current Bristol administration."
There is scope for changing the council's debt collection practises says Goggin, although he's frustrated at the lack of progress. "I think there's a lot of will within the administration to look at any way we can help the vulnerable in society, but we need to look at ways we can do it that are cost effective. There is a lot a will, we just need to get on and do it."
There have been some encouraging signs recently alongside Goggin's work in the council. Earlier this month at a council meeting, Green party councillor Charlie Bolton raised the issue of council-instructed bailiffs after a resident, prompted by the Cable's #bootoutbailiifs campaign, got in touch to share their terrible experience. Other cross party councillors have also expressed private or public support for the changes.
Meanwhile, a press officer for the council said that there has been an 8% decrease in the use of bailiffs in 2017/18 as compared to the previous year. This still represents more than a thousand accounts outsourced to bailiffs each month for council tax alone, earning millions for the bailiff companies, and in one case the Conservative Party linked financiers behind them.
Goggin sees this issue as connected to wider social problems, and believes that for the sake of his constituents' and many across Bristol, change needs to come quickly. "For eight years now we've had austerity. We've had stagnating wages, unemployment, job losses, low paid work and increasing prices. And a lot of people have been sucked into this struggling and worrying each month that if anything happens, like a car repair, health issue, whatever, then they are in crisis. They are literally living on the brink, constantly."
Finally, what does Goggin say to those who think the council shouldn't compromise on people's debts? "Unfortunately, there will always been some people who cannot pay often very small debts, and it doesn't make sense to add £310 to the debt of someone who can't pay, which may then get passed back to the council with the extra distress and potential costs. Another way can be found. Sometimes, even a compassionate approach can result in better returns in the long run".
Help us #bootoutbailiffs by sharing this investigation with your friends, family, your local councillor, and the mayor.
Share and follow the campaign on social media and together we can #bootoutbailiffs