Bristol MPs back plans for music venue champion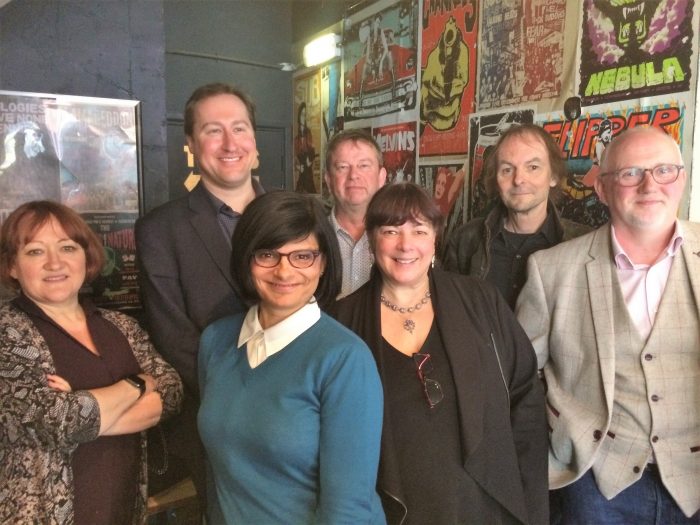 Bristol's grassroots music scene fights back in the face of developments and financial struggles.
Photos: Thangam Debbonaire and Simon Holliday
Local MPs Kerry McCarthy and Thangam Debbonaire have backed plans for a champion of grassroots live music, as the campaign is ramped up to stop venue closures in Bristol.
A representative figure would mark a breakthrough in the campaign to protect music venues that are often struggling financially while having to contend with residential developments being built nearby – bringing the possibility of noise complaints.
Numerous venues have closed in the last year, including The Surrey Vaults, Bierkeller and The Star and Garter. In addition, other venues have come under threat, such as Thekla, The Fleece, and many more.
"I think what is important is we've got to have a voice for the music scene in Bristol and it can't just be something dominated by the big establishments"
McCarthy and Debbonaire, MPs for Bristol East and Bristol West respectively, organised a panel discussion that brought together venue owners and representatives of the Musician's Union, the Music Venue Trust (MVT) and industry lobbying group UK Music.
Bristol's grassroots music venues were handed a boost in January, when the government backed calls to introduce the 'agent of change' principle, which will protect venues from noise problems arising from new developments.
The legislation is now being incorporated into the National Planning Policy Framework, which local councils will have to abide to, meaning developers building flats near a music venue would be responsible for soundproofing.
UK Music, who are working with government on the changes, said agent of change would come into force at some point this summer.
Kerry McCarthy has also met with Mayor Marvin Rees about getting agent of change into the local plan for Bristol. She said the mayor was "really supportive" and that he wants to emulate London – where there is now a Night Czar, whose full-time job is to campaign to keep venues open.
McCarthy told the Cable: "I think what is important is we've got to have a voice for the music scene in Bristol and it can't just be something dominated by the big establishments, who are inevitably going to have the loudest voice compared with the smaller venues."
"What we had been discussing with the mayor was a night time economy champion or live music champion, and I think it's important that it's not just somebody who is the glossy face and good at PR, but somebody who will get down to the boring detail of planning law," she said.
"We need a clear set of asks, politically, and for support locally. The mayor is supportive but you have to ask him things."
She said the representative of music venues "needs to be decided amongst themselves", but stressed it needs to be someone with time to stay on top of complicated issues of planning and licensing.
This figure will most likely form part of a '24-hour cultural commission', which will include important figures from the night time economy and authorities from Bristol City Council. The commission could launch in the next few months and will look at how culture fits into Bristol's future.
Mark Davyd, CEO of the Music Venue Trust (MVT), which lobbies on behalf of grassroots venues, said they were looking into how a music venue representative for Bristol could work, but that the Arts Council rejected a funding bid for local representatives employed by the MVT.
Davyd said: "They have to be impartial but also they have to face upwards to understand what's going on nationally and face downwards to see what impact will have locally."
Hard graft, no reward
Davyd said economic issues were just as damaging as planning and licensing. "We identified 22 causes of venue closures that have all come in in the last 25 years in a way that puts music venues under external pressures."
"There are tax breaks that could help, there are some planning laws that could be changed. There are some subsidies that we could think about. As national MPs we've got work to do
"
"This is an economic issue. If these music venues were making enough money, they probably would have already had a representative organisation they all pay into out of the money, so we need to address the economic unsustainability of the basic function of a grassroots music venue."
Some of the economic factors that Davyd eluded to include a rise in business rates which means that venues like The Fleece – which itself has been battling to coexist next to a new block of flats – is locked into a year-on-year increase in business rates of 25% for the next five years.
Venue owners said they also have to pay lots of money to the PRS, which collects royalties for musicians when their work is performed. This fee can account for such a large proportion of a venue's takings that they are sometimes unable to pay the performers.
The MVT has said that if what they deem as an unfair minimum tariff isn't improved by July, they will recommend venues stop paying it altogether.
In Europe, these financial difficulties are offset by government subsidies for grassroots music venues. Davyd said the average subsidy awarded in Europe was 35% of turnover. These kind of grants are not awarded to smaller venues in the UK, but classical music such as opera often receive grant funding.
Thangam Debbonaire MP, who organised and chaired the panel event, told the Cable: "There are 22 things that the Music Venue Trust said need to happen to support music venues. They're all things that other countries do better than us and we could do better so I want to work on these things.
"We also need to use some of the money that's taken from music venues, in terms of business rates and contributions to the Business Improvement Districts and the PRS, to invest in music venues, because they are the lifeblood of live music and small music venues are where emerging musicians start out.
"There was a strong consensus in the room to have somebody locally chosen to represent the music venues to the mayor and the council, so I do feel hopeful.
"I want to work with Kerry and other MPs to try and deal with any regulatory barriers causing problems for the music industry but also introduce some that might help. There are tax breaks that could help, there are some planning laws that could be changed. There are some subsidies that we could think about. As national MPs we've got work to do."