I did time for tagging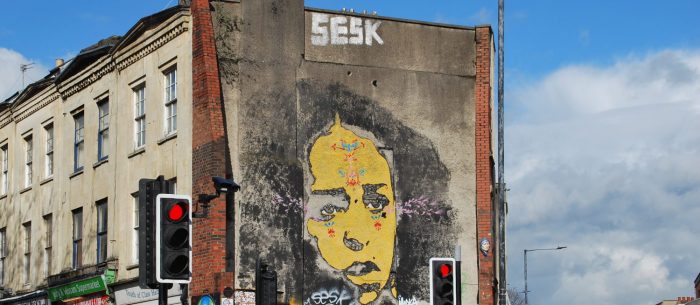 Jack Keeling, who was imprisoned for graffiti, talks to the Bristol Cable about his sentence, Bristol's graffiti scene and the council's promise to create legal graffiti walls.
Jack Keeling used to be a prolific tagger. In June 2016, his 'SESK' tag was all over the city and he was sentenced to 16 months in prison for 70 counts of criminal damage. The judge said that he hoped the sentence would act as a deterrent to others.
Keeling wasn't expecting a 16-month sentence. He'd just watched the defendant before him – a teacher – get four weeks for having indecent images of children: "I was saying to myself, 'Oh nice, I just watched this nonce get four weeks and I'm in here for graff. I'm sweet, I'm going home.' I walked in there with a grin on my face."
"In a way I deserved it, but 16 months! I was a scapegoat," Keeling says.
"The best way to be heard is to put your own advertising up"
He spent the first two months in HMP Bristol, a category B prison, then moved to an open jail. "I was in there for graff, not killing someone," he explains.
He's not the only graffiti writer to feel disproportionately punished. A London tagger, Kristian Holmes, who painted under the tag 'Vamp', got three and a half years for 39 incidents. In the same week entertainer Stuart Hall was convicted of child abuse and sentenced to 15 months.
"It's fucked up. The whole world's fucked up. It's money. Money talks," says Keeling.
Why taggers tag
"It is a form of protest. And to say to the world: 'I'm here. I matter"
Keeling says that tagging was escapism for him. "I broke up with someone and I jumped into graff," he says. He liked to tag in hard-to-get-to spaces, on roofs 16 floors up and on trains. The more difficult or dangerous the spot, the more kudos you get for getting your name there.
"When you're coming up on the scene, you need to make a name for yourself, people need to know who you are."
Bruno Dante, Bristol graffiti artist and owner of the Matchbox Gallery on Stokes Croft, says that for many graffiti artists and taggers, tagging is a way of making themselves seen. He points out that areas that are clean and well developed, with systems that work well, don't get tagged nearly as much as more deprived areas.
"It is a form of protest – for someone who hasn't got anything, that's the only mode of protest. And also to say to the world: 'I'm here. I matter'," he says.
"There's always going to be a percentage of people that are unheard, and the best way to [be heard] is to put your own advertising up."
Dante was recently nearly arrested for painting in the Bearpit, where he had been painting out a tag so he could paint a mural over it.
The Bearpit used to be one of Bristol's few safe spaces to paint. But, now the council has taken the space back and Bristol Waste – a private company owned by the council – has painted the whole inside of the roundabout in grey, getting rid of both the tags and the murals.
"If they haven't got enough resources to police properly, then they could be using those resources in better ways," says Dante.
"The best way to fight tagging, if you think tagging's a problem, is by sticking murals up there," he argues. "By putting a grey wall on there you're not making anybody happy. It looks horrible and it invites that sort of [tagging] mentality. It's a red rag to a bull."
For Keeling, though, it's also about the feeling of seeing a newly painted tag the next day "when the sun's glaring on the chrome".
"The feeling you get when you see something on a wall, whether it be a legal wall, a roof, whatever it is, the feeling you get is better than any drug, any sex, anything. You cannot beat it," he says.
Operation Block
"When you're coming up on the scene, you need to make a name for yourself, people need to know who you are"
Keeling's sentence was part of a city-wide crackdown on illegal graffiti. In November 2016, the council launched its Clean Streets Campaign, with Marvin Rees promising to make Bristol 'measurably cleaner' by 2020.
PC Stuart King led the investigation against Keeling, as part of the police's work identifying and prosecuting high volume illegal graffiti and tagging, known as 'Operation Block'. At the time, more than 30 offenders had been investigated for more than 400 offences, with those found guilty either ordered to clean it up, or given custodial sentences.
King showed Keeling photos of his tags around the city, and called him by his tag to see how he responded. Keeling feigned ignorance.
"I asked, 'What's Sesk? What is that? Aftershave?' He was like, 'Ah, you're funny'. I said 'Bruv, I don't know why I'm here.'"
"He had a catalogue full of graff, a proper-made one," Keeling goes on. "It was like an annual… like a Beano. I was like, 'Can I get a copy of that?'"
Could Bristol be the first UK city to have a network of legal walls?
The council's Clean Streets Campaign has drawn criticism from street artists for its blunt anti-graffiti message, which some say doesn't take into account the benefits graffiti brings to Bristol.
From edition 15, OUT NOW!
Read more from this edition.
Early last year it looked like the council and members of the graffiti community were coming to an uneasy truce. After two local artists approached the council with a proposal for 'legal painting walls', the council began to work with them on a plan to map out walls already being painted on regularly and make them formally legal. However so far, the walls still haven't been mapped out and and now the council is cracking down on walls that were once considered safe to paint on.
As well as potentially reducing the amount of unwanted graffiti and tagging around the city, having legal walls would give artists the space to be able to practice and hone their craft. It's not a new idea. Bristol legends, Banksy, Cheo and Inkie started out on a legal wall that social worker John Nation, since nicknamed 'the godfather of graffiti', put up at the Barton Hill Youth Centre.
"Free walls will basically get the people who are doing the 'get it up' thing to take it to the next stage," says Keeling. "If they're allowed to paint a wall, they can take their sweet arse time with it, and make it look banging."