"Parks aren't there for making money"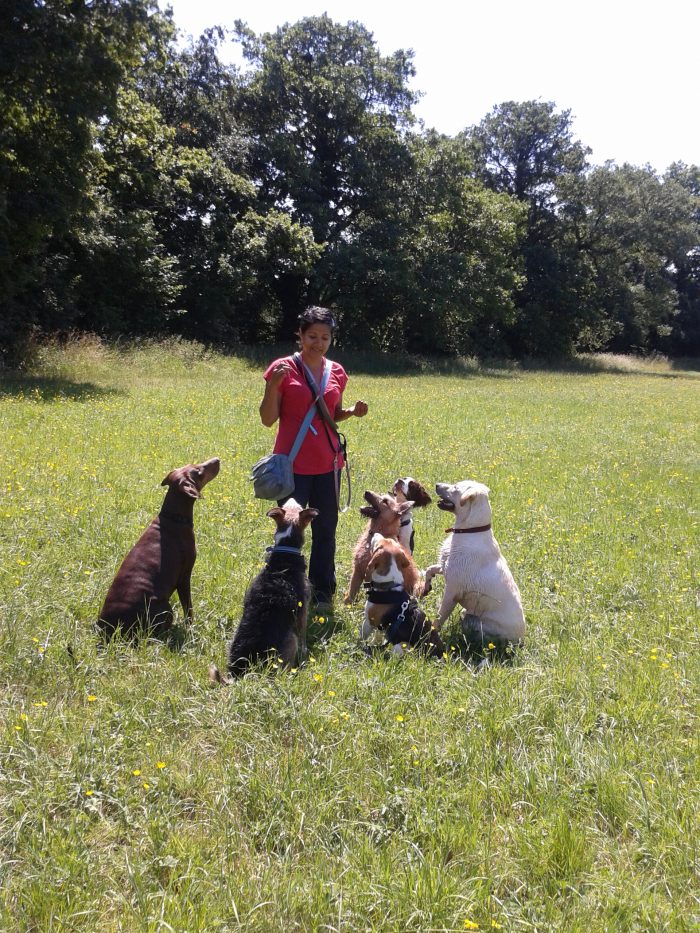 Bristol City Council approves recommendations for savings from its parks and green spaces, allowing 'low impact' advertising and charging professional dog walkers.
Photo: Nina Rehman
Caroline Jones has been working as a dog walker for five years and under proposals approved last week by the council she'll soon have to start paying for using parks. As part of the council's efforts to make some of the £2.86 million savings annually from its parks and green spaces budget, any business operating from parks – including dog walkers and fitness instructors – will now have to sign a code of conduct and pay a fee.
"I think the idea of trying to make parks make money is ridiculous, I don't think that parks are there for making money," she told the Cable.
"Most people are sole traders and they're making just enough to get by"
Jones says that making small businesses pay to use parks is counterproductive, because it will stop them using parks, and that it's not policeable.
"By the time that you've gone through the administration of it, it'll cost more [than they save]. There's no way that they can go through and find every single dog walker, it's impossible".
"Most people are sole traders and they're making just enough to get by so the cost would get passed onto owners anyway. It's not a big business that's making thousands and thousands – the thing with the fitness instructors and the dog walkers is that generally we're sole traders".
Nina Rehman, in her seventh year working as a dog walker, says that it's fair that businesses are charged something but that some will struggle to pay.
"Not everyone earns the same, not everyone does it full-time… We don't earn very much, we do it for love really."
"It will totally affect what I do, because I use quite a few different parks – would it be one payment for all the parks, would it be a separate payment for each park?"
"Selective listening"
Last week, Deputy Mayor, Asher Craig approved all the report's recommendations. These included: charging more for businesses, cafes, parking and events, increasing the number of events, businesses and parking spaces in parks, and introducing fee-paying activities and charges for businesses operating in parks.
The report also recommended saving money through reducing grounds maintenance "where appropriate", not replacing old play equipment that needs to be removed and getting community groups, businesses and organisations to help manage local green spaces.
The council was originally planning to stop funding parks altogether but backtracked after encountering fierce opposition – more than 4,400 signed a 'Protect Our Parks' petition. However, as it stands, Bristol's parks and green spaces will still lose £2.86m a year from 2019 as the council tries to close the £108m budget gap. The council says that services will need to be "run in a very different way, working in partnership with communities to look at income generation opportunities, while also making savings and making services as efficient as possible".
The council launched a consultation on ways to save – and make – money from parks last year, including proposals to introduce more events and fee-paying activities in parks and to increase income from cafes and parking. The most controversial proposal was advertising in parks, which prompted a 4,000-strong petition, forcing a full council debate on 20 March.
Because of its unpopularity, the council have "put on hold" plans to introduce large-scale high impact advertising into parks, but they're going to go forward with low scale advertising, with no guarantee that large-scale advertising won't be considered in the future. "We cannot preclude this from ever happening as we may need to explore this again in the future if more income is required for council services," Craig said at the council debate, promising that local consultations will take place in areas where advertising is considered.
"I think the council have done some selective listening when they saw the petition against introducing advertising to parks and decided that meant people don't like big billboards," Robbie Gillett, Adblock co-founder told the Cable. "When actually the petition signed by 4,000 people was against all advertising in parks."
He added that, while any advertising allowed in parks is "not a welcome development", he was relieved that the council had abandoned immediate plans to introduce large-scale advertising. "The bigger the advertising panels the more objectionable they are".
"If they can raise more money, they should not be looking at that as an excuse to cut the budget again"
But, Secretary of Bristol Parks Forum, Rob Acton-Campbell said that the council should be aiming higher and trying to make more from parks so they can improve services.
"At the moment they're trying to raise enough money to get to the budget as it was last year, and that isn't enough, they should be trying to do more than that," he told the Cable. "If they're trying to raise money, they shouldn't be just replacing what's been taken out the budget, they should be looking to spend more money on parks than they have been."
"If they can raise more money, they should not be looking at that as an excuse to cut the budget again, they should be trying to up the amount of money that they're spending on parks. They shouldn't be just trying to just keep to the 'just managing' position that they're in at the moment, they should be trying to do more than that."