PC Claire Boddie on trial for tasering Ras Judah: the story so far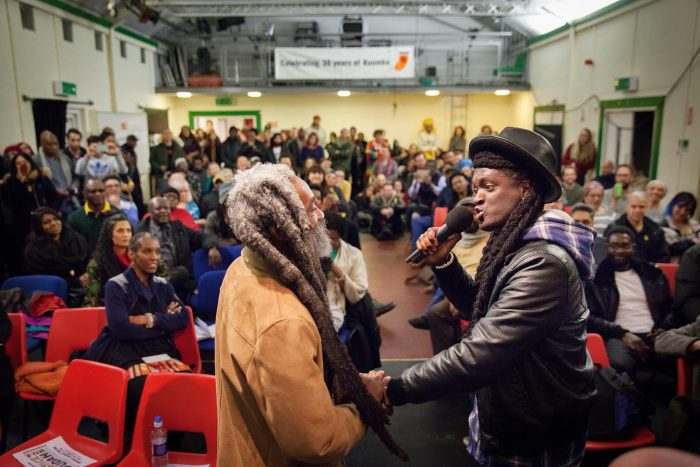 The police officer who tasered Easton man Ras Judah will appear in Salisbury Magistrates Court tomorrow (18 May) charged with common assault.
Photos: Mark Simmons
A policewoman who controversially tasered 63-year-old black man and respected community elder, Judah Abundi (also known as Ras), in Easton in January last year will appear in court tomorrow charged with common assault.
The journey from the initial incident to the court case has been a long and winding road, resulting in the trial of PC Claire Boddie, 47, on Friday (18 May) this week in Salisbury Magistrates Court.
The delay in Boddie's court case, and the fact it is taking place in Salisbury rather than Bristol, where the alleged assault took place, has garnered criticism from Abundi's supporters. A campaign, Justice for Judah, was launched immediately after the incident.
Here is a timeline of the events leading up to Boddie's court case:
14 January 2017 – Avon and Somerset PC Claire Boddie tasers Abundi in the face, while he is walking his dog.
PC Boddie and her partner had challenged Abundi for his identification in a case of mistaken identity. Abundi refuses, as is within his rights. The subsequent use of the taser by Boddie is filmed by a neighbour.
Abundi is taken by ambulance to BRI hospital. He is arrested for assaulting a police officer and using threatening or abusive behaviour, but the charges are dropped two days later.
The case receives national press attention when it becomes known that Abundi had previously co-founded the Independent Advisory Group in Bristol, focused on improving relations between police and the Afro-Caribbean community.
Following a complaint, Avon and Somerset Police refer the case to the independent police watchdog, the IPCC, for investigation. Boddie is not suspended but is put on 'restricted duties'.
10 July 2017 – Boddie is charged with common assault by the Crown Prosecution Service (CPS) on the advice of the IPCC, following its four-month investigation. Her trial is set to be heard by magistrates in Taunton, Devon, on 14 August. Boddie remains on duty. After the charges are made, the police force says it can't comment further on the case as the criminal proceedings are ongoing.
14 August 2017 – Boddie appears at Taunton Magistrates Court and pleads not guilty to the charge of common assault.
18 December 2017 – A case management hearing due to take place in Southampton is postponed.
17 January 2018 – The hearing due to take place is postponed again with a day's notice because the defence wants to gather an expert evidence report on taser use. The prosecution provides reasons to reject this, arguing that the video footage alone shows a clear breach of taser use guidelines.
28 February 2018– A case management hearing is due to be heard in Salisbury Law Courts, but is cancelled due to the district judge being unavailable.
18 April 2018 – Abundi is charged with racially aggravated assault following an incident in a bookkeepers, and is due to appear in court in one month.
His lawyer, Tony Murphy of Bhatt Murphy Solicitors tells the Guardian: "Ras Judah has a long history of challenging racism in all its forms and he shall be resisting this prosecution." Justice for Judah campaign Desmond Brown, a leader of the Justice for Judah campaign, calls the events "very weird" given that it occurs before Judah is due to testify in court in the case against Boddie.
23 April 2018 – Pre-trial hearing, Bristol Magistrates Court. Deputy senior district judge Tan Ikram precides via video-link from a Westminster office. The defence requests a private hearing with the judge to make an application regarding whether certain evidence, including the widely-seen mobile phone video, can be withdrawn, and whether Abundi himself can be allowed to testify in the case.
After emptying the public gallery for a period, the judge then claims that in fact, no application had been made. Around 40 supporters of Abundi, who had turned up to the hearing, lambast the repeated delays and apparent confuscation.
Desmond Brown says: "A year and a half after the incident, we've been run around the country, to get to the trial and for Judah to get some justice… [The trial and evidence] needs to be held in public, it would be better to be held in Bristol, because we need to see justice to be done. And that is as important as the justice itself. It needs to be open, transparent and for us."
16 May 2018 – Pre-trial hearing is heard, somewhat inexplicably, at the judge's chambers in London. The judge throws out the defence argument to have evidence withdrawn.
18 May 2018 – Trial of PC Claire Boddie at Salisbury Magistrates Court: Boddie is found not guilty.