Cable members continue to shape a new media for Bristol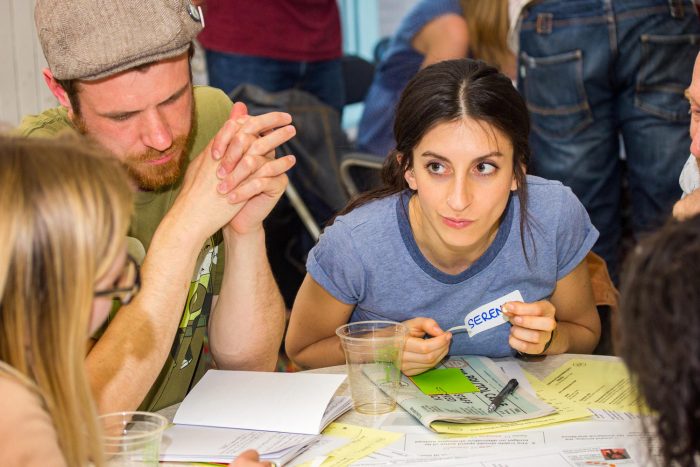 One hundred Bristol Cable members crammed in to the co-operative's annual general meeting, proving once again that media in the public interest must be led by those it serves.

Photos: Alexie Segal
As a co-operative the Bristol Cable is just a tad different to other media. Forget stale board meetings and PR-driven, tokenistic efforts to engage with readers and 'the public'. The Cable is not another offshoot of a media conglomerate, whose dozens of newspapers are each dressed up as local and independent.
The Cable is anchored in Bristol, owned now by 2000 members, each of whom can have a direct say in what type of stories are reported to how money is spent. At this year's annual general meeting, members voted on essential decisions setting the staff team a clear direction for 2018/19.
Known for being the most interactive, lively, influential AGM in #Bristol, as well as vital, vibrant journalism of course. Become a member, join in. It's fun and interesting. @TheBristolCable https://t.co/CGL7O9U6Gv

— Kate Oliver (@Kate0liver) 14 May 2018
Cider, Samosas and member led media organisations are three of my favourite things, and they were all present at the fun and engaging @TheBristolCable AGM last night!#OwnYourMedia https://t.co/f7rDKxpvsy

— Duke Newcombe (@DukeNewcombe83) 15 May 2018
If you were unlucky enough to miss out on the evening of samosas, cider and democracy in action, here's a recap including results below.
Crucial ethical and practical issues were grappled with, such as how the Cable should work with Facebook. While most members found it ethically problematic to work with Facebook, the vote was cast for the Cable to continue using it in order to promote content. In the meantime, members instructed the staff team to develop alternative plans which could reduce or cut the Cable's dependency on using Facebook in future.
Members also made it clear that there's a hunger for media that challenges power – be it big business or local politics. There's also a desire to see more stories with direct links to local communities according to votes cast on the night. Beyond reporting, members voted for more resources to be invested into training community journalists, in order to bridge the gulf between reader and author, putting the camera and pen in the hands of local communities.
Click pictures to view more….
Three new non-executive directors were elected to the board; director bios will be updated shortly. (Note: The coordinator team would like to take this opportunity to once again express our gratitude for the invaluable work performed by the directors who stepped down. And a massive thanks to the candidates who applied but failed to secure enough votes – it was a tight race and that was down to the quality of all the candidates.)
There's no blueprint for what the Cable is doing as it seeks to shake up local media. The year-round participation, critical feedback and support from members continues to be essential as we move forward. Thanks to this year's AGM, the Cable will be striking out into 2018/19 with a spring in its step to better serve communities across Bristol.