Investigation: Bristol's invisible sex trade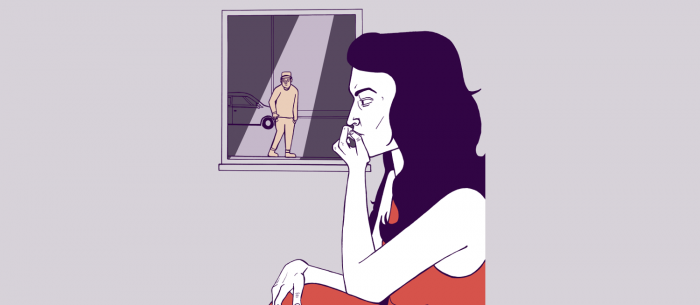 The police are struggling to deal with sexual exploitation happening online. How does this off-street sex trade operate in this city?
"Most of the sex workers are eastern European, a lot of them seem to live there," says Maria*, a British sex worker who works in a commercial parlour in Bristol. "One person told me that she didn't have a passport and she wanted to access healthcare and she couldn't."
Punters can now easily hire sex workers online instead of waiting on street corners or sloping into a brothel
Maria told the the Cable that women working in her parlour come from different walks of life, and she didn't know whether anyone working there was doing so against their will. She was also reluctant to assume that the migrant workers were vulnerable. However, according to research by charities, the police and the Cable, there are strong indications of trafficking and exploitation in her accounts.
The owners and managers of Maria's premises also own two brothels in different cities and the sex workers are moved between them. "They try and mix it up so the clients don't get bored of who is working there. Clients like to try us all out," she says.
Kate Garbers, CEO of modern slavery charity Unseen, has accompanied police on visits to premises selling sex in Bristol for several years (now an outreach team does). She says indications of trafficking seemed present in "a large majority of the people we were speaking to".
These indicators can be "anything from … a boyfriend who asked them to do this work, to living on site, from coming with no or very few clothes or items – maybe having come thinking they were going to be there for a weekend and then being stuck there," Garbers explains.
At the time of speaking with the Cable, Avon and Somerset Police have 20 known or suspected brothels on their books for Bristol, 13 of which are commercial premises – but this is the only the tip of the iceberg.
Illustration: Kathryn Rose Brown (
kathrynrosebrown.tumblr.com
)
The internet has transformed the way the sex market operates. Beyond the high street and far from the dark shop fronts with double doors offering 'massage', the modern sex market extends into residential properties, pop-up brothels set up in hotels, short-term lets and Airbnbs. It's invisible from the outside and hard to monitor or police, with workers and pimps quickly setting and packing up shop before moving to the next location.
While punters can now easily hire sex workers online instead of waiting on street corners or sloping into a brothel, these websites also provide a snapshot of women at risk. The Cable used the Police Federation method to analyse websites for signs of exploitation.
Data from a popular site – Ukadultzone – revealed that 10.5% of the 180 Bristol adverts hosted showed a clear indicator: there was more than one woman available for hire via the same phone number – suggesting that they were being centrally managed. Another indicator was the personal descriptions of a number of sex workers which appeared to be copy-and-pasted and written in similar style and language.
These are not the only ways to find possible evidence of organised criminality. Brothel owners can also be tracked down using publicly available data. Cable research into the ownership of commercial parlours unearthed that some companies own multiple premises. The two well-established premises trading as massage parlours on Stokes Croft are owned by Cablequest Ltd, which is listed on Companies House along with names of individual directors.
The law on prostitution
In England, Wales and Scotland, the selling of sexual services is legal. However, various associated activities are illegal, including kerb crawling, soliciting in a public place and brothel keeping (which can be applied to sex workers themselves if they work alongside one or more sex workers in the same property).
Breaking down barriers
The police don't try to close known brothels, even though brothel keeping is against the law. Rather, they seek to gather intelligence on where the most harm is suspected, and target those for criminal investigation.
Until 2015, there was a dedicated unit focussed on prostitution within ASP composed of four sergeants, a lead and another part-time officer. Cuts have seen that unit reduced to two – neighbourhood sergeant with a prostitution-focused work profile, Emma Slade, and sex work liaison officer, Tina Newman. They are keen to stress that the reduction has come alongside more force-wide training on the issue and the recruitment of voluntary, specially trained officers.
"We're trying to break the barriers down. We recognise that it's not a quick process and it's not necessarily going to be done in one visit"
Speaking to Slade and Newman in Trinity Road Police Station, they describe the closures in 2017 of two brothels in Clifton and Bedminster as a successful criminal investigation. The case resulted in the convictions of a man and a woman for brothel-keeping and the referral of two women to modern slavery support services.
However, the focus of Slade and Newman's work is not investigating but visiting street and off-street sex workers where they are known to be working. For several years, the force's softly-softly approach to off-street premises has been called 'Operation Breakthrough'.
"We're looking for indicators of trafficking," explains Newman. She says that ASP focus on giving people information about their rights and services available, and encouraging trust in the police. "We're trying to break the barriers down. We recognise that it's not a quick process and it's not necessarily going to be done in one visit, but it's important that they know they have options."
Slade and Newman emphasise that their approach is victim-focused, and they've worked hard in recent years to establish a culture change throughout the force. "We as an organisation have recognised that those women are vulnerable," says Slade.
In the past, however, immigration officials have joined the police on visits to brothels. The unit was forced to stop working with immigration officials as a partner in visits around two years ago, after conflicts in their objectives became more pronounced after a change in strategy by immigration enforcement.
"Our objective is to welfare visit and protect the vulnerable and to gain intelligence," insists Slade. "Their objective was to remove people that were illegally here and send them back. We clashed big time."
Maria, the parlour-based sex worker the Cable interviewed, says fear of immigration officers on police visits is still strong. "Luckily the last time they came round that I know of, there was one person who works in the UK legally. And the only other woman that was there climbed out the window and hid. It's fucked up."
Kate Garbers has witnessed the conflict of interests play out: "You're saying to somebody 'We're worried about you, here are your rights and entitlements, if you would like to leave with us today you're able to, we can support you to do that', but then if someone says no, and they turn out to be an illegal immigrant, they might then be arrested on site. There's a definite conflict in that."
Despite no longer working with immigration on the visits, Slade and Newman still share their observations and findings with them. "We are police officers and we're about engagement and enforcement. We can't shy away from the enforcement bit," says Slade. Earlier she explained that women suspected of immigration offences are encouraged to take up support if they are victims of crime themselves. Some choose not to.
Bristol's sex trade in figures.
£45 The price of half an hour with a sex worker in one of Bristol's commercial parlours
£20 The cut that the brothel takes, leaving the sex worker with £25
317 Sex workers in Bristol advertised on the most popular website Adultwork (at the time of writing)
Cash-strapped police
The other problem is austerity. Due to limited resources, the police currently rely wholly on intelligence received – rather than proactively sought – about operating premises. "You need somebody to have picked that phone up to highlight that they are there," explains Newman.
The police are well-aware that intelligence could be unearthed through the sex work websites. "It's frustrating, it's really frustrating," says Newman. "Because the internet has gained such pace and we just haven't. It's so hard because we know the sites are there but in order to actually tease that information out you've got to have somebody who is a bit IT savvy to sit and trawl it out."
And they wouldn't necessarily be able to act on the information they found. "If you lift that stone, you have to be prepared to deal with it. And we have to be very sensible," says Slade, explaining that other police higher up in the force make the decisions about what is worth investigating, and what is likely to result in the most harm reduced. The suspected trafficking competes for police resources with other crimes.
There are also questions of timing and flexibility. "Because they are transient, you would need someone like Tina scanning today, and someone like me and a team of officers going today," says Slade. "It's no good saying, 'oh we'll do an operation in three weeks time,' because they will have moved."
Would more victims be rescued and more criminals caught if there were those resources? "It's difficult to say. You might make an assumption but I wouldn't want to assume… It's a very unknown area," says Newman.
Where next?
"To take away things like the websites that we use for autonomy and safety is disempowering us"
A group of MPs recently published a report into organised sexual exploitation, Behind Closed Doors. It found that evidence of exploitation, modern slavery and control, facilitated by websites, is being gathered by police and other agencies across England and Wales. The report recommends changes to the law to tackle the problem.
It suggests adopting the so-called Nordic model, where all aspects of selling sex are decriminalised but the buying of sex is always illegal. "It is vital that our law serves to combat demand from sex buyers that motivates pimps, traffickers and other third party exploiters," the report concludes.
The police and sex workers the Cable spoke to pointed out there are plenty of individuals who freely choose to engage in sex work. With the police already limiting efforts to where there is a clear risk of serious harm, further criminalising activities across the sex market would spread limited resources even more thinly.
Opponents of the Nordic model argue it is politically motivated and advanced to suit a moralistic and anti-sex work agenda. Alice, a sex worker and founder of the Bristol Sex Workers' Collective, says: "(The report) was set up by a group who are very biased towards the Nordic model, so it should be understood that the statistics they use are used to support the Nordic model." She is fiercely opposed to any legislation that would force sex work further underground.
The Behind Closed Doors report also made the controversial recommendation that websites should be held accountable for any crimes they facilitate.
Given that the popular sites are the go-to place for sex workers of all stripes and pimps to advertise, it's unclear how site administrators would be able to verify the status of independence or coercion of individuals in each advert. Similar legislation introduced in the US in 2017, known as FOSTA-SESTA, saw one of the most popular sites, backpage.com, close overnight.
Slade and Newman see two sides of the debate, pointing out that websites should have a duty to cooperate with police during criminal investigations. However, there's the risk that if the sites were to be closed, it would deprive the police of vital intelligence.
Another important ramification would be making sex work less safe for people who rely on the sites by forcing the trade further underground. Alice and Melissa, another sex worker in Bristol Sex Workers Collective, who use the adultwork website, say the sites offer a degree of reassurance to independent sex workers. Women using the site are able to access features such as a private 'review' system between sex workers, which allows them to alert others if a client is dangerous, or otherwise problematic.
Without the site this knowledge sharing couldn't happen – for many women working outside established premises, it's the only communication they may have with other independent sex workers, outside of working together when booked for 'doubles' (with men who wish to pay for two women at once).
"I think that trafficking does happen in the sex industry and I would never say that it doesn't, or that it's something that shouldn't be addressed," says Alice. "But I think we have to find a way to address it which is actually empowering for sex workers to be able to get out of those situations. And I think to take away things like the websites that we use for autonomy and safety is disempowering us."
*Name changed to protect identity