Learning not to abuse your partner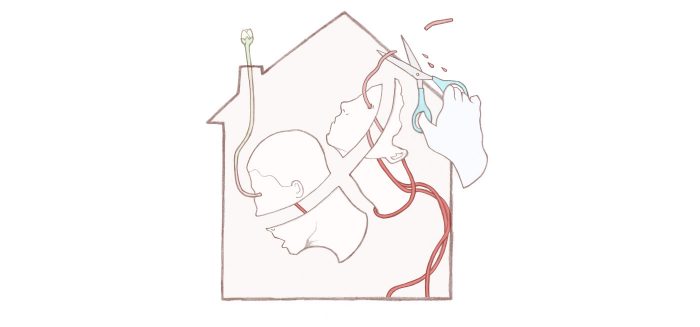 The programme that puts abusers at the heart of the solution.
"The reality kicks in: You're the one that did it, you stand up and accept it, now let's work out how to change it"
One night a month a group of men meets in the upstairs room of a closed cafe. Their only connection to each other is that they all have a history of committing domestic abuse – and that they've each decided voluntarily to do something about it.
It's a sparsely furnished, brightly lit room with snacks on the table and a whiteboard covered in notes. It has the look of a room that's not often in use. There only two participants and the facilitator here tonight, it's a welcoming atmosphere and both men come across as unguarded and self-reflective. It feels weird to be here having this friendly chat, given what we're talking about.
The men who attend these monthly meetings, known as the 'relapse prevention group' have been through a group programme for perpetrators of domestic abuse run by Splitz, a charity offering domestic abuse support services. It's not a court mandated programme, but it's looked upon favourably if custody of a child is in question.
The relapse prevention group is something that the men also decided to do of their own volition once the initial programme ended, to support each other and continue reinforcing the positive behaviours they'd learned.
"It just helps remind you," says James*, one of the group members, who is in his forties. "Otherwise you just go back into your life, and though you don't necessarily forget about it, you can think 'oh, I'm fixed now', and maybe slide back into past behaviours." He joined to try and save a relationship. They split up before the programme started but he went on it anyway. He says that it wasn't what he'd been expecting.
"We can save women, but we need to change men"
"I think to a certain degree I went in feeling sorry for myself," he explains. "Looking for a bit of sympathy, a bit of a pat on the back, a bit of 'you're not alone', agreeing with you.
"But then the reality kicks in: that actually, no, it is your Goddamn fault, you're the one that did it, you stand up and accept it, now let's work out how to change it."
"I just knew that I needed some kind of help with my attitude," says Paul, another of the men in the group. "There might be the tendency, because you've done the initial programme, to think that now you're perfect and you can go back and conquer everything, and the reality is that you're probably no closer than you were before. It's just that now you know your weaknesses."
The most recent theme they've been talking about is emotional abuse and intimidation: what it looks like, the ways the men do it and what the impact of it on their partners.
Illustration: Francesca Hooper (
francescahooper.net
)
James says the group needs to pose hard hitting questions to the participants. "Otherwise you're just there for the sake of it, almost. You need to address what's really going on so you can make changes."
These follow-up group sessions are now informing Reprovide, a pilot study that was launched last year to investigate ways of making perpetrator programmes more effective. So far, they've recruited 36 perpetrators and about half of their partners or ex partners to the programme.
Facilitators work from a manual designed by researchers and other experts, dealing with different aspects of abusive behaviour, like anger, respect, challenging patriarchal and misogynistic attitudes towards women and teaching participants techniques to deal with anger.
Lead researcher of the Reprovide study, Professor Gene Feder has published several papers on the healthcare response to domestic violence in the UK and abroad. He says that while perpetrator programmes have existed for decades, evidence about their effectiveness remains uncertain. He hope that this study will make future perpetrator programmes more effective.
"We are not that interested in outcomes at the end of a perpetrator programme; what we're really interested in is how things are a year, two years, five years down the line…" says Feder.