Rising up to open opportunities in the arts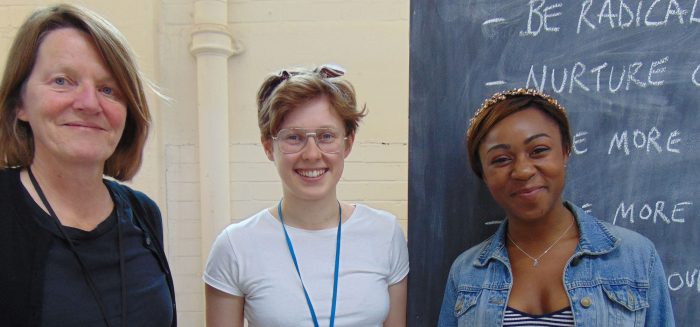 Rising Arts Agency is helping young people break into the cultural sector.
Rising Arts is appearing at the next Cable event; New Media, New Generation on Tuesday June 19th.

Euella Jackson, 23, is making waves across the city as well as online. Viewed by thousands, her Youtube vlogs feature everything from make-up to sex advice. Now she's part of Rising Arts Agency, a Bristol project helping young people – and particularly young people of colour – get into the creative sector by providing opportunities for freelance work, to mentorship and leadership training.
Rising Arts has just launched a new Bristol City Council-funded project, 'Whose Culture?', focusing on how young people of colour engage with culture in the city and what barriers might stop them knowing about, or getting involved, in opportunities.
'Who's Culture': from idea to a reality
Founder and creative director Kamina Walton launched Rising Arts in 2016. Time and time again working in various sectors, she'd heard about young people's shared anxieties and doubts about how to network and find their first work opportunity. It was clear that young people of colour felt especially disenfranchised.
An early piece of work was surveying 30 Bristol arts organisations for data on their engagement with children and young people in 2014/15. "Only five organisations out of 30 had any significant data on diversity" says Walton.
This is despite the fact that many of the organisations are funded by the Arts Council, which embeds 'equality and diversity' into all its goals. "It was a shock to me and the whole sector."
It was through meeting Zahra Ash Harper, a creative producer at Pervasive Media Studio, that 'Whose Culture?' came to fruition. "Zahra had an idea to use tech to collect and explore the data that currently doesn't exist. We went together to Bristol University's Jean Golding Institute, who gave us seed funding," explains Walton.
Exploring the nooks and crannies of the culture scene
One of the first workshops brought together young people and people working in the creative sector.
Attendees did a mapping exercise: young people placed post-it notes on a map of Bristol to indicate where they were engaging with culture in the city. On a separate map, staff indicated where they were offering opportunities to young people.
It turned out the professional's map had Bristol teeming with opportunities, but the young peoples' map was much more sparse.
"To us, there was no access to, or visibility of, these opportunities," says Jackson. She decided that looking at this "mismatch and demystifying young people for the organisations" was something she wanted to do.
Another ongoing project, 'Open Up', enables groups of young people of colour to visit Bristol's big cultural players after hours. Staff at each organisation tell the audience what they do and what careers are available, before letting young people loose.
"We get to explore the nooks and crannies and then come back and do a consultancy, like, 'This isn't working, this is why we don't come here,'" Jackson explains.
The first Open Up visit was to Bristol Museum. Since then, Spike Island and Bristol University have also taken part – with the university wishing to discuss their new Temple Quarter development.
Amplifying young people's voices
From the work they've done so far, Rising find that people living on Bristol's outskirts don't hear about what's going on at central venues like the Watershed. Jackson points out that transport can be a big barrier, and that schools don't encourage careers in the arts. "And if you're from a lower socioeconomic background, it's not encouraged at home, because it's like, 'We don't have money: why are you going to try to do something that's not promised?'" she laughs.
Eli Lower, Rising Arts' development assistant, identifies another barrier: there's a mismatch between what young people want and the opportunities and schemes available. And one reason for this is that cultural institutions don't involve young people's voices in shaping they opportunities they offer.
"Sometimes you look at the schemes and offers and think, 'I'm going to be the youngest person there and they're going to make me do all the social media because they don't know how to do it,'" she says.
In other words, young people feel tokenised – put in place for the sole fact of being young. Rather than guessing what they want, Lower argues that staff should simply ask young people what they want from an organisation.
To find out just that, Rising Arts will be holding 'Whose Culture?' workshops in Lawrence Hill, St Pauls, Whitchurch Park and Southmead.
Rising Arts is appearing at the Cable event; New Media, New Generation on Tuesday June 19th.